The office is a second home for many of the employees. It is necessary to take care of the office as you take care of your home. For this what can be better than the indoor office plants. For the best office plants, you need to have a good idea of plants that which office plants have low maintenance. An office is a working place so it becomes hard to look after them every day. So, it's best to have plants that can accommodate your wishes. There are different types of office plants: Desk plant, Cool plant, Indoor flowering pats and much more. Here are some of the plats that you can use them at your office.
Best office plants for low light and maintenance
Snake plant
Spider plant
Cactus
Devil's Ivy
Peace Lily
Aloe
Gerbera Daisy
1. Snake Plant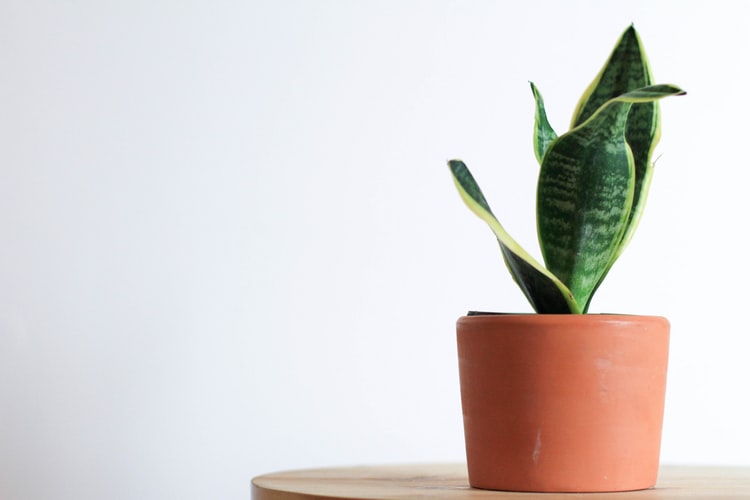 Requirements
Light: It can easily grow in shady areas.
Water: can go multiple days without water
Maintenance
It needs a draining type of soil mix to drain out extra water.
Between two successive watering, allow the soil to dry up first.
Avoid wetting the leaves while watering.
Notable properties:
They are a very hardy plant which can survive anywhere.
Purify the air.
If there is a marathon for the best tolerant plant, the Snake plant will be the gold medalist of the race. This is the best office plants, suited for high tolerance. As this plant does not require maintenance. You can leave this plant for weeks still it will look fresh. It is all thanks to the strappy leaves and architectural shape.
This plant can survive long drought, it adjusts itself with the low light and there are very few insect's problems regarding this plant. In addition, it also purifies indoor air.
2. Spider Plant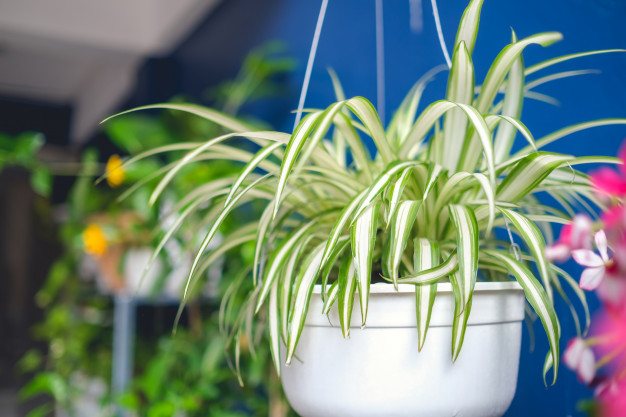 Requirements
Light: It requires very little sunlight to grow
Water: Can go 1-2 days without water
Maintenance
It requires well-drained soil.
Let the soil dry first before watering the soil.
Notable properties
Easy to propagate
Purify the air
Being the most adaptable plant, it is also easily grown in an indoor area. This plant is quite formidable against insects but the brown tips are the most occurring problem. Its name comes from its leave, which grows and tends to bend downwards. The whole scenario looks like a spider crawling the floor. These plants have many variants and often come with small tiny flowers.
These plants can really endure the harsh climate and if you are a new gardener with zero knowledge of gardening. Then, these can be the best office plants to start.
For office purpose, it can be used as an excellent decorative object which can bring life to the office space.
3. Cactus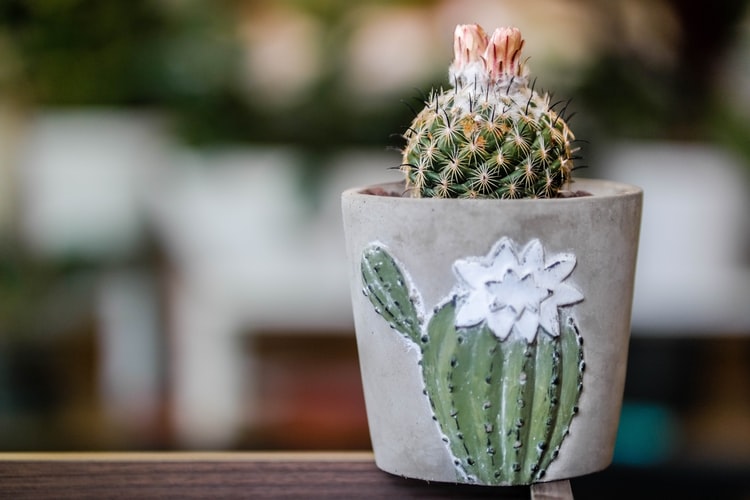 Requirements
Light: need lots of sunlight
Water: it requires very little water to survive
Maintenance
It requires watering on a weekly basis
The soil needs to be moisture-free
Notable properties
A very small plant that can be placed anywhere
It hardly requires water weekly
This plant is one of its own kind. It can survive for many days without water. Being a desert plant, it can survive any climate. This plant has adapted itself to survive on less water. Which is why these plants are the prime choice for indoor planting. These plants have a long life which makes them a prime contender for long-lasting best office plants for desks. In conclusion, it requires water to a minimum, and it is best suited for desk planting and shelve planting.
4. Devil's Ivy
Requirements
Light: Require less light and can survive even in the shading areas.
Water: It only needs water when the soil starts to dry.
Maintenance
Keep this plant under indirect sunlight
It needs water at every alternate day
Notable properties
Evergreen plant
Broad leaves make it alluring to the eyes
Grows very fast
It's an evergreen plant that has broad leaves or even heart-shaped leaves. By the first look of it, one would imagine it to be a highly maintained plant. But this is just your imagination. It's one of those plants which got both beauty and tolerance. Having broad leaves makes it much more vibrant and eye-catchy. Therefore, it is also used for highlighting the office space.
5. Peace Lily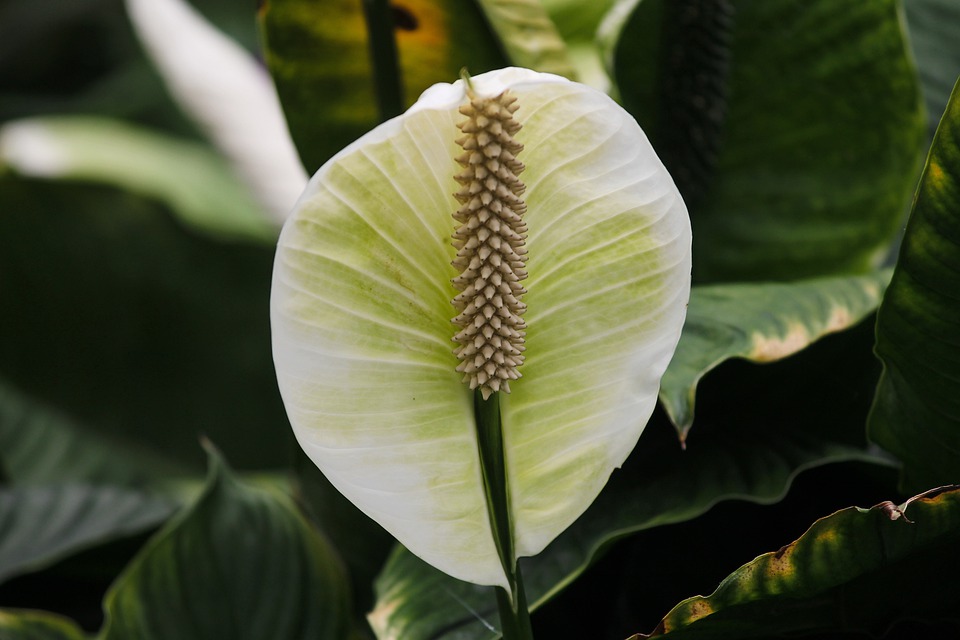 Requirements
Light: can survive any weather
Water: Needs normal watering
Maintenance
Keep the watering to the level where the soil is moist (neither too dry or nor overflowing with water)
Use filtered room temperature water
keep them in environments with a moderate temperature (16-21 degree Celcius)
Notable properties
It has long, broad leaves.
Overwatering does not damage the plant
The origin of this plant is the tropical rainforest of America. Being so much vibrant, it fits into any indoor space naturally. It blooms during the spring. Instead of being multilayered petal, its flowers are modified leaves "Bract". It also falls under the category of the air purifying plants. If kept carefully it can bloom twice a year. one during the spring another during the fall as well. The blooming period lasts for only two months.
6. Aloe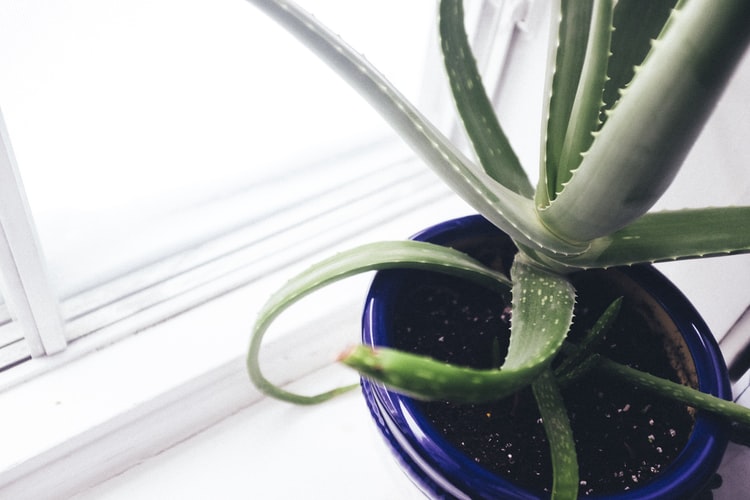 Requirements
Light: It requires multiple hours of sunlight every day
Water: It requires water once only 3 weeks.
Maintenance
Keep the plant in indirect sunlight
Water this plant deeply but infrequently
Keep the soil dry after watering.
Notable properties
It purifies air
It provides aloe gel which has many medical properties
This plant provides a new element to the office space. It has many medicinal values, and also act as an air purifier. The gel it provides has healing properties. Being one of the best useful plants, it hardly requires attention for its maintenance. Just drop by and water once in 2-3 weeks. It will as fresh as forever.
7. Gerbera Daisy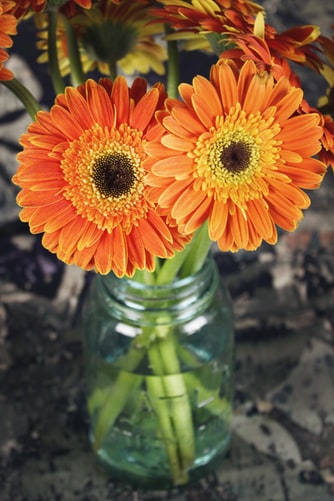 Requirements
Light: Require very less sunlight
Water: Need water every day
Maintenance
Water them weekly
Keep them under direct sunlight
when the blooming season starts, keep trimming the plant.
Notable properties
It purifies air
These are very small, so can be placed anywhere
It comes in many colors so you can decorate your workplace according to your likings.
If you are looking for a flowering plant to make your office colorful, then daisy can be your prime choice. As it comes in many colors you can be selective in this matter. In addition, this plant also acts as an air purifier and remove pollutant like carcinogen benzene. Thereby making your workplace much cleaner.
Conclusion
The office is the place where you spend one-third of time out of 24 hours. For many people, it's like a second home to them. So, it is necessary for your second home a comfortable one. By using some of the best office plants, you can make your working space much more vibrant. Having plants in the office also good for your health as some of them also purify the air around you.
In addition, office plants are also a business innovation strategy that many companies use.
Well, many people have their own reason to use a plant in the office. As for me, I use them as visual relaxation. Seeing them in my office makes my mind at ease and yes, it also boosts my efficiency.
If you are still not satisfied with the list you can also check this.
Sandip
Sandip Sah is a content writer and a content editor for TechNetDeals.com & TechTrendsPro.com, who has set sail to venture all the writing industry secrets. His passion for technology and ambition to express his thoughts through words has been the driving force in his journey. He is also a valuable guest blogger for sites like TheLegalGuide, SmartBusinessDaily, TopPrefference, and EmblemWealth. Sandip specializes in writing warm, humorous, engaging, and SEO-friendly content.He is also the co-founder of the Smart Business Daily, Emblem Wealth and Tech Net Deals. Sandip specializes in writing warm, humorous, engaging and SEO friendly contents.