Every single day, millions of transactions take place. There are several options that people use when transferring funds, and a money transfer app is among them.
Banks have often provided an avenue for both local and international money transfers. But the problem is, they are often just too expensive and slower than other options. Well, what other options are we implying? The mobile money transfer app services.
There are different factors to consider when selecting a mobile money transfer app. Top on the list includes the transfer speed, cost/fees, and international network. Of course, there are several apps that already meet these criteria.
That is why we want to look at the best you can choose from. Whether you're sending money to friends, family, or business associates, the following apps will come in handy:
Afriex Mobile Money Transfer App – Best Overall
Though a rather fresh entrant into the money transfer service, Afriex has made some really significant achievements in financial service. This has led it to gain the trust of millions of users all over the globe.
You can use Afriex to make transfers locally and even internationally. It has a huge network of countries in which you can send and receive funds.
This makes it an advantageous mobile money transfer app when transferring funds to family, friends, and even business associates.
Their security features and user interface are ideal for users. Besides, the transfer speed and affordable fees make it an even more attractive option. And the advantages don't end there.
Wait, there's more? Yes, you can even purchase and send cryptocurrencies through Afriex. How amazing?
Venmo Mobile Money Transfer App – Best For Friends
Are you planning to send funds to friends locally or internationally? Then Venmo is the right mobile money transfer app you can use. It takes just about 24 hours to transfer funds to the next person using Venmo.
The amazing thing about Venmo, and what probably sets it apart, is the fact that they link to social networks. In this case, you can get to interact with friends' payments and even attach stickers and emojis. No wonder it is an ideal option for friends.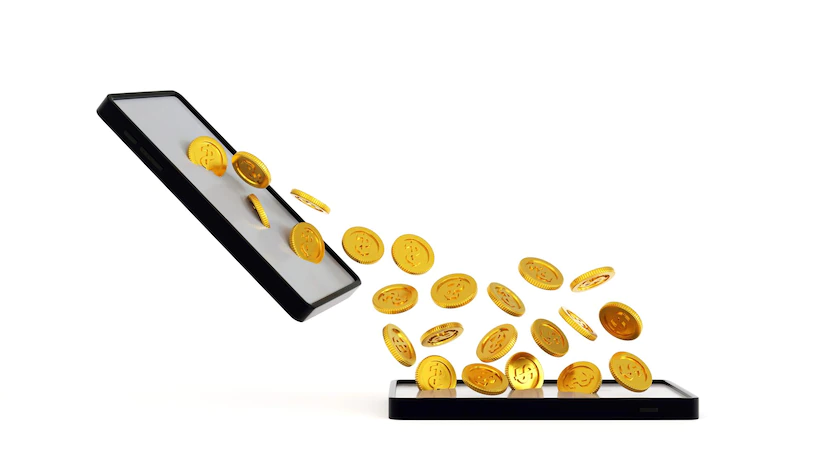 Venmo's limitation is that it is only available in the US, and can only link to US-based bank accounts. But on the bright side, it has a ton of effective security features, including a multi-factor authentication system when you're signing in.
Also, to ensure that you're connecting to the right user account before sending funds, there's a QR code. Their affordable charges and fees also make it quite attractive to users.
PayPal Mobile Money Transfer App – Best For Flexible Payments
For sure, we can't complete a list of the best mobile money apps without mentioning PayPal. In terms of the cost factor, it is a fairly decent option to use for mobile money transfers.
For one, you don't pay a dime to purchase things using your bank balance or PayPal balance. Also, you pay nothing to transfer funds to friends and family members using PayPal.
You only spend about 2.9% plus an additional fee of $0.30 for business and contractor invoice payments.
The transfer speed here is also something to admire, as it typically takes less than 24 hours for the recipient to get funds. In fact, some transfers are even instantaneous.
It is also easy to link your cards and bank account to PayPal so that you can fund your online wallet for money transfers.
One important thing to note though is that PayPal will need you to provide identification documents. This is, at least, if you want to use the app without limitations.
In addition, you'll need to provide proof of location or your address. After this, you will unlock the freedom to send funds as you wish.
When it comes down to security, PayPal doesn't take any chances either. They employ the use of two-step authentication, email confirmations, and data encryption for every transaction that a user makes on its platform. You can always rest assured that your funds are safe.
You May Also Check: Your Ultimate Guide to Digital Wallet for Cryptocurrency
Cash App Mobile Money Transfer App – Best For Investors
Are you planning to send money to your business associates for your investments? Well, here's an app that you can use conveniently. Cash App is one of the best mobile money transfer app services in the world.
Typically, transfers on Cash App take place within a day or three. In fact, some transactions can even happen instantaneously. With Cash App, you can equally invest funds in individual stocks and cryptocurrency. What a way to invest and at the same time send out funds.
What they use to protect you and your funds are data encryption and fraud detection. Also, they have unique one-time logins that you use to access your account. As if this is not enough, their two-factor authentication is the icing on the cake.
Final Thoughts
As you continue to look for the best mobile money transfer app services, remember to keep the ones above in mind. We can confidently endorse them as the best in the market.
Read Also:
Arnab Dey
Arnab is a passionate blogger. He shares sentient blogs on topics like current affairs, business, lifestyle, health, etc. To get more of his contributions, follow Smart Business Daily.