People all around the world are adorned with Jewelry, which is a global cultural decoration.
It is more than just an accessory; it is an important part of one's transformation, boosting self-esteem and increasing beauty. The market is growing daily with an infinite variety of Jewelry in real stores and online. Jewelers and jewelry businesses frequently release eye-catching designs to attract consumers' attention. Moreover, they also provide personalized jewelry boxes so one can gift that Jewelry to their loved ones. 
Some people may see Jewelry as a gift as conventional, yet it is still unmatched. Numerous brands in this sector provide custom jewelry packaging, giving consumers a one-of-a-kind touch for that special connection. Underestimating the value of jewelry packing would be a mistake. It enhances marketing efforts and facilitates mobility and safety. Jewelry must be packaged to match it and increase its value. Poor packaging reduces attraction, which affects sales and brand perception.
Some jewelry producers need to do packaging better. In this blog, we will check out why custom jewelry packaging is important to attract customers' attention. 
Importance Of Custom Jewelry Packaging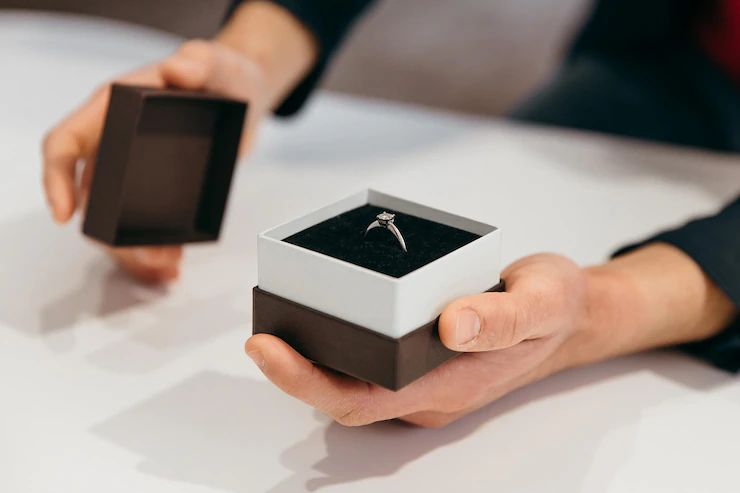 Here are a few benefits of using personalized jewelry packaging. 
1. Gives Extra Details
Personalized jewelry box packaging frequently provides an innovative platform for launching diverse products, demonstrating all product specifics, fresh offers, and discounts.
Custom jewelry gift boxes provide your products with a professional appearance by clearly displaying all the necessary information that cannot be discussed verbally whenever you deal with customs. The company's name, logo, expiration date, use, drawbacks, and other pertinent information can all be printed clearly on the jewelry boxes.
2. Versatility
Compared to traditional packaging methods and displaying your jewelry items, custom presentation boxes offer an easy showcase for your jewelry pieces. It gives you more options for product packaging, including cases, cardboard boxes, Kraft packaging, etc.
3. Increased sales
Select a chic custom jewelry box packaging to enhance the value of your jewelry pieces, boosting sales and your bottom line. According to a survey, roughly one-third of client purchasing decisions are solely based on the product's appearance.
The creation of eye-catching custom-printed jewelry packaging for jewelry displays with appealing graphics, designs, artwork, and color palettes aids in drawing in both current and potential buyers.
4. Numerous choices
The jewelry boxes come in a range of sizes and styles and are fairly priced. Looking around online, you can find various jewelry boxes perfect for keeping everything together. Whether you need a little box or a larger one, you can buy this jewelry box packing from internet shops. They provide a variety of these boxes for an affordable price.
5. Separates you from others
Standing out in a congested jewelry market is crucial, and customized packaging offers a clear benefit. When your Jewelry is delivered in specially created packaging, it immediately distinguishes your company from rivals who use generic packaging. 
Customers are drawn in by the distinctive appearance, which also exudes exclusivity and elegance. Customers are lured to the sense of possessing something exceptional, and customized packaging increases this perception. This makes your products more appealing and memorable, encouraging customers to choose your brand over competing ones.
6. Consumer's loyalty
An excellent, personalized package offers more than simply protection; it significantly improves the customer experience. Buyers are given well-crafted jewelry packaging, which gives a beautiful first impression. Customers' appreciation and brand strength might rise due to this commitment to perfection and attention to detail. 
As a result, you can expect satisfied and returning customers to purchase more things from you, fostering strong brand loyalty as they know to associate your business with quality, care, and a memorable unpacking lasting experience.
Conclusion
In conclusion, jewelry packaging is just as complicated and precise as the jewelry itself. Customers' perceptions of the company are influenced by how they perceive the jewelry packaging. Effective packaging can significantly affect customer loyalty and corporate profitability. 
Custom Jewelry Boxes are a growing industry. Brands offer various options, such as boxes with various personalized boxes. Businesses can collaborate with a jewelry packaging business to promote their story and preserve their items. They should be aware of market trends.
Jewelry that is packaged with a logo is not protected. It conveys a brand's narrative. When buyers first see the box, the experience begins. Personalized packaging can help a brand stand out in a crowded market. It might be luxury jewelry packaging or custom printed. So why are you waiting for? Go off and grab your customized jewelry packaging to attract yourself and your loved ones. 
Read Also:
Mony Shah
With an adept skill of curating content on multiple genres, Mony has harnessed success as a Content Writer quickly. Find her sharing profound thoughts and opinions on business, finance and tech niches.