Welcome to beautiful Alberta, Canada! As an RV owner, you know better than anyone how exhilarating it is to hit the open road and explore the great outdoors. But planning a road trip can be daunting, especially if you're heading to a new area, RV Direct Insurance has got you covered with comprehensive coverage at the best prices to stay safe on the road!
That's why we've put together a handy guide full of tips and tricks for RVers venturing through Alberta. Here, you'll find everything you need to know to make your journey unforgettable.
1. Choose Your Destinations Wisely
There's no shortage of incredible destinations in Alberta to explore, and you'll want to make the most of your time on the road. However, hitting too many destinations in a short period of time can be exhausting.
Choose a few must-see locations and plan ample time for each so you can truly experience everything they have to offer. Some of Alberta's most popular locations include Jasper, Banff, Canmore, and Waterton Lakes National Park.
2. Be Prepared For Changing Weather
Anyone who's spent time in Alberta knows that the weather can be unpredictable, even in the summer. Before you hit the road, pack plenty of layers to stay warm during chilly evenings and sudden rain showers. It's also a good idea to bring a few pairs of comfortable walking shoes for hikes and exploring.
3. Stock Up On Supplies
When it comes to RV road trips, there's no such thing as being too prepared. Before heading out, stock up on essential supplies like non-perishable snacks, toiletries, and first-aid kits. It's also important to have a solid road map and, if possible, a GPS or navigation system to keep you on track.
4. Plan Your Route Carefully
Alberta's vast size and varying terrain can make navigation tricky, especially if you're not familiar with the area. With this in mind, plan your route carefully and be sure to research potential detours or road closures before setting out. Websites and travel guides like Alberta Travel can be helpful resources for planning your route.
5. Embrace the Road Trip Experience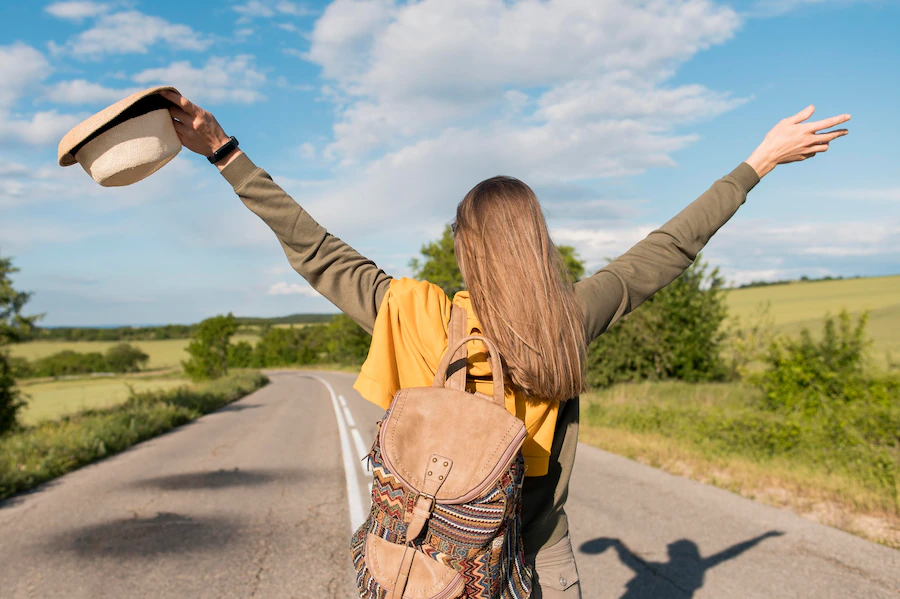 Remember, the road trip experience is about more than just getting from point A to point B. It's about taking in the sights, sounds, and feelings of being on the open road. Take time to explore small towns, enjoy roadside attractions, and soak in unforgettable scenery. With a bit of planning and a willingness to embrace the journey, you're sure to have an amazing time on your RV road trip through Alberta.
How To Choose A Destination For Your RV Trip In Alberta
1. Consider Your Interests
What are your interests and hobbies? Do you love the great outdoors and nature? Or are you more into museums and historical sites? Understanding your interests and those of your travel companions is crucial when deciding where to go. Alberta has six regions – each with its unique attractions.
You can visit the mountain town of Banff, which features snow-capped peaks, turquoise lakes, and an assortment of hiking trails. Or, if you love wildlife, you can explore the prairies of Calgary, where you can see bison and prairie dogs.
2. Check The Season
Alberta has a range of seasons, and each has its charm. Summer is ideal for those looking for outdoor activities and warm weather. In contrast, winter brings snow and ice, making it perfect for skiing and snowboarding. The shoulder seasons of spring and fall are great for those seeking lower costs and fewer crowds. When planning your RV trip, keep in mind the season and the climate of your preferred destination.
3. Plan Your Route
Getting to your destination is just as memorable as the destination itself. Plan your route, incorporating any must-visit spots that lie in the way. You can explore Calgary, home to the famous Calgary Stampede, or visit Drumheller, where you can see dinosaur fossils at the Royal Tyrell Museum. Alberta is dotted with quaint towns, and adding these off-the-beaten-path locations to your route can create a unique experience.
4. Available Amenities
Before heading out, ask yourself, what kind of amenities will you need during your journey? Are you self-sufficient with your RV, or do you need campsites or other types of accommodation? Having a plan beforehand can prevent hiccups and unwanted surprises. Many campsites offer electricity, water hookups, and grey and black waste disposal, which can make for a stress-free camping experience.
5. Convenience & Distance
Lastly, be realistic about the distance you will travel and the convenience and accessibility of your destination. While an eight-hour drive may seem like a good idea on paper, the reality of being cooped up in your RV for eight hours may not be so fun.
When planning your trip, consider choosing multiple destinations on your route that can be reached within a reasonable amount of driving time. Additionally, be aware of the distance between your chosen destinations and the nearest town or city. If you need an emergency store stop or medical assistance, you want to know that you can reach the nearest town easily.
If you're an RV owner in Alberta, hitting the road can be an experience unlike any other. With breathtaking scenery, world-class destinations, and endless opportunities for adventure, there's no better way to explore this incredible province than from behind the wheel of an RV.
By following our tips for RV road trips in Alberta, you can ensure a journey that is both unforgettable and stress-free. So, pack your bags, gather your loved ones, and hit the road – the adventure of a lifetime awaits!
Read Also:
Ankita Tripathy
Ankita Tripathy loves to write about food and the Hallyu Wave in particular. During her free time, she enjoys looking at the sky or reading books while sipping a cup of hot coffee. Her favourite niches are food, music, lifestyle, travel, and Korean Pop music and drama.