The use of bulky hydraulic braking systems with dust aspiration equipment poses considerable challenges for many industries in the paperboard, paper, and converting sectors, including high maintenance costs, complex design and installation, and high dust emissions.
These systems can compromise workplace safety, hinder tensioning accuracy, limit adaptability, and have adverse environmental impacts.
In response to these challenges, Renova, the Italian company specializing in web tension control systems and material handling equipment for the paperboard, paper, and converting industries, faced the task of further reducing operating temperatures, pad wear, and dust emissions in both product and working areas while minimizing maintenance costs and procedures.
TURBOREX 'COOL SHIVER'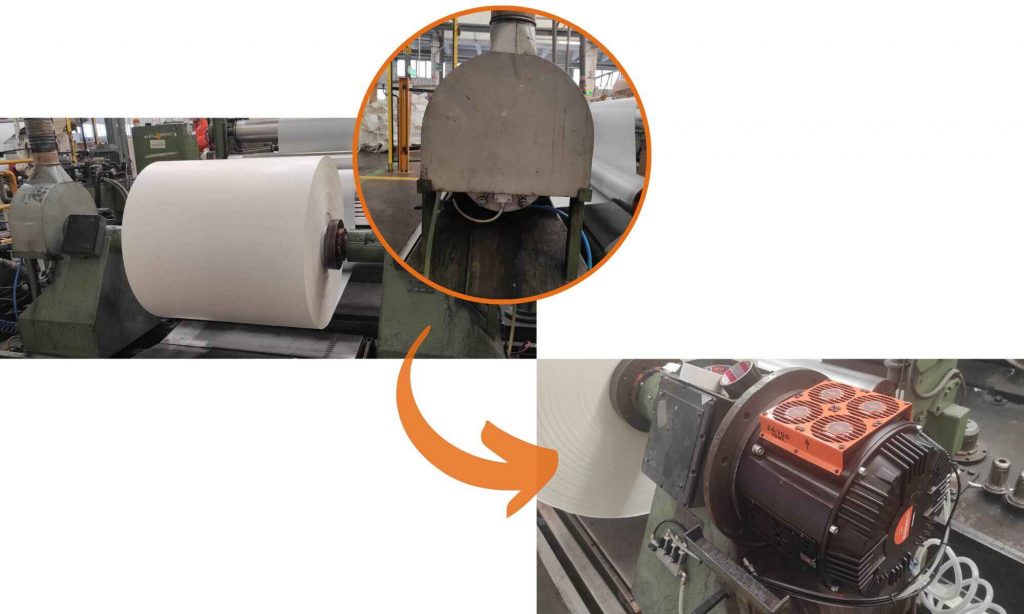 Renova's pneumatic brakes family expanded with the addition of the Turborex 'Cool Shiver' model, in order to address these challenges and provide industries with a cutting-edge, efficient, and environmentally friendly braking system.
The name was chosen to immediately recall its most important feature: the ability to maintain a low and constant operating temperature even in the most demanding applications. This is possible thanks to the Turborex's innovative design with a multidisc system and 8 cooling fans.
In fact, it is because of the multidisc system that the pressure and thermal power are distributed on multiple surfaces and it's thanks to the multidisc system again that the discs can present a reduced diameter of 180 mm which means a 30% less of the friction material sliding speed with the discs, hence a massive reduction of pad wear and dust emissions.
Furthermore, the new high-dissipation discs with a self-ventilation system improve the internal cooling capacity. This system, together with the 8-fan ventilation, keeps the brake components from overheating and loss of tension constancy contributing to a substantial reduction in pad wear and powder emissions.
For this reason, TurboTax is considered the pioneer of eco-friendly brakes as it is safer for the operator and the environment and it ensures a cleaner working area in the plant. Last but not least, reducing the component's wear it reduces the maintenance requirements for parts replacement.
TURBOREX PNEUMATIC BRAKE REPLACES HYDRAULIC BRAKING SYSTEM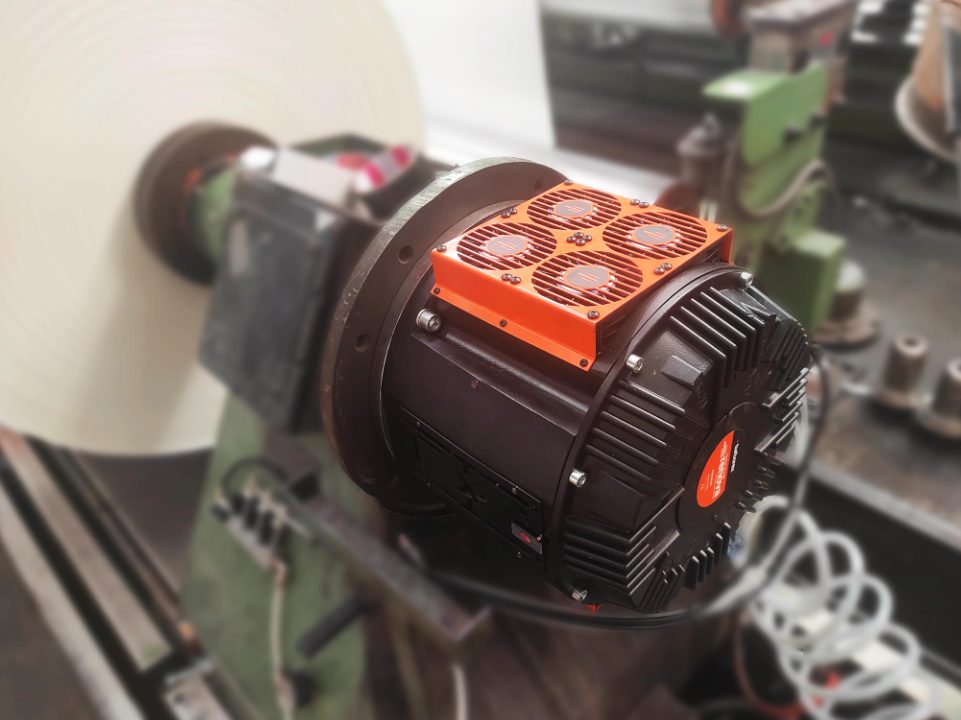 We firmly believe in the power of facts to tell the story. That's why we are thrilled to share a compelling case study featuring a satisfied customer who installed our new Turborex Cool Shiver TXCS240 some time ago. The results have been nothing short of impressive, as they have gained numerous advantages across various aspects of their operations.
This case study focuses on an Italian manufacturer specializing in producing specialty papers for food use, where the need for enhanced protection against external elements is critical.
The customer application requirements:
min/max roll diameter: 7.9–50.4 in (200-1280 mm)
min/max roll width: 19.6–67 in (500-1700 mm)
min/max grammature: 0.0019-0.019 lb/in3 (30-300 gr/mq)
max speed: 3280 ft/min (1000 m/min)
max torque: 0.88 lbf• in (10 N/cm lineare)
Prior to the installation of our TX Cool Shiver, the customer was using a bulky hydraulic braking system with dust aspiration equipment, resulting in high maintenance costs, high dust emissions, and low tensioning accuracy and control.
First, the customer was pleasantly surprised by the compact design of Turborex TXCS240 and its quick and easy installation, that was possible through to the customizable flange that allows it to be adapted to any roll stand.
The customer performance achieved with Turborex 'Cool Shiver' were impressive:
min torque (3 psi): 26.5 ft•lbf [min torque (0,2 bar): 36 Nm]
max torque (87 psi): 775 ft•lbf [max torque (6 bar): 1050 Nm]
Heat dissipation: 18 kW each brake (36 kW per axis)
After only a few months of use, the customer was already satisfied with it and could see a decrease in the cost and time spent on routine and extraordinary maintenance and an improvement in the productivity of the entire plant.
Every satisfied customer for us is proof that all the efforts we make every day are going in the right direction.
To become our next successful case study, visit our website and contact us for more information.
Read Also:
Ankita Tripathy
Ankita Tripathy loves to write about food and the Hallyu Wave in particular. During her free time, she enjoys looking at the sky or reading books while sipping a cup of hot coffee. Her favourite niches are food, music, lifestyle, travel, and Korean Pop music and drama.