People earn money from their jobs, investments, gifts, real estate rent, etc.
They also spend on many small and big things every day, creating a dynamic flow of revenues and expenditures typical for today's regular consumers.
However, it would be too simplistic to consider personal finance as a mere formula for deducting your expenditures from income.
This aspect of human existence has branched out into numerous domains, including:
Managing loans and debt
Social security and insurance
Budgeting your regular expenditures
Retirement planning
Taxes
Investments
Estate planning
Credit card use
Home and mortgage payments
Most people live in a complex web of financial obligations that a simple calculator can hardly grasp. Thus, you can hardly live a financially stable life without careful planning and understanding of your financial situation and goals.
Personal finance apps have recently emerged as a separate product niche in the digital market to address this gap in the financial literacy of individuals.
These apps aim to provide basic education and financial planning tools to let people get their expenditures and earnings under control.
So, if you want to enter the market with such a product, it's high time to study what finance app development entails.
How Can Personal Finance Apps Help People?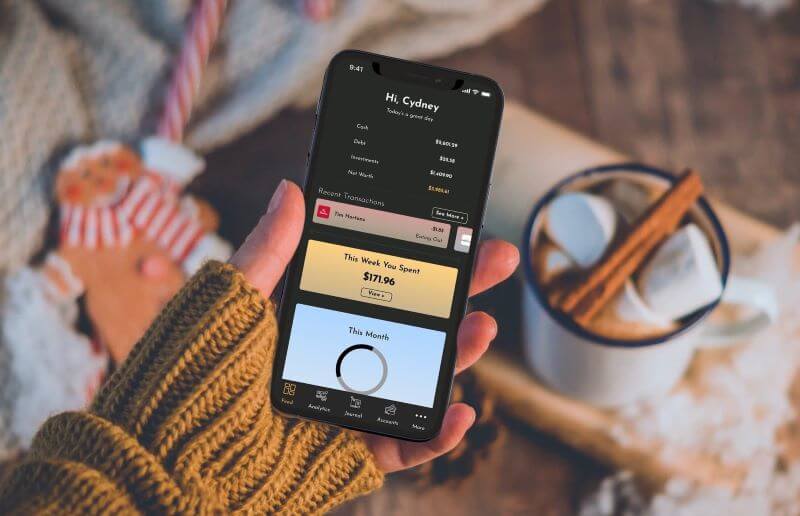 Credit: Lvivity
An assumption that all people have a firm grasp of their income and spending is an illusion. Millions of users across the globe don't know how much they earn and spend every day, month, and year. As a result, many of them waste vital opportunities to save money for a passive income, careless retirement, etc., spending too much on things they don't need.
Personal finance apps have emerged to help individuals with a poor level of financial literacy to organize their funds more wisely. A typical app focuses on the following financial aspects:
Help people clarify how much they actually earn (after taxes and mortgage/insurance/debt payments).
Set up an emergency fund for personal needs.
Start saving money wisely.
Compare interest rates and find the most reasonable offers.
Adopt a healthy approach to borrowing.
Create a workable budget without compulsive shopping sprees and financial disasters.
Analyze the person's credit record to project their credit future.
Choose an optimal insurance package.
Plan a bright financial future.
These aspects are vital for every individual as they help bring control over finance back to their lives, removing anxiety and adding stability.
If you're ready to assist users in this way, it's time to create a financial app with a focus on personal money management.
Steps to Build Your Product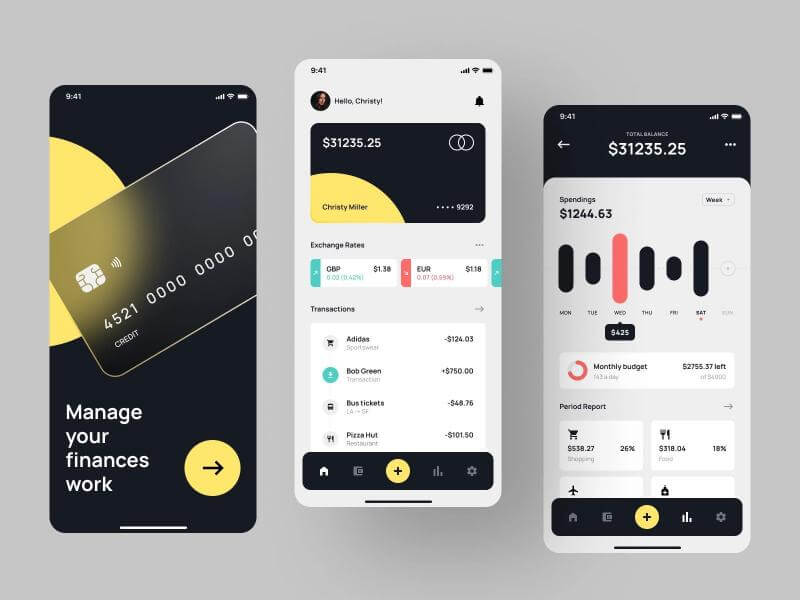 Credit: Shakuro
The personal finance app's development algorithm is similar to many other digital products on the market, with the only difference in the set of features and robust security requirements. We cover these issues in detail below.
#1 Determine the App's Features
The first point to clarify in your personal finance project is a set of features you wish to include.
You can design a general app with subject-specific education and tips, real-time expenditure tracking, and financial data analytics.
Otherwise, you can focus on a particular sphere of finance management, like choosing insurance, repaying the debt, or starting investments.
In any way, your app should include a minimal set of features, like account creation, user authentication, deposit and withdrawal of funds (if the app involves some payments), historical data analysis, etc.
#2 Invest in Security
Since the personal finance app deals with money, it must comply with numerous state regulations on user data privacy and security.
Thus, you need to integrate multiple security layers into the app's design to ensure user trust and confidence.
Provide a possibility for safe PIN setup, integrate two-factor authentication, QR code authentication, and a one-time password system. Data supplied by users upon registration should be stored on a secure, breach-proof cloud server.
#3 Conduct User Research
Another aspect of developing a demanded, successful personal finance app is user research. You need to go out to the market and monitor the competitors' offers to see what users like and don't like.
By identifying the need for your product and embracing the limitations of the existing products, you will be much better positioned to design a winning solution.
#4 Create Stellar UX Design
UX is king in modern app development, and your task is to find the proper mix of features for your brainchild. Make the UX intuitive and simple while at the same time offering a richness of valuable functions.
The onboarding process shouldn't be a hassle, but users should have a sense of achievement and progression as they master the app and reveal valuable features in it.
#5 Think Like a User
User-focused design is at the heart of successful digital products. You couldn't be farther from the truth, thinking that you know better than the customer.
The end-user chooses whether to use your app or not, so it's your task to make them love it.
User research will give you valuable insights for proper design with the user in mind, and the reward will be quick product buy-in among your target users.
#6 Build and Test an MVP
Now it's time to create an MVP and test your idea with a target user group.
The MVP is not as costly as a full-scale software product, but it showcases the app's main features and functions.
Based on user feedback, you will be able to make minor changes to the project at the early stage, thus avoiding costly code and design revisions later.
#7 Hold Rigorous QA Testing
The final step before the launch is a rigorous QA test. Ensure that your app works as it should fulfill its functions, and doesn't contain critical bugs. After this review, you will be able to launch the app on the app market without worries.
A Wrap-Up
Personal finance is a very demanded niche in the digital app market, with thousands of people interested in financial literacy enhancement. So, you will always find your loyal customers in this industry if you create a robust, functional app with appealing features. Follow our tips to go through this process hassle-free.
Read Also:
Sumona
Sumona is a persona, having a colossal interest in writing blogs and other jones of calligraphies. In terms of her professional commitments, she carries out sharing sentient blogs by maintaining top-to-toe SEO aspects. Follow her contributions in RSLOnline and SocialMediaMagazine