Building a pool can be exciting, but it can also be stressful. If you've never worked with a pool builder to design or install a pool, the entire process can seem incredibly intimidating.
Before you get started, we've outlined some of the things you should do – and some of the things you should avoid doing. Consider this list as you get ready to meet with your pool builders.
Do: Determine Why You Want a Pool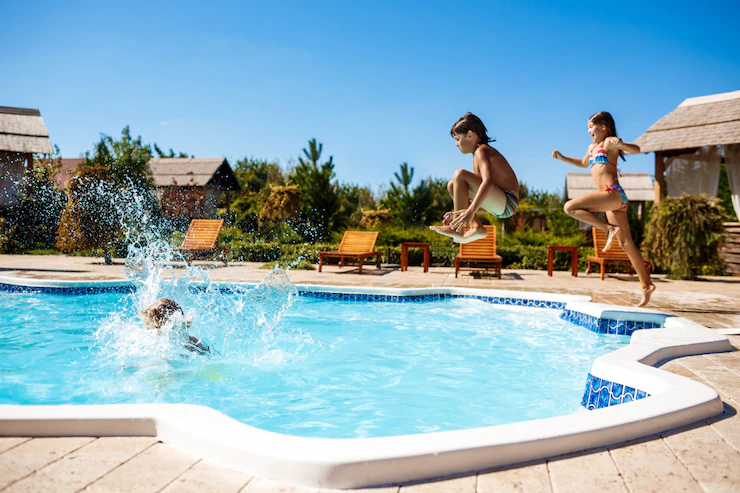 There are so many different types of pools available, and the type of pool you get depends on how you want to use it. Who will be using it? Are you using it for family fun, recreation, entertaining, or exercise? Each of these goals may require a different pool or a different setup.
You should think about how deep you want your pool to be. Consider the decking you want, landscaping, or any water features that catch your eye. You may want to include fountains, lighting, waterfalls, or other features.
Maybe you even want to add a spa! Before you approach a pool builder, you should have some idea of what you want from your pool.
Don't: Forget the Surrounding Area
The pool is the main feature you're looking for, of course. But you shouldn't stop at the pool. If you're going to be entertaining, consider the deck area around the pool. Do you want a fire pit for guests? Wicker furniture for lounging? What about an outdoor kitchen and bar?
If entertainment isn't your thing, consider landscaping, plants, rock formations, walls, and other features. You can add a gazebo or other shelter to get some shade from the Florida sun or add a fireplace or outdoor TV viewing area for a cozier space.
The only limit to what you can add to your pool area is space and your budget.
Do: Remember Your Budget
Of course, we all want a dream pool. Dreaming of the perfect space is natural. However, we all have limits – and unfortunately, we have to work within a budget.
While it might be tempting to approach a pool builder with your ideas and ask how much all of the features will cost, this doesn't work for most contractors. There are so many ways that pool builders use to adhere to costs, including things like materials, size, and coverage.
To get you as many of your essential wants as possible, you should approach your pool builder with a budget in mind. Having a list of wants is essential as well. With both pieces of information, your pool building contractor can create a plan that gets you as much as possible, while working to stay within the budget you can afford.
Don't: Choose a Contractor Due to Price
While staying within your budget is important, you shouldn't choose a contractor based on price. Going with the least expensive pool builder can lead to disastrous results.
Some pool companies will install pools as quickly and inexpensively as possible, which can lead to critical mistakes in the plumbing or construction of your pool. Cutting these corners isn't ideal, especially when you're already paying so much for your pool.
Another thing that these cheaper pool builders sometimes miss is the area surrounding the pool. Most of these companies don't set aside the time or the budget to deal with your landscaping, the area around your pool, or even clean up the yard.
Though it might seem like a good idea to save money up-front, it may lead to more money spent down the road. To avoid this, also choose a contractor based on testimonials, reviews, and ability.
Do: Research Your Pool Builders
Because there are so many pool builders who want to get the job done and move on to the next quickly, you should do your due diligence before hiring anyone. Look at their past jobs, testimonials, licensing, and insurance.
Keep track of quotes and promises – in writing, if possible. Shop around if you don't like what a pool builder quotes you. Doing this now can save you a lot of hassle and stress in the future.
Conclusion
These basics can help put you on the path to building your dream pool. Remember to be careful about the pool builders you choose, do your research, and have a budget in mind. Don't shop around for cheaper prices, and don't forget about the area around the pool!
Read Also:
Arnab Dey
Arnab is a passionate blogger. He shares sentient blogs on topics like current affairs, business, lifestyle, health, etc. To get more of his contributions, follow Smart Business Daily.