ERP-integrated e-commerce is a well-liked method for B2B companies seeking to increase the effectiveness of their online sales. 
It ensures that various business management applications communicate, enabling the smooth completion of back-office tasks like product or catalog management, IT services, inventory software, and warehouse/stock management. 
Ecommerce platforms and strong Enterprise Resource Planning (ERP) systems working together have become increasingly important in the digital age as a driver of operational excellence and improved customer experiences. 
The importance, advantages, and best practices of Ecommerce ERP integration are examined in this article, highlighting how it can increase productivity, quicken workflows, and even boost revenue. 
To avoid losing money, B2B businesses must integrate their ERP with their online store.
Understanding ERP Integration In E-Commerce
The process of linking an e-commerce platform with an enterprise resource planning (ERP) system, improving data flow and synchronization, boosting accuracy, and reducing silos is known as ERP e-commerce integration. 
It entails integrating ERP software with other commercial programs like e-commerce, customer relationship management, EDI, marketing tools, and databases. 
ERP integration improves business efficiency by making it simple to track crucial information like customer information, items, order shipping/tracking, and inventory. 
While ERP systems offer administrative features like cross-departmental communication, inventory management, and supply chain management, retailers have the tools to sell goods, accept payments, and process orders.
What Future Trends Are Awaiting?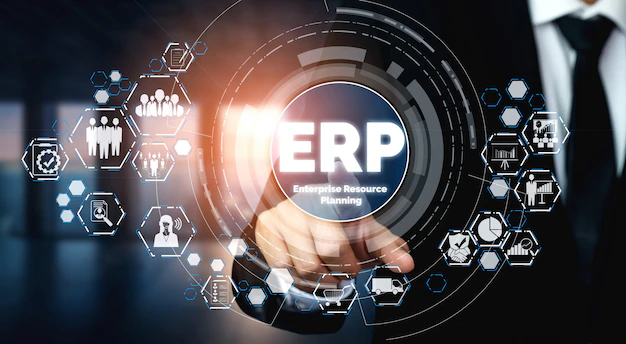 In the process of ERP integration, several trends can shape the future of e-commerce. So let us take a look at the most important ones here—
1. Adapting To Cloud-Based Solutions
With real-time data on inventory levels, orders, and customer information, cloud ERP integration is a popular option for e-commerce businesses. 
It guarantees precise inventory management and prompt order fulfillment. ERP and eCommerce solutions that are hosted in the cloud are more adaptable, scalable, and accessible, making integration simpler. 
Cloud ERP software is widely used by businesses to enhance operations and implement best practices. One best example is the stripe netsuite integration that helps make all transactions seamless.
By eliminating up-front costs for hardware and software and cutting ongoing IT and staff costs, cloud ERP improves operations throughout a company, including those with partners and networks. 
Deployments of public cloud ERP can result in significant cost savings. Vendors provide yearly upgrades that are more substantial and allow customers to request changes based on similar needs, which leads to a more responsive and rapid pace of innovation.
2. Enhanced Automation
Artificial intelligence and machine learning developments are revolutionizing the integration of ERP and eCommerce, improving order processing, data entry, and inventory management. 
ERP reduces time wastage in crucial tasks like stock management and customer service, and integrating e-commerce enables users to access all the information they need in a single location. 
Automation in accounting lowers human error and consolidates data, and ERP programs assist businesses in providing accurate tax identification numbers.
With an adequate ERP solution, businesses can avoid increased sales and e-commerce traffic because software can automate services without adding more staff. 
Businesses can attract prospects and build a bigger sales pipeline by being visible online. Online businesses operate more efficiently when these systems are automated through ERP integration. 
This prevents customer orders, reduces time spent on error fixes and straightforward inquiries, and ultimately frees up time for organizational growth.
3. Improved Scope Of Personalization
The importance of customer information and preferences for eCommerce businesses to provide tailored experiences is covered in the text. 
Product recommendations targeted marketing initiatives, and pricing are personalized, boosting customer engagement and revenue. Customers expect an eCommerce website experience comparable to or identical to a traditional brick-and-mortar store, which is key to the site's success. 
It's crucial to consider product flow, segmentation, and retail personalization based on consumer preferences. 
Because there are few interpersonal interactions between sellers and buyers, gaining the trust and loyalty of customers can be difficult. Personalization affects businesses, and in 2023, it will become even more crucial.
4. Social Media Integration
The ability to create and share content about products sold online, such as reviews, ratings, and photos, makes social media an essential tool for businesses. 
It is crucial for businesses with online storefronts to comprehend this content's role in e-commerce, given that it can influence potential customers greatly. 
Social media platforms can be linked with ERP and eCommerce integration systems to engage customers and increase sales. 
Social media platforms give businesses a direct and interactive channel for communication, feedback gathering, and problem-solving. 
Social media allows businesses to learn about consumer trends and preferences and adjust their product development and marketing plans accordingly. 
In particular, for retailers in post-sale customer engagement, social integration with ERP can help attract, close, and create repeat engagements.
5. Bringing Down E-Commerce Operational Costs
Automating manual processes through integrating an eCommerce platform and an ERP solution lowers human error and information redundancy. 
This allows the incorporation of customer information, shipping and payment details, and web orders into the ERP system. 
As a result, inventory and sales orders can be transferred directly from the eCommerce store to the ERP system. 
With the aid of ERP-integrated ecommerce platforms, businesses can control every aspect of their operations from a single location, removing the need for manual data entry and errors.
Additionally, ERP software streamlines and automates financial operations by combining numerous platforms, systems, and apps.
Related: Digital Transformation In Business: Leveraging IT For Effective Business Management
How Does An E-commerce Business With ERP Integration Looks Like?
Ecommerce ERP integration can greatly enhance and transform the customer experience and relationships for an e-commerce business in the following ways—
ERP software facilitates order placement, customer updates, change simplification, and updating inventory information.

It sets up subsequent actions automatically, like figuring out shipping costs or producing a shipping label.

ERP software can notify customers when an order has been received automatically, an item has left the warehouse, or a shipment has been delayed.

ERP software can help with price adjustments within product categories and keep customers updated on inventory information.

It reduces the time needed to correct mistakes or respond to straightforward inquiries, ultimately freeing up time for organizational growth.

Depending on the type of business and the software integrated, ERP software has a variety of specific functions.
Future Proof Your E-Commerce Business
By automating inventory updates, order tracking, and accounting, an ERP solution for e-commerce can significantly enhance online businesses. 
This integration ensures a seamless online experience while boosting sales without increasing employee workloads. 
ERP and eCommerce integration has a bright future because it will help businesses improve customer experiences, streamline processes, and make well-informed decisions. 
Scalability, better financial tracking, and operational efficiency are advantages. However, difficulties could occur that call for cautious planning and tenacity. 
Organizations can unlock the full potential of Ecommerce ERP integration if they follow best practices. This collaboration is an investment in the future that will help businesses succeed in a constantly changing market.
Read Also:
Barsha Bhattacharya
Barsha Bhattacharya is a senior content writing executive. As a marketing enthusiast and professional for the past 4 years, writing is new to Barsha. And she is loving every bit of it. Her niches are marketing, lifestyle, wellness, travel and entertainment. Apart from writing, Barsha loves to travel, binge-watch, research conspiracy theories, Instagram and overthink.