Robotic pool cleaners have already become a must-have device for residential pool owners. If you want to spend less time cleaning the water but still have clean water, then a robotic pool cleaner is also your solution. The primary purpose of robotic pool cleaners is to scrub a pool floor and walls; some can even clean water. The robot also collects debris from the bottom and filters the water during scrubbing. The most functional models can collect garbage from the water surface. You do not need to use a brush to remove algae and dirt from the walls; robotic cleaners have smart navigation systems not to miss a spot.
This article represents Dolphin Sigma Robotic Pool Cleaner, which has already proven its necessity for effortless pool maintenance in many households. Dolphin pool cleaners have been produced by Maytronics, a global swimming pool accessories industry leader, for 35 years.
Main Features Of Dolphin Sigma Cleaner
Dolphin sigma robotic pool cleaner is fully functional; it covers walls, floors, and water. It can thoroughly clean walls and waterlines, thanks to a gyroscope. It is designed for in-ground pools or the most popular shapes – rectangular, round, kidney, and free shape. The maximum allowable pool size for cleaning is 50 feet, as the cable length is only 60 ft. This corded robot is white with blue accents. It has an ergonomic design and is lightweight (24.63 lb); using the handle, you can easily put in and out of the swimming pool with this robotic cleaner. In addition, it has a fast water release feature for quick water removal after you pull it out.
This cleaner is equipped with a power unit connected to the electric power and has control buttons. For work, it requires only electricity and should be submerged in the water. The power supply unit should be at least 3.5 m / 12 ft away from the pool edge. The Sigma does not need the connection to the pool equipment (skimmer, pump, or booster) as other types of automatic pool cleaners do. This model is also 90% more energy efficient than side and pressure side cleaners. With one button, you can start the cleaning process, and two scrubbing brushes will start to move. Dual rubber scrubbing brushes remove algae and bacteria. You can also control the robot from your smartphone application. You can set a schedule or manually navigate the robot.
All debris is collected into a top-loaded extra-large cartridge filter. The filter has dual-level filtration, consisting of two parts – fine and ultra-fine meshes – that collect up to 2 microns. It would be best to clean the filters after each cleaning cycle, but only fresh hose water is required; Dolphin Sigma Cleaner has a dynamic dual-drive system and SmartNavigation 3.0 that allows you to turn 360 degrees around and cover the entire pool without missing spots. It does not stop on drains and cleans them as well.
You can set a weekly timer to clean every day, every second, or third day. The robotic pool cleaner should be constantly submerged in the water for this feature. By default, the cleaning cycle is 2.5 hours long. You can choose between the floor-only cycle; ultra-clean; and floor, walls, and waterline cycle. The duration can be different – default, short and long cycles,
Dolphin Sigma Cleaner enhances your pool cleaner maintenance by reducing water consumption and chemical and energy usage with every pool cleaning.
Pros And Cons Of Dolphin Sigma Cleaner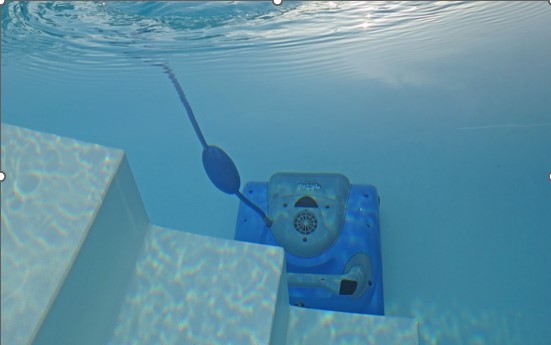 To summarize the best sides of this cleaner, please check the below table. For sure, there are some disadvantages presented as well.
Pros

●       Suitable up to 50 ft in-ground pools

●       Ergonomic design

●       Lightweight

●       Energy efficient (5 cents per kWH)

●       Works independently from other pool equipment

●       Several cleaning cycles

●       Anti-swivel cable preventing tangling

●       Dynamic dual-drive

●       Fast water release

●       The suction rate is 4500 gph

●       Two combined scrubbing brushes

●       Control via smartphone

●       3 years warranty

Cons

●       Cord length only 60 ft

●       No full filter indicator

●       No fast cleaning cycles

●       No remote control
If required, you can purchase additional parts for your cleaners: a remote controller; a wonder brush for ceramic surfaces; or a caddy for storage and transportation.
Dolphin Sigma Variations
Even though Dolphin Sigma is the recommended model, by some parameters, you may prefer other Dolphin robotic pool cleaners.
If you have a lot of large debris, such as leaves, then Dolphin Premier with an oversized leaf bag is a perfect choice. You also will have a full bag indicator. This robot cleans the pool by default for 3 hours but also manages to take care of walls, floor, and waterline. This model is slightly cheaper, as no smartphone control is provided.
If you prefer a short cleaning cycle, then you can check Dolphin Quantum with an extra-large basket filter. The default cleaning time is two hours, but still, the functionality is the same with Sigma and Premier.
If you are searching for cheaper models and have a smaller swimming pool, Cayman and Escape will be good choices. The first is designed for in-ground pools; the second can also clean above ground. Both can clean only walls and floor but have large filter baskets.
As you see, you can always find the best robotic pool cleaner based on your specific pool requirements. All Maytronics pool cleaners are reliable, perfectly cleaning and scrubbing the swimming pool, and require minor maintenance. All filters should be cleaned appropriately after each cycle, and all torn and movable parts should be replaced according to the requirements written in the manual.
Conclusion
All robotic cleaners simplify the maintenance of all swimming pools. If you run them every second or third day (or even more frequently), you can reduce other mandatory steps of pool cleaning, such as adding chemicals, prolonging pool filter life, and decreasing the usage of filter pumps. Dolphin Sigma Cleaner is the perfect example of a fully functional robot that can clean walls, waterlines, and floors. It is not only energy efficient but also helps to reduce costs for other water sanitation procedures. So remember safety rules and take care of this small helper for a happy life together!
Read Also:
Abdul Aziz Mondal
Abdul Aziz Mondol is a professional blogger who is having a colossal interest in writing blogs and other jones of calligraphies. In terms of his professional commitments, he loves to share content related to business, finance, technology, and the gaming niche.