Recently, there has been a craze for beverages. From waking up in the morning to going to bed at night, a beverage can be served at any time of the day. And the best thing about it is that there is no bad effect on it. Kung Fu Tea is one of a kind in the beverage industry that not only serves beverages, but it will delivers to your house also.
Before searching for kung fu tea near me, let's look into the details.
Kung Fu Tea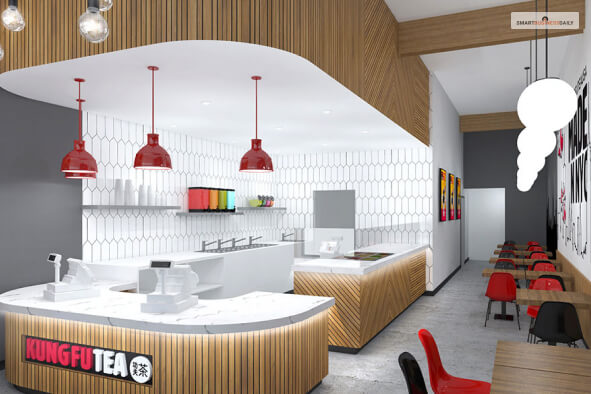 The brand was founded on April 30, 2010. The first outlet was in Queens, New York. Right now, the brand has more than 350 outlets all over the United States and is the largest bubble tea brand. The company says that making tea is not tough, but the hard part is to make it tasty and presentable. The company's mission is to improve the idea of beverages and serve high-quality and delicious beverages.
The brand makes the tea leaves in a unique way so that it tastes different and good in their own way. The vision and mission of the company are to change the idea of tea. They want to make tea in an innovative way. So that it will be good for the taste buds, and people will definitely post those on Instagram.
The company started to celebrate National Bubble Tea Day on April 30, 2018, as it was its 8th anniversary. Kung Fu Tea company loves to call its customers bubblier. The company has started its business in Canada also. The locations are as follows.
2827 Millwoods Road NW, Edmonton, AB, T6K 4A9
2460 Brock RD, Pickering, L1V 0J1 Canada
30 Rice RD Welland Ontario L3C 5Y6
Kung Fu Tea: How Did It Start?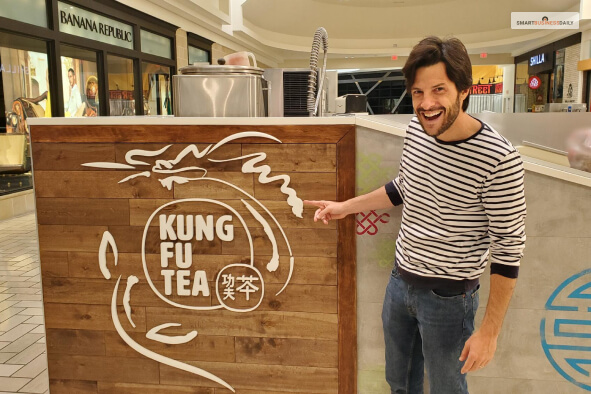 In the year 2009, there were three friends, Ray, Allen and Michael. They returned to Queens after a trip from Taiwan. They wanted to drink together, and their favorite drink was Bubble Tea. So they started searching for a tea spot. Finally, they found one and ordered their favorite bubble tea.
While drinking, they were into a conversation about opening a new business, and they found that the tea was not good enough as they had experienced bubble tea in Taiwan. That was the moment they realized what to do next.
Then they called their friend Sean whom they had met in Taiwan. And he already had a business bubble tea chain in Taiwan. At first, he didn't want to join them, but the three friends were successful in convincing Sean to take the risk and come to the United States to join them.
Kung Fu Tea: Process
The core principles of this company are patience and disciple. When they started to make the process, they chose the best tea leaves, brewed those at the right temperature and steeped the perfect amount. They use actual tea leaves and give various ingredients. They have also experimented with several recipes to make the best authentic taste. This is the process they follow to make their brand in the first place.
They have promised to give the best level from the beginning. And to keep the promise, it took patience, effort and a lot of time. They have given a large amount of time to research and development. And finally, the hard work was seen when they opened their first outlet on April 30, 2010, in Queens, New York. The kung fu tea hours are from 12 p.m. to 8 p.m.
Kung Fu Tea: Business
If I have to talk about the business, then the franchise is $37,000. Every unit that you will open in a hotel or airport will cost you only$25,000. Also, if you want to add any additional units, then the cost is $25,000. In the beginning, the investment was around $166,500 and $375,500.
Here is the list of expenditures.
| Expenditure | High | Low | Payment |
| --- | --- | --- | --- |
| Initial Franchise | $37,000 | $25,000 | US |
| Training Fee | $10,000 | 10,000 | US |
| Other Equipment | $40,000 | $30,000 | Approved Supplies |
| Affiliate Cost | $7,500 | $6,500 | Arms Global Inc. |
| Hardware and Software | $5,000 | $2,500 | Approved Supplies |
| Security and Prepaid Raid | $40,000 | $5,000 | Landlord |
| Architectural Cost | $150,000 | $40,000 | Independent Contractors |
| Interior Design | $5,000 | $3,500 | Architect and Designer |
| Raw Materials | $25,000 | $15,000 | Arms Global Inc. |
| Initial Marketing | $5,000 | $5,000 | Approved Supplies |
| Insurance | $20,000 | $5,000 | Independent Carrier |
| Travel Expense | $5,000 | $5,000 | Restaurant, Hotel and Airline |
| Legal Fee | $6,000 | $5,000 | Independent Professionals |
| Additional Fee | $20,000 | $10,000 | Independent Supplies |
| Total | $166,500 | $375,000 | – |
Kung Fu Tea Reviews
⭐⭐⭐⭐⭐
Rating: 4.5 out of 5.
Here are some reviews that will help you to decide whether to visit there or not.
I have been to Kung Fu Tea several times and have enjoyed each visit.  My go to favorite has been the Blueberry Creamsicle Milk Slushy with Pearls.  So very good.  The only thing I wish they would do is to be able to mix and match.  I guess because they are a chain, they are not able to do that.  If they could I would add another star.
This place has the best boba — I'm talking the actual tapioca pearls. They're perfectly QQ (chewy) and have a good brown sugar flavor, BUT they're hit or miss. Sometimes I get the perfect cup of milk tea and boba, other times the boba is hard and not so great. I've also had both positive and negative experiences with the staff. Overall, they have lots of flavor options and make a decent product. I certainly wouldn't tell anyone not to try it, but I wish they were a little more consistent in their quality.
I was out in Henrietta yesterday and CRAVING bubble tea. I decided it was time to try something new so off to Kung Fu Tea I went! I cannot believe I have never been here before. I ordered via GrubHub for pickup and was so excited that I could easily adjust sweetness, amount of ice, and bubble additions. That kind of ease is so helpful when ordering at places so you don't have to call and ask for anything to be changed, it can all be right on the ticket.
Frequently Asked Questions (FAQs):
Here are some important questions and answers.
1. What Does Kung Fu Milk Tea Taste Like?
➥ The Almond Milk tea is syrupy and sweet. This is one of the best ones to taste if you haven't tasted bubble tea. There is milk, sweetness, brown sugary bubbles and a chewy taste.
2. What Is Kung Fu Tea Known For?
➥ Almost every beverage here is tasty. You will find fresh, high-quality and delicious beverages. And the beverages are freshly brewed also. Also, they cook beverages every 2 hours and brew every 3 hours.
3. Is Kung Fu Tea Chinese Or Korean?
➥ Kung Fu Tea is Chinese, and there are a couple of rituals that are connected with the Chinese Gongfu Tea Ceremony. The preparations originally came from the Chaoshan and Fujian areas of eastern Guangdong.
To Conclude
One of the best things about Kung Fu Tea is that the preparations are authentic, and they have also come up with so many experiments. You may find the Kung fu tea menu expensive, but believe me, it is worth it. Also, if you want to but a Kung Fu Tea franchise, then let me tell you that the business is highly profitable so you can do that too.
If you want to know more, feel free to ask in the comment section below.
Thank You.
Read More: