Even small businesses generating less than $10 million per year have some payroll and employee management complexities. Businesses like these usually have less than 100 employees. OnPay is the perfect employee service for employers with a small house of fewer than 100 employees can use.
The cloud-based platform offers unlimited payroll processing every month. Users can create multiple customizable reports using the OnPay Payroll platform. When you want payroll tax calculation and payment done, this platform will offer flexibility and ease of use. Besides, it does not cost you much.
But, there are some pros and cons like other payroll services you need to be aware of. Here is a quick review of the OnPay platform. Go through this before using it for our professional use.
What Makes OnPay A Great Payroll Service Provider?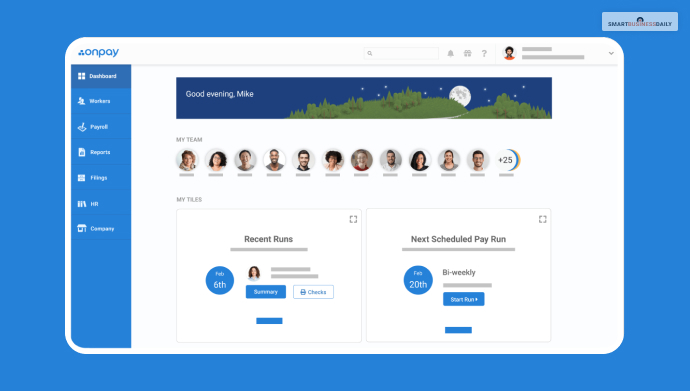 The more hours you can save on manual efforts, the more you can apply that time to planning, strategizing, and exploring new ideas. OnPay gives you that freedom of choice.
With the help of this payroll processing service provider, small to medium-sized business owners can save almost 15 hours every month. Payroll calculation and tax processing and payment are made easily through OnPay. On top of that OnPay is an award-winning payroll and HR solution software.
To use this platform, employers and users do not need to go through a steep learning curve. Also, OnPay is mobile-friendly. Some essential and amazing services provided by this platform include –
Running payroll in minutes.
Automating your taxes.
Employees can also contribute more.
Make the HR processes simple.
Work remotely.
Also, the cost is not that much. You need to pay $40 and $6 for each user. At this value, you are getting quarterly and yearly tax filing. Some necessary integrations like QuickBooks, Xero, and time-tracking software are also part and parcel of this payroll service provider.
Surely, there are other payroll services like Gusto or Paycheck Flex. But you should also learn what's special about OnPay before choosing any particular service for your business.
Features Of OnPay Payroll Services
If you focus on the features of the OnPay payroll service, you will understand what the platform has to offer to its users. Here are some of the essential features worth exploring –
Complete Payroll Suite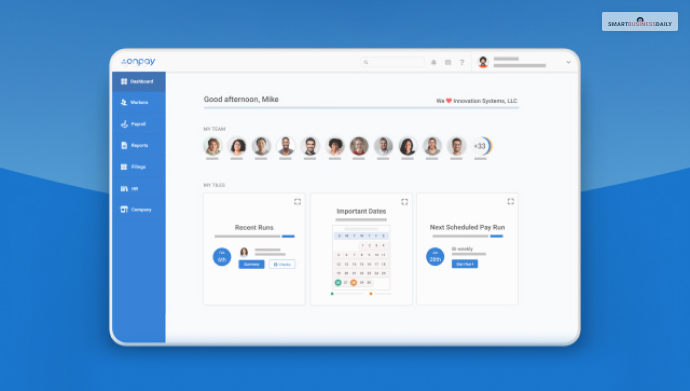 When you want to do the heavy lifting and do it fast, you need to use payroll software like OnPay. This cloud-based payroll service lets you run unlimited Payrolls every month. It manages all your tax filing and payments for W-2 and 1099 workers.
Customize your pay rates and schedule for hourly wage-based employees and salaried ones. Time tracking is integrated into the platform, along with its availability in all 50 states in the US.
No Hidden Charges For Special Payroll Services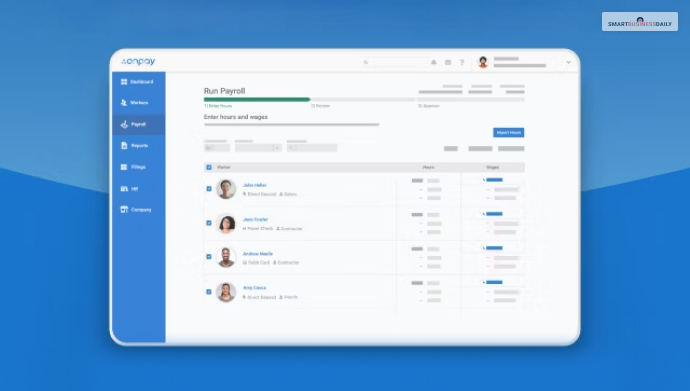 OnPay does a little extra but with no extra cost. It is common for businesses to have non-periodical and unusual expenses from time to time. These payments are missed payments, bonus incentives, and leave encashments.
For the calculator of these payments, the business has to include special payroll in their payroll service software. That is what OnPay helps you with. But they don't charge any additional charge for them.
Employees Self Service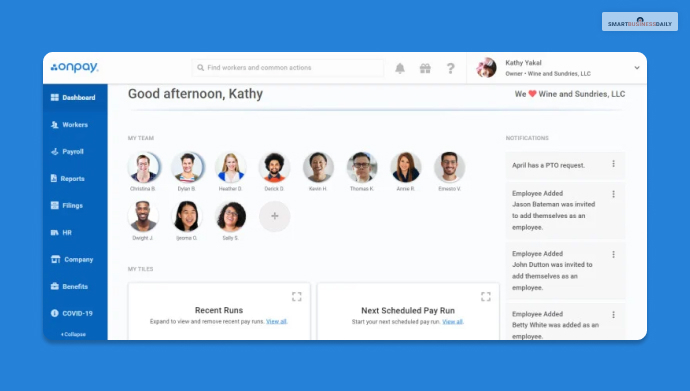 Once employee self-services exist, the employer does not have to spend too much time solving doubts and issues. They can find the solutions and answer their queries on their thanks to the self-service offered via OnPay.
Array Of Software Integrations Available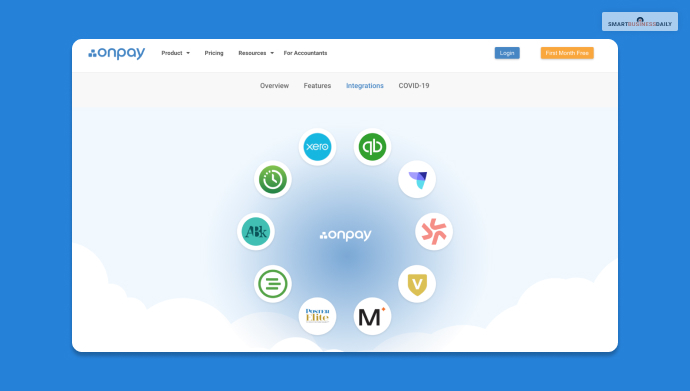 So many integrations are available on the platform. Users can integrate the following HR and…
QuickBooks Online
QuickBooks Time (formerly TSheets)
Deputy
PosterElite
Mineral (formerly Think HR)
QuickBooks Desktop
Xero
When I Work
Award Winning Customer Service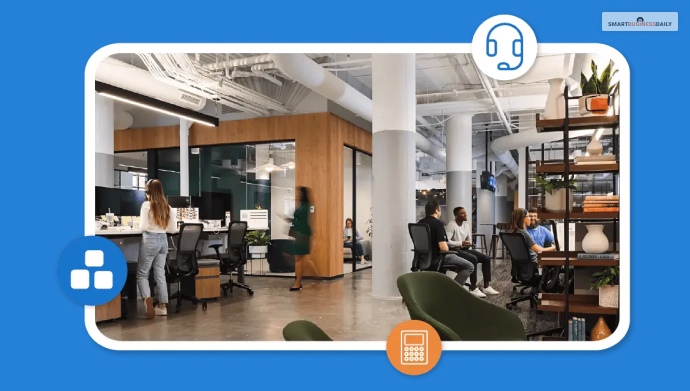 Having a good payroll service is not just about the features it has to offer. When the time comes, you also need some questions to be answered. The customer services of the OnPay payroll services are the best in class. They are always ready to help you with –
Free account migration.
Assistance with setting up integrations.
Support via phone, chat, and email.
HR Tools Integrations
Organize all of your HR-related needs and save time. Here are some of the features you get in the HR tools provided by OnPay –
In-app offer letters
State new hire reporting
Built-in document templates
Online I-9 and W-4 forms
E-signing
HR resource library
PTO Management Available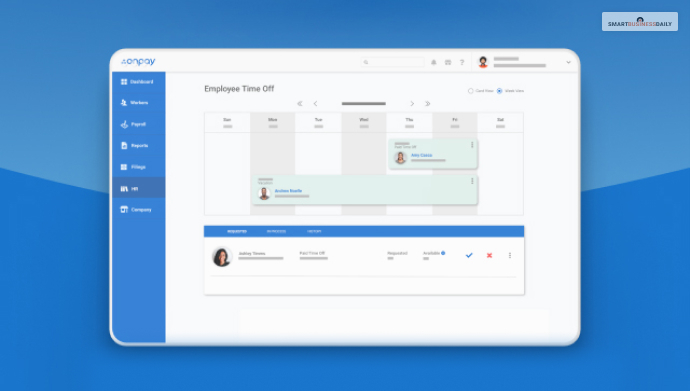 PTO management is one of the major concerns of small and big businesses. Here are some great PTO management features you will get from the OnPay payroll services –
Customizable paid time off policies.
Maximum three accrual tiers.
Automatic tracking for accruals.
Reminders for PTO and calendar.
Email notification availability.
OnPay Pros & Cons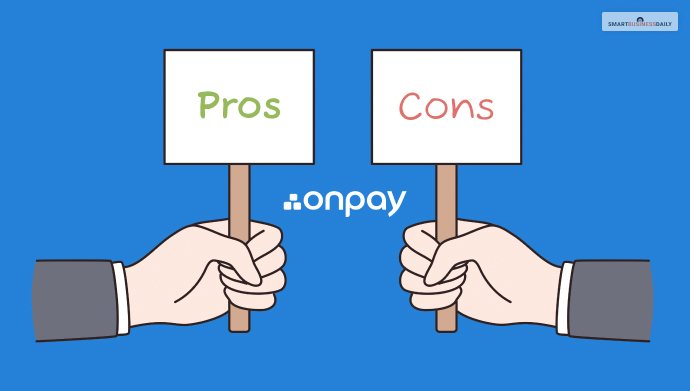 There are both pros and cons of using any tool or service-providing platform. Here are some pros and cons of OnPay.
Pros
Payroll processing is made fast and capable.
The user experience of the payroll service is pretty good.
Benefits integration is there.
Helpful employee version.
Online help and customer service are admirable.
Cons
You will not find some functions in the mobile admin version.
No option for automatic payroll.
OnPay App Pricing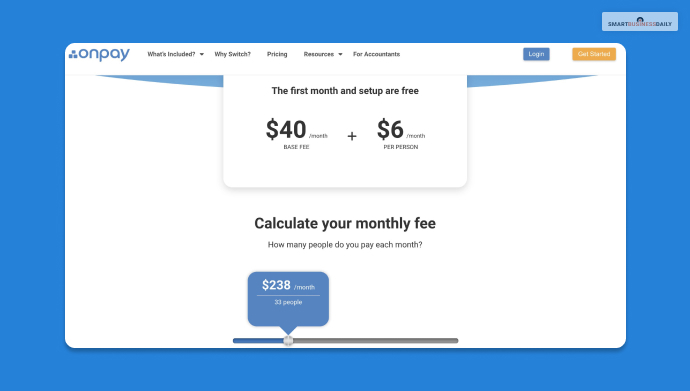 The pricing is also incredible on this platform. The monthly fee for the OnPay payroll services is $40/month. But for each employee, the users have to pay $6 per month. So, on average, you have to pay $46/month if you want to use OnPay.
This pricing plan is pretty much affordable for different companies, especially the small ones. On top of that, users can take the benefit of the first free trial month. Most of the alternatives in the market also have a similar pricing plan for the same suite of features.
Bottom Line
OnPay easily handles all of your Payroll services-related needs. If you have a small or medium-sized business needing payroll tax calculation and employee payment processing, then you OnPay is a good option to consider. You can also consider Gusto at a similar price point. But do not overlook the benefits OnPay can offer to your business.
If some of the highlighted offerings of this payroll service aid your business, then it might be a good option to consider. Did you find your answer? Please let us know through the comment section.
Additional Reading:
Shahnawaz Alam
Shahnawaz is a passionate and professional Content writer. He loves to read, write, draw and share his knowledge in different niches like Technology, Cryptocurrency, Travel,Social Media, Social Media Marketing, and Healthcare.