Running a mushroom growing farm is a demanding business that needs commitment and financial resources. It is crucial to invest in modern equipment, which will serve for many years and will improve the efficiency of picking and the employees' work.
Harvesting and growing mushrooms with the help of modern equipment can increase profits from running your business. See why you should invest in cutting-edge mushroom growing farm equipment and what equipment you can't miss.
Modern mushroom-growing farm equipment:
Mushroom growing farm's equipment includes many devices and accessories that allow and facilitate growth. The most important of these are mushroom picking lorries, lamps, mushroom growing shelving, growing nets, scales, mushroom growing farm climate control, picking knives, irrigation systems, and growing tunnel covers.
All of the items listed are basic pieces of equipment and if you want to start running your own mushroom growing farm, you need to be prepared to buy them.
Mushroom picking lorries improve harvesting efficiency. They should be ergonomic to speed up picking as much as possible. In turn, the lamps for the mushroom growing farm and the growing nets must be of the highest quality to serve the mushroom growing farm for a long time.
Lamps should be resistant to the mushroom growing farm's harsh conditions and the nets should be resistant to pulling and narrowing. Another matter is knives and scales. These two inconspicuous pieces of equipment can significantly improve or alternatively worsen the pickers' work. Knives should be sharp and resistant to damage, while better quality scales can be used for a long time, so you save on their replacement.
Irrigation systems and climate control are key elements of mushroom growing farm equipment. Using state-of-the-art solutions will allow the effective mushroom growing and save man-hours.
Moreover, high-quality systems make it possible to save on ventilation, cooling, and heating. Mushroom farm's owner should also invest in aluminum shelving for the mushroom growing farm, which is tailored to the size of the yield, and high-quality growing tunnel covers.
Why is modern mushroom-growing farm equipment so important?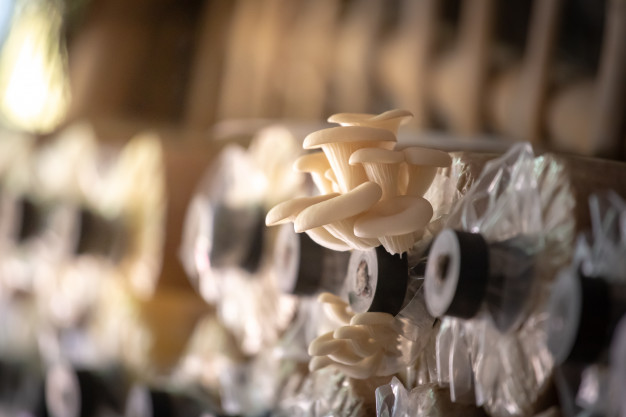 Investing in modern mushroom-growing farm equipment can take a lot of money. It should be borne in mind, however, that after some time the funds invested will yield returns, as the use of the latest equipment can reduce the operating costs of the mushroom growing farm.
Furthermore, workers will work more efficiently, making the harvest more profitable. Of course, the mushroom growing farm's owner should only choose high-quality equipment, acquired from proven suppliers such as GROWTIME. Only then will the investment in the new equipment bring the best results.
Read Also: