Companies should be inventive and agile in order to meet the client's expectations as digital technologies are evolving at a rapid pace. Hence, to be successful, companies should be capable of innovating and adapting to new technologies in order to serve the best. However, transforming your organization is not a piece of cake.
The fact is that corporate structures are prone to resisting change. However, if you are determined to digitally transform your company then you must ensure that you encounter a shift in your team's vision. Moreover, you can also build excitement in the office by making adjustments. However, unless you embrace techniques that can permanently improve your company's culture, be quick to dissolve and replace the status quo.
We have researched and come up with the following list of tried and tested practices that, if implemented, can enhance competitiveness.
1. Identify and share your innovation goals on a regular basis:
Begin by identifying your goals and ensuring that they are conveyed to your personnel in a consistent and clear manner. This will enable each member of the team to stress the proper priorities. Also, to become more self-determined in their decision making, allowing them to innovate independently. No matter how much the staff, you can effectively communicate your vision.
Hence, to put forward your thoughts and goals in an understandable manner to your staff, we would suggest you consider Stage Gate Process. This way, you'll enable the team to effectively put your words to action.
2. Show your workers the several places where they can innovate:
Keep in mind that understanding how to improvise may come more naturally to your field's staff. Hence, introduce your staff to the various channels through which they can communicate their thoughts. Allowing everyone to participate regardless of the position.
3. Take notes on what everyone else is doing:
Look for successful inventions besides your own industrial area to inspire your staff, and motivate them to do so. Browsing at solutions from far-flung industries will spark your imagination, stressing you to consider how you may apply these concepts to your own situation.
4. Exercising empathy:
As a leader, one should endeavor to put oneself in your colleague's shoes as frequently as feasible. This will enable you to create stronger connections between theirs and your ideas. Your staff will be more receptive to your new ideas and practices as well.
5. Asking questions can help you be more creative:
Don't be satisfied with simply understanding and explanations; always do in-depth. For instance, if any project of yours fails to meet the goals, take your time out and investigate to learn the reasons behind your project's failure. Why didn't your work come out as you aimed to?
Knowing your mistakes will help you work on them and avoid them successfully running your next potential project.
6. Make a significant investment in training:
Continuous learning is the most effective strategy to remain curious and adaptable to change. Set aside funds for staff training and encourage them to stick with it throughout their careers with your organization. Besides, also encourage them to learn new ways to present their work in meetings. Business meetings can be boring as they entail complex data. So, it would help if they look up to platforms like SlideModel to effectively put forward their findings, making their presentations more interesting.
Know that your dedication to their development will inspire them and contribute to the creation of a nurturing environment.
7. Get on the same level as the person you are conversing with: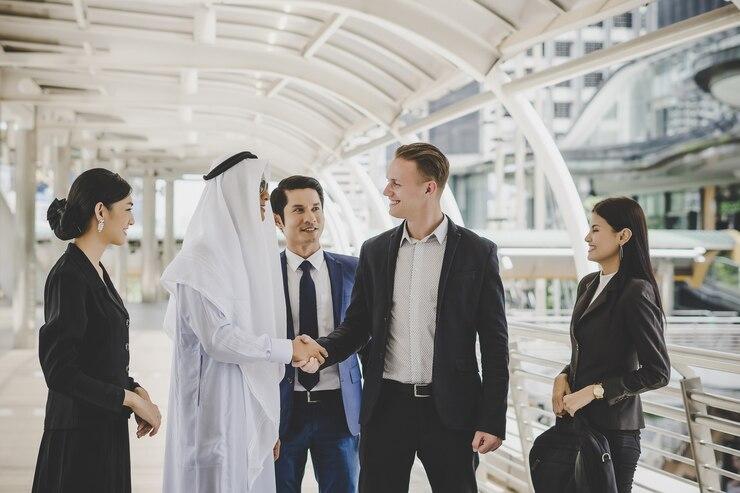 Making your work accessible also means allowing people to engage in the discussion. If you are communicating with a co-worker from any other department or a client, ensure you use language that your interlocutor would comprehend.
8. Recruit new employees:
Recruiting new talent will assist you in enhancing your employer brand and distinguishing yourself in the job market. We would suggest recruiting new employees from a variety of backgrounds. It is ethical to give a chance to everyone despite their culture or race. Promoting cultural diversity will boost your productivity and creativity as then you will have more options to share your vision with.
9. Motivate your personnel to fail in order to improve their ability to innovate:
The fear of failure is the most powerful creative stumbling block. Hence, we would suggest you talk to your team. Make it clear to your team that tripping over is acceptable and is also encouraged at times. Developing good ideas necessitates experimentation. Therefore, it is possible to eliminate the incorrect leads more rapidly.
10. Create a safe environment in which everyone can contribute fresh ideas:
We suggest you use approaches that allow everyone to participate. So that every voice gets heard because you don't know which one has the best idea to execute your plans. Hence, it would be great if you plan innovative events, like off-site vacations, to encourage everyone to get involved in your major project.
11. Focus on providing feedback on the performance of your team:
Everyone loves being praised, especially the compliment from a boss plays a vital role in the workplace. It has a positive impact on the employee's personality and work.
As a leader, we suggest that you must congratulate your staff on their accomplishments and establish systems that allow the entire team to provide helpful comments in the future. Doing so will encourage them to work harder with more dedication, eventually giving fruitful results.
Conclusion:
Summing up the article here, hoping that the above discussion might have added value to your think tank. We assure you that considering these suggestions will help you effectively develop your workplace into an innovation hub in no time.
Read Also:
Arnab Dey
Arnab is a passionate blogger. He shares sentient blogs on topics like current affairs, business, lifestyle, health, etc. To get more of his contributions, follow Smart Business Daily.