If you're caught short on cash due to emergency expenses, instant cash advance software can offer a convenient solution.
Here's a comprehensive look at four apps that can help you access funds quickly.
1. Earnin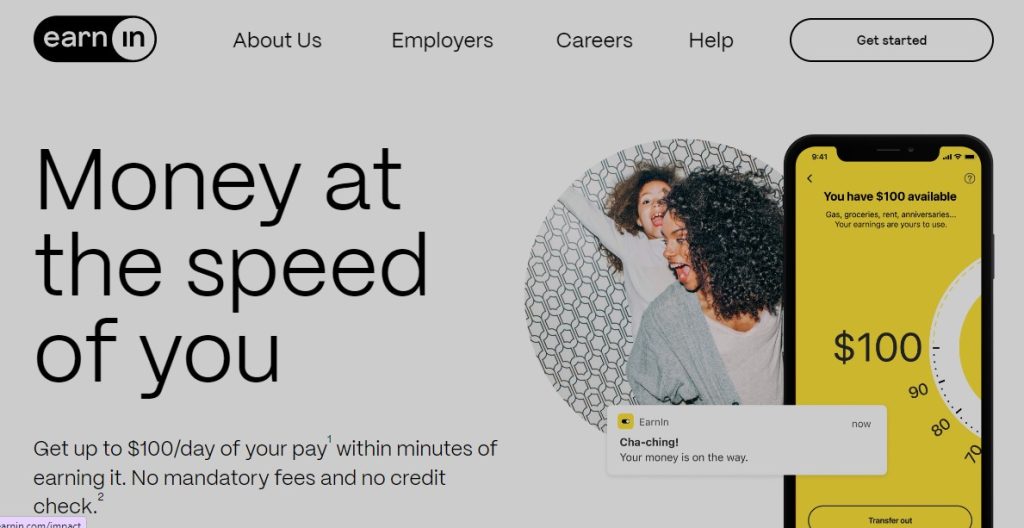 With Earnin, you can access the instant cash funds you've already earned before your next payroll. The app tracks your work hours using timesheets or location tracking and lets you borrow up to a set limit.
Fees
The maximum instant cash amount you can borrow per pay period ranges from $100 to $750 Filld.loan, with a daily maximum of $100. Earnin operates on a voluntary tip system, capped at $14, and provides an option for overdraft protection through recurring tips.
Speed
Without Earnin's Lightning Speed: The deposit process will typically take one to three business days, depending on the amount borrowed.
With Earnin's Lightning Speed: You will get your money faster (up to 1 hour) if you sign up for this feature for a fee between $0.99 and $3.99, depending on the amount borrowed.
Payment
Earnin automatically withdraws the funds you borrowed from your bank on your next payroll (between 2-4 weeks). For instance, if you get $50 instant cash for seven days before payday and tip $5, your loan's interest rate will be 260%.
2. MoneyLion
MoneyLion is a mobile software that offers a variety of Fintech offerings, such as mobile banking, investment accounts, financial tracking, credit-builder loans, and paycheck advances. Users can borrow from $25 to $250. Those with a MoneyLion account may be eligible for larger instant cash loan amounts.
Fees
The software does not charge any interest or fees for the cash advance, but users are given the option to leave a tip if they choose to use the service. There is also a fee for instant delivery, which varies based on whether the user has a MoneyLion checking account.
Example: MoneyLion instant cash checking account users will pay between $0.49 and $5.99 for instant delivery, while those without a MoneyLion checking account will pay between $1.99 and $8.99.
Speed
Without instant delivery: The deposit process will take only 24 to 48 hours for the users of the MoneyLion checking account to receive the advance, and two to five business days for non-MoneyLion checking account members.
With an instant delivery: MoneyLion account holders are going to have their advance just within the minutes, while with others they are going to receive the instant cash amount within 4 hours, according to the company.
Payment
The instant cash funds will be automatically withdrawn from your account on the day of your next deposit, usually your next paycheck. In case your account doesn't have sufficient funds, the software will attempt to withdraw the funds multiple times.
For instance, if you can receive the $100 in advance deposit instantly it will be in an external account which has just $7.99. Also, add a $1 tip and repay the loan within seven days, the APR will be 468.8%.
3. PayActiv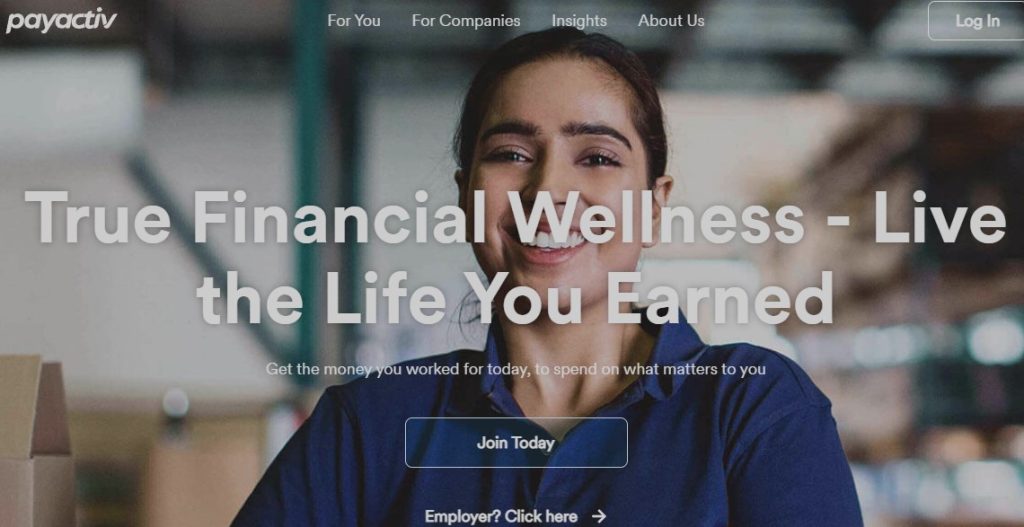 PayActiv is a software that provides instant cash advances to users who need to cover expenses before their next payroll. The app also offers budgeting tools to help customers manage their instant cash finances.
Fees
PayActiv does not charge interest on the advance, but it does charge a flat fee that varies depending on the amount borrowed. Borrowers can also opt for a "salary advance" feature, where a portion of their earned instant cash wages is advanced to them before payroll.
Speed
Customers can borrow between $100 and $500 through the software, and the company claims that the advance will be available within minutes, once the user is approved for instant cash.
Payment
The instant cash payment for the principal is set to be withdrawn from the user's account on their next payday. The app also offers a "Payback Flex" feature, which allows users to pay back the advance in multiple installments.
For instance, if you get a $100 advance, with a $5 flat fee, and repay the loan in seven days, you'll be charged an APR of 520%. So, it is important to keep in mind that the interest rates for these advances can be quite high.
4. Chime
Chime is a mobile banking software that offers instant cash advances through its "SpotMe" feature.
The latter allows users to overdraft their account for a fee, with no interest or credit check required. Users can take out up to $100 for their first instant cash advance, and up to $500 for subsequent advances.
Fees
The instant cash app does not charge any fees for the cash advance, but there is a $0.25 fee for each transaction. Additionally, if the account is still overdrawn on the user's next deposit, the app will charge an additional $5 fee.
Speed
Chime's "SpotMe" feature is designed to be quick. The funds are typically available within minutes of being approved for the advance. This means that you can get the money you need quickly, without having to wait for a traditional loan to be processed.
Payment
The instant cash funds are set to be withdrawn from the user's account on their next deposit, typically their next payday.
For instance, if you borrow $100 for a paycheck advance with Chime and choose to pay the $0.25 fee for each transfer and the $5 fee, you will be charged $5.25 in fees. If you pay it back in 7 days, the APR would be 421.43%.
Payday Advance – Borrow Money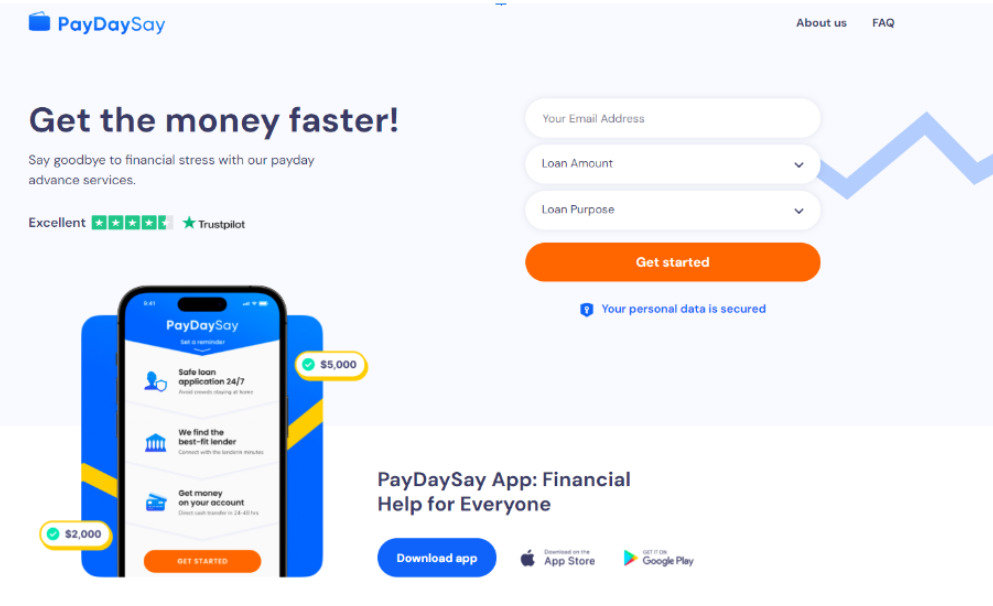 Borrow money conveniently through our mobile app. Instant cash advances are always at your fingertips! Please take advantage of quick loans whenever you need them.
When you require a loan, the payday advance app is there for you. Install it once and gain access to financial assistance on the go.
Payday advance – borrow money app: your express route to financial freedom! Committed to principles and driven by purpose, we are your responsible money lending provider.
Fees
 A representative example of the total loan cost (all applicable fees are included): Loan amount – $2,500; loan term – 12 months; APR – 10%; fee – 3%. Your monthly repayment is $219,79. The total amount payable is $2,637. The total interest is $137,48. Instant payday advances can help you solve emergencies, pay unforeseen bills, cover urgent costs, or get money to make ends meet. Regardless of your reason, be responsible and attentive when applying for any financial option, even if it's just a small loan.
Speed
No more searching for 'instant cash advance' options or tedious web surfing that consumes time and effort. Seize the opportunity to apply for a payday advance loan and get the necessary funds immediately. The speedy and paperless application process helps you address your short-term financial troubles on the go.
Borrowing money can be quick and hassle-free when the solution is in your pocket. Install our fast money loan app on your iPhone and utilize its convenience whenever you need an advance on your paycheck.
Instant loan processing and an extensive network of lenders ensure you get your money quickly and easily. Obtaining a loan through the PayDaySay for Android money loan app is a time-saving option that offers convenience and speed.
Payment
The minimum and maximum repayment periods for payday advance loans typically range from 65 days to 2 years, depending on the lender you are connected with.
The APR for quick loan options varies, with lenders offering rates ranging from 5.99% to 35.99% for unsecured personal loans based on borrowers' credit scores.
Wrapping Up:
For any instant cash, these apps are going to be the best pick. You can take help from these applications and get instant cash. But before applying for instant cash always take a look at the terms and conditions first.
Hence some of the terms and conditions cannot be helpful to you. What is your opinion? Share your opinion through the comment sections.
Read Also:
Arnab Dey
Arnab is a passionate blogger. He shares sentient blogs on topics like current affairs, business, lifestyle, health, etc. To get more of his contributions, follow Smart Business Daily.