The USP of Paycor is that it is affordable and offers small businesses the necessary HCM solutions.
Small businesses can take help from the business's automated payroll with the low-tier plans of the payroll service.
Paycor also comes with HR tools for small businesses.
As explained in the points above, Paycor is undoubtedly one of the best payroll services for small businesses. It is a human capital management platform for small businesses. Users can avail of almost all the different types of HR and payroll benefits with this platform – that also – for a conveniently reasonable price.
But customers have also found some areas of concern regarding this payroll platform. The first one is its lack of transparency in the pricing plans. So, is it a good payroll platform to use? Perhaps reading this article will give you a clear idea to pick hr software that suits your organization's specific needs and budget.
What Is Paycor Payroll?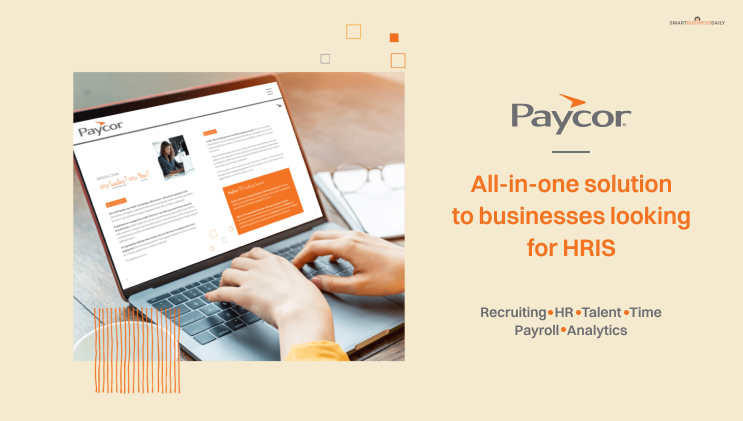 Paycor offers an all-in-one solution to businesses looking for HRIS (human resource information system) and human capital management (HCM). It is a cloud-based payroll processing platform for small businesses.
It is more than just another payroll processing platform. Yes, there are the likes of TriNet and Wave Payroll coming at different pricing plans. But, unlike those platforms, some of the features come integrated with even the low-tier plan of Paycor Payroll.
One of the most unique features of the Paycor payroll processing service is the HCM. Small and mid-size businesses that adopt Paycor let the employees decide when they want to get paid. On-demand payroll processing of the Paycor payroll sets it apart from the other platforms. Employees can choose to get paid on a daily, weekly, bimonthly, and monthly basis. Also, there are other features like self-service and mobile apps for the employees.
Paycor Payroll Features
Paycor integrates lots of the common features visible on platforms like Gusto and RUN ADP. Some examples of them are – HR department solutions, payroll processing, tax filing, talent management, hiring, onboarding, and employee self-service. Here is an elaborate study of the different features of the Paycor Payroll platform –
Tax & Regulatory Compliance
Paycor has got your business covered with regulatory and other tax compliances. The platform also has recruitment laws in place, reducing the chances of any discrimination regarding employment. Also, the automatic timekeeping of employees using this platform allows employers to calculate taxes accurately.
There is also analytics helping you to show your compliance with tax filing, equal pay, and the distribution of paid leaves.
Tax Filing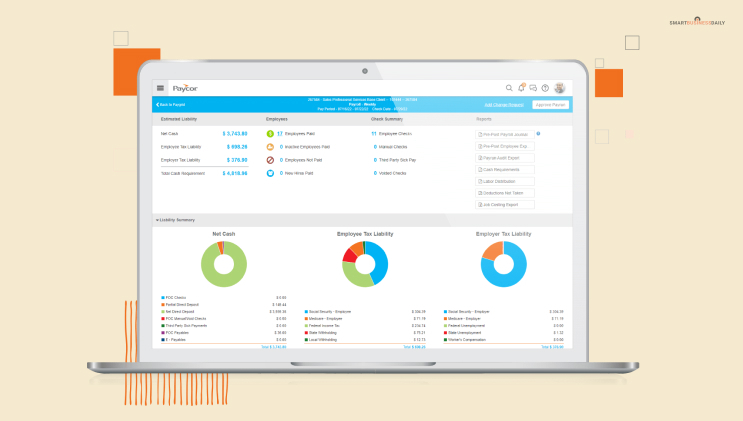 Paycor is a capable payroll processing software. The platform also handles tax filing and tax calculation, and payments of the employees automatically. You do not have to do your tax filing and payroll processing for every employee manually now. Businesses can let Paycor handle W-2 and 1099 forms when needed.
Employee Time Tracking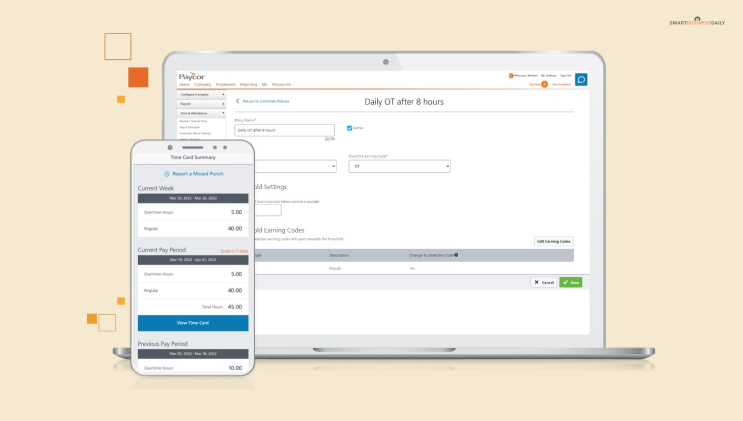 Although this platform offers HCM features as a default feature in the low-tier plans, time tracking is still an add-on feature. Yes, you do have to pay for it additionally. The employees can clock in and clock out using their mobile phones or the browser on the desktop. Also, the employees can manage their own dashboards and request for PTOs (paid time off).
Benefits Administration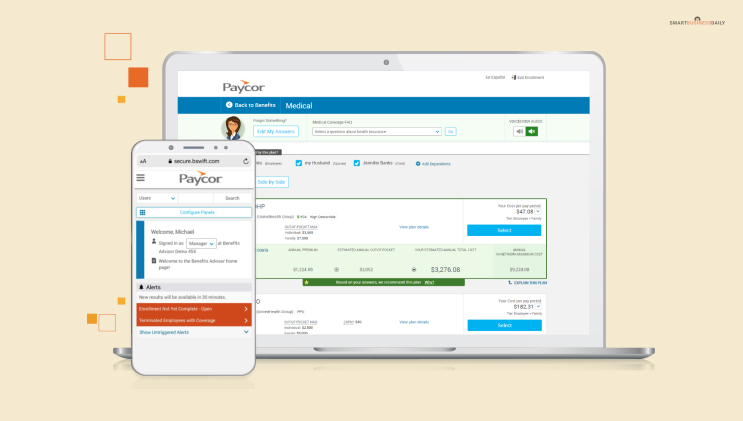 Employers can offer different employee benefits to their employees using the Employee Advisor features of the Paycor platform. The employees can also view the plans and select specific benefits they need from their employers on Paycor. Some of the common benefits offered through Paycor include – dental, medical, vision, and simple life insurance. Employees can also view how much the total running cost of these different employee benefits is for each pay period. These built-in reports visualize reports.
Analytics & Reporting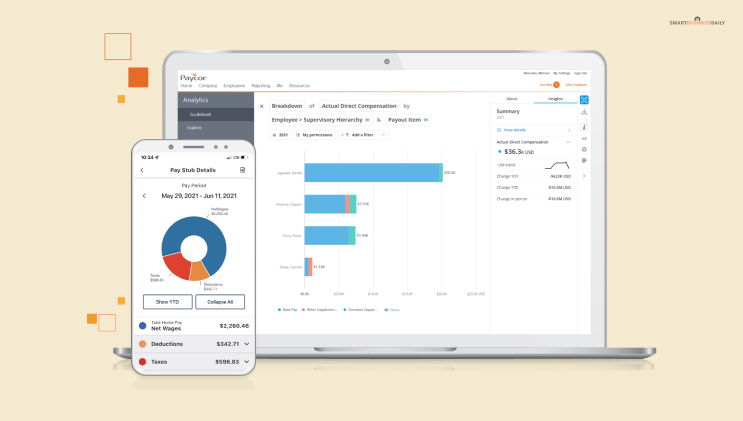 Running a business should be easier once you use the pre-build reports in the Paycor payroll. The reports visually represent data making it more understandable for payor users to make better decisions.
Businesses can check out turnover rates and gaps in overtime pay. They will also have a better understanding of why employees are leaving the organization; and which departments inside the organization are the most affected at the moment.
Easy To Use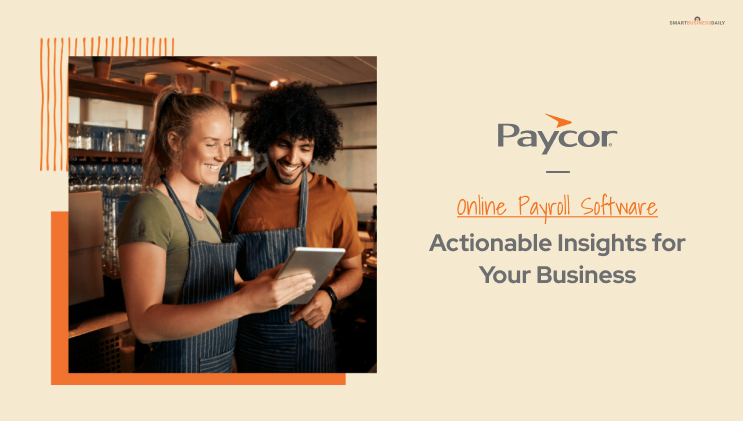 Paycor offers the same level of efficiency and ease of use compared to most of its competitors in the market. Employees should find the mobile app very responsive and useful. Once users log in, they can access their profile. They can also turn on notifications and get updates on upcoming events.
Paycor Pros & Cons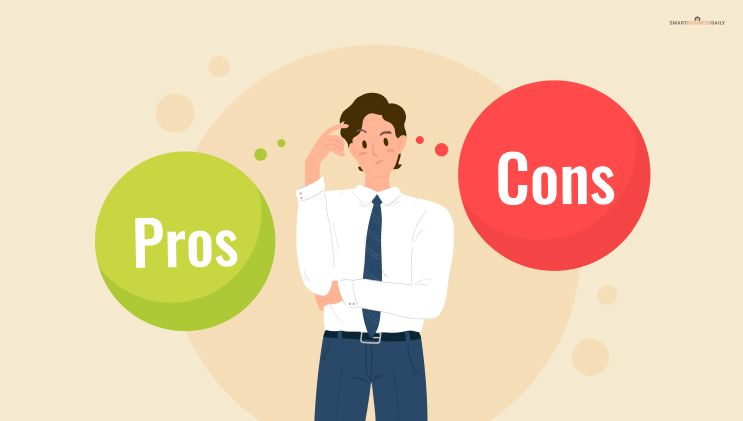 Here are some of the pros and cons of the Paycor payroll service –
Pros
There are multiple paid plans.
The payroll runs are unlimited.
A responsive self-service portal is there.
On-demand pay allows employees to request payment.
Mobile app support is a great plus point.
Custom reporting is supported.
HR tools & library is there.
Cons
There is a lack of transparency in its pricing plans.
Some of the very necessary features come as an add-on feature.
Most of the plans require a set-up fee.
Time tracking is also an add-on feature.
Paycor Payroll Pricing: How Much Does Paycor Payroll Cost?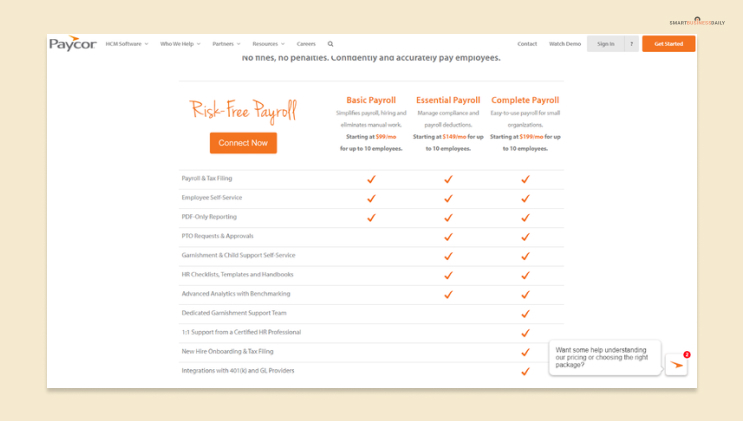 The pricing plan for the Paycor payroll service is not transparent, and it may seem complex to many users. Users might be unhappy at the fact that benefits administration and time tracking for employees come at an extra cost. However, tax filing, workflow automation, and payroll in the US are standard in all the pricing plans. There are four plans –
Basic
The basic plan is the primary plan users can choose. But, this plan does not offer an onboarding feature. The number of third-party integrations is also limited in this plan – LinkedIn, ClearStar, Aflac, PayFlex, Epicor, and Oracle.
Essential
If you want to add compliance management, document templates, workers' compensation coverage, etc, then you can opt for the essential plan.
Core
The core plan has all the features of the basic and the essential plans. But in addition, they offer access to an HR professional, career management, and expense management.
Complete
The complete plan of the Paycor payroll platform adds all the standard features and adds advanced analytics, compensation planning, talent development features, etc.
Bottom Line
Paycor offers customer service to its users through phone calls, chats, etc. However, it is mandatory to have a Paycor Login to access the customer service of the platform using phone services. Most of the plans require the users to pay a set-up fee.
However, small businesses can still benefit from most of the affordable payroll automation features. If you are planning to purchase a payroll service, then you can definitely consider it as an option. But please check out the different pros and cons of the platform before making your final decision.
Additional Reading:
Shahnawaz Alam
Shahnawaz is a passionate and professional Content writer. He loves to read, write, draw and share his knowledge in different niches like Technology, Cryptocurrency, Travel,Social Media, Social Media Marketing, and Healthcare.