If you are a business owner, then you know there are a lot of tools to improve your daily operations. Many IT departments are caught in initiatives relating to a mobile lot, Cloud migration, and others. With all that, it is tough to give attention to daily workflows.
The senior vice president of Strategy and Product management of QuickBase, Jay Jamison, said,
For our customers, particularly in middle-market and larger enterprises, the neeed they have for software is far outstripping the supply of IT and developer resources available.
What Is QuickBase?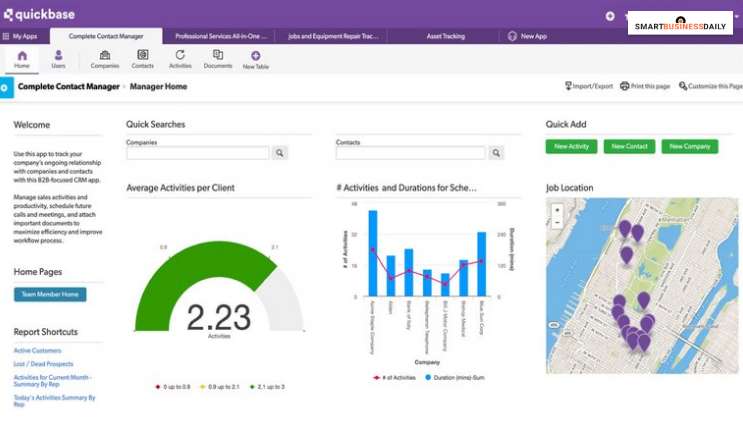 QuickBase is technically a low code database and an application for the development platform. It enables teamwork, using a common data repository where we can build forms, set up workflows, create reports, and also automate the whole process.
Since it is a low code, it has the capabilities to enable non-developers, who are also called "citizen developers", to help create applications without any request time. Click on QuickBase Sign in, then the QuickBase administrator provides you with the correct URL.
QuickBase: Who Is It For?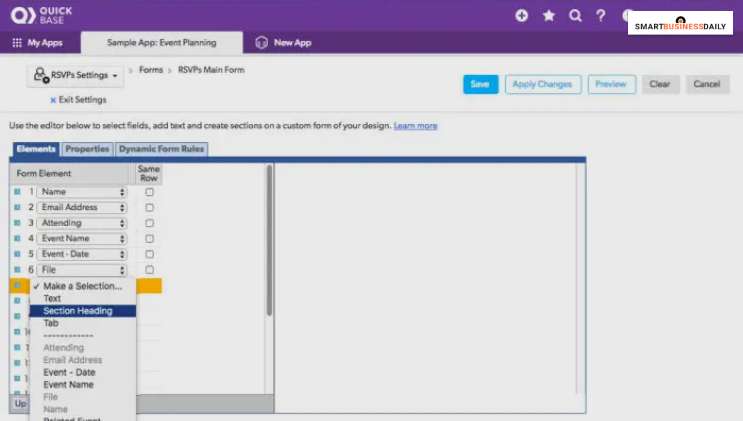 QuickBase was first launched in the year 1999. In 2016, it got sold privately to an equity firm, and since then it started operating as an independent company.
According to Jamison, more than 50 Fortune 100 companies use this. With that, they have hundreds and thousands of active users.
It is one of the platforms that is used by DCPS. QuickBase dcps is the District of Columbia Public Schools.
A Low Code Business App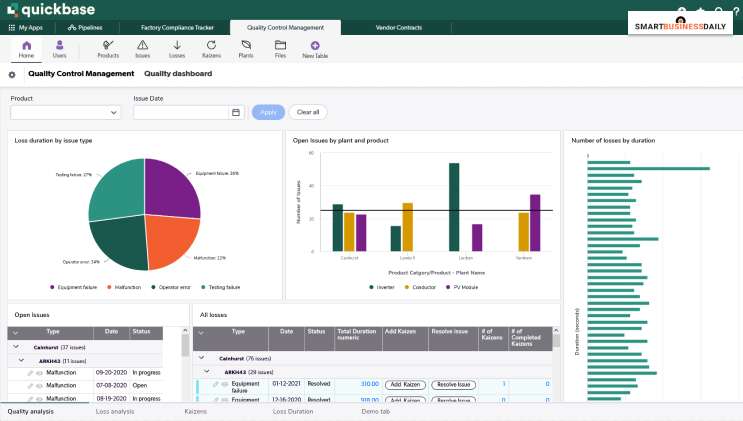 Most low-code development platforms are marketed to two main types of users: everyday employees who have no coding experience but want to build an app quickly.
And the others are IT professionals wanting a faster and more efficient way in wanting to build an app. They need the app to be more defined for the business tasks and the use cases.
To test the former user, QuickBase tends to build an actual scheduling application.
QuickBase is amongst the user-friendly platforms that try wizard-based application creation experiences. This app is similar to other apps like TrackVia, which is intentionally paired with the user interface. 
However, it has a step-by-step guide to improving user experience, which is very similar to Appian and Google App Maker.
After you click on QuickBase login, the main home screen or the dashboard brings you straight to the list of apps. Those apps are displayed both on the search list and on the tabs along the top navigation bar.
Developer Experience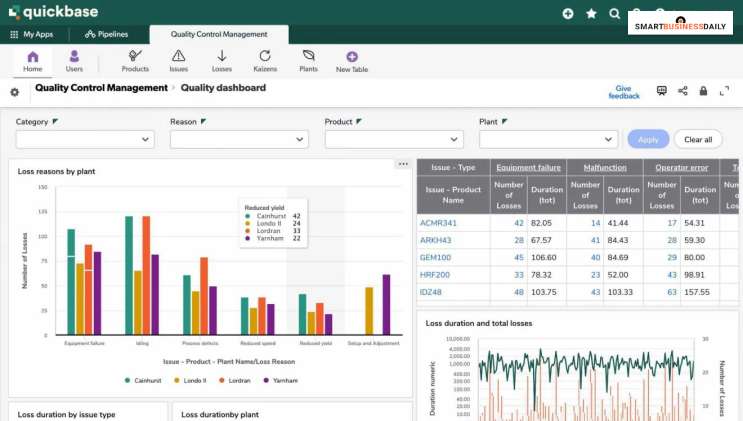 From an IT-focused perspective, in the QuickBase test, the developers use tools to build a customer relationship management app. I called Crowd Control to manage the contacts.
The test app will be compromised of a contact list page, a contact detail page, or a new contact page. The features can add photos and multiple notes of each contact. We have tested QuickBase's ability to handle project maintenance on a published app.
Regarding highly advanced IT administration, QuickBase also tends to create few primary user access control. It makes them easier to find and even set from the Users icon on top of the navigation bar.
From the Integration front, QuickBase has one of the better selections of third-party apps and database connectors available. It has also integrated with the major CRM and enterprise resource planning platforms. 
These apps include Salesforce, MailChimp, and Slack, more than hundreds of others that are incorporated in automated logic and workflow.
QuickBase: What Are Its Features?
Here are a few of the many features that are available in the QuickBase development platform.
3PL Management
Access Controls/Permissions
Accounting INtegration
Activity Dashboard
Bid Management
Budget Management
Calendar Management
Collaboration Tools
Compliance Management
Kanban Board
Milestone Tracking
Data Dictionary Management
Workflow Configuration
Percent-Complete Tracking
Prioritization
Transportation Management
Spreadsheet View
Rule-based Permission
Reporting & Statistics
Time & Expense Tracking
Collaborative Development
Plan & Price:
| | | |
| --- | --- | --- |
| Team | Business | Enterprise |
| $600/per annum | $2000/per annum | Varies |
| A good start for team building | In need for security & control | Foe wide range enterprise, for interconnected cases |
| Up to 50 customizable apps | Up to 100 customizable apps | Fully Customized |
| Features:- | Features:- | Features:- |
| Workflow automation | All team features | Enterprise are custom-built |
| Data and app integration | Integrated through the IAM system | On-premises connectivity |
| Mobile ready | Audit logs | Flexible licensing option |
| Flexible licensing option | Offline for mobile | |
QuickBase has about three pricing levels.
Premier level costs about $25/ month and enables 20+ users to create at least 50 apps.
The Platform level costs about $40/ month, starting with 40 users, which allows at least 100 apps. Here you can add customizable features such as sandbox, custom branding corporate directory integration, and policy management.
The Enterprise level is fully customized for each customer, and the price also varies.
QuickBase: Pros & Cons
| | |
| --- | --- |
| Pros | Cons |
| Very fast basic app creation | There is a somewhat old user interface |
| Straightforward wizard-based app building | The mobile app is not native |
| Form-based interface workflow, automation without any coding requirement | The functional app work is finished, but it lacks the UI polish of new low-code tools |
| Strong prebuilt app, marketplace, and third-party integration | |
| There are guided tutorial courses | |
QuickBase: Customer Reviews
QuickBase is a user-friendly development platform that has a lot of customer reviews and reaction on popular review platforms.
Source: https://www.getapp.com/project-management-planning-software/a/intuit-quickbase/reviews/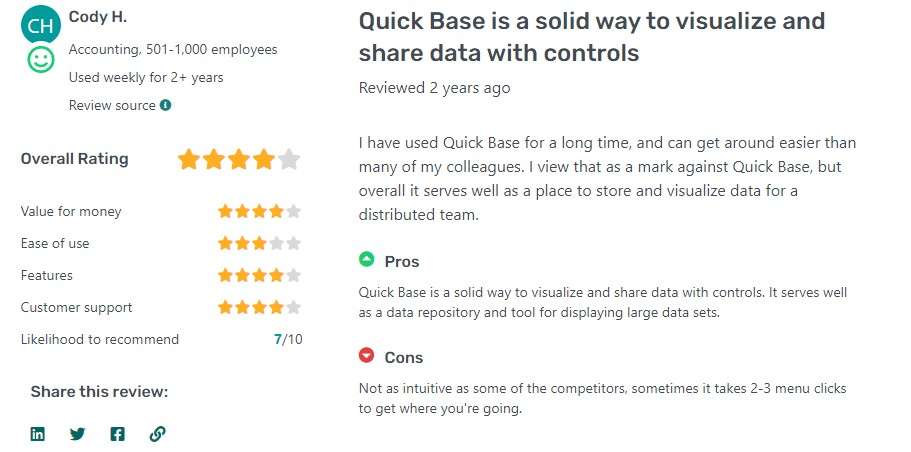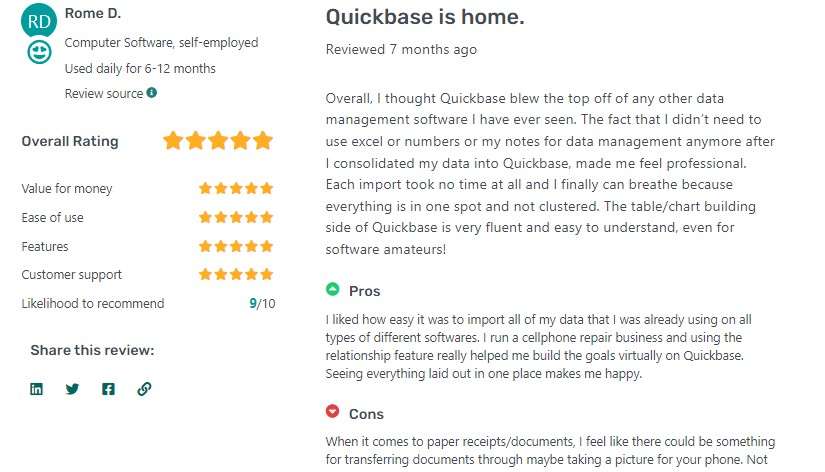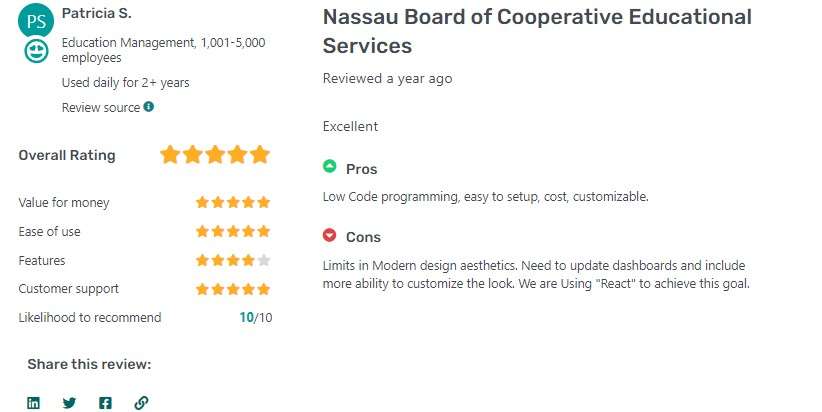 Quickbase: Is There Anything Other Than This?
If you are looking for alternative low-code application platforms before you buy the QuickBase platform. Then you are at the right place.
When you are looking for alternative solutions, customers usually compare certain categories such as contracting, evaluation, competence, development, and integration.
OutSystems
Appian
Salesforce Platform
Apptivo
Frequently Asked Questions (FAQs):
1. Is Quickbase SQL?
If you have data in the SQL Server, Oracle, Access, or any other ODBC compliant database including Access, Word, and Excel. Here you can easily connect data with QuickBase.
2. Is Quickbase A Relational Database?
Think of combining the relational database functionality of MS Access with the flexibility of MS Excel into an Online mode. In a cloud-style that is hosted by Database Platform run that is maintained by Intuit.
3. What Is A Quickbase Pipeline?
With the QuickBase, Pipeline enables you to fully integrate your data throughout all of your existing cloud-based software tools.
Wrapping Up!
QuickBase is a user-friendly low-code development platform, that has comprehensive features. These features are set for the fastest form-based wizard that QuickBase tested for the basic app creation. I hope you now have got an idea about the platform after going through our guide. It's super useful and we recommend it to you for long-term usage.
A Big Fat Thumbs Up for Quickbase from our end.
If want to add your viewpoints, drop them in the comment area below.
Read Also:
Nabamita Sinha
Nabamita Sinha loves to write about lifestyle and pop-culture. In her free time, she loves to watch movies and TV series and experiment with food. Her favorite niche topics are fashion, lifestyle, travel, and gossip content. Her style of writing is creative and quirky.