Unless you're living under a rock, it is impossible not to have heard about the term cloud computing. It is the driving force in the world of technology at present. One of the major gifts of technology recently is Salesforce.
You must have heard about the tallest skyscraper in San Francisco, the Salesforce Tower? That is where the office is located. But what is Salesforce, and what does Salesforce do?
With all the growing data, businesses and companies are in direct need to manage the data of the customers as this ensures a healthy relationship between the customers and the company. This is where this popular CRM platform comes to your rescue.
Keep reading till the end to learn more about it…
What Is Salesforce?
If you have a business, you must know how difficult and challenging the task of maintaining a healthy relationship, and all the data of the customers can be. This is the reason why you need sales management software.
Salesforce is one such software that supports the marketing and sales team of a business or a company.
It is a famous cloud-based software company set in America that helps you and your company to manage and collect all the data about the potential customers and the already existing customers. This program is designed to make the entire process of sales much simpler and easy.
In this way, people in your company who are directly dealing with all the sales can use this program to manage contacts and even track deals.
Businesses can use cloud technology to connect with customers and partners with the help of CRM provided by Salesforce.
Is There A Need?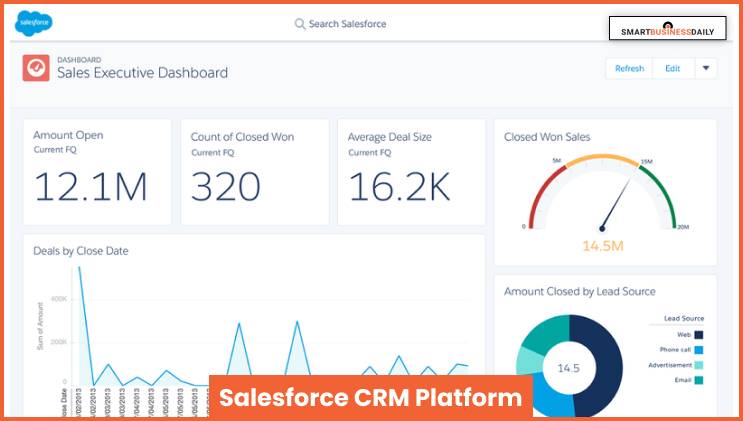 One of the major parts of having a business is your customers. Maintaining a healthy and friendly relationship with your customers can be a bit of a task. This is where CRM comes to your rescue.
Customer Relationship Management or CRM is a technology that is used for maintaining communication with your customers. This is majorly considered a tool that helps the business with sales and contact management. Salesforce is one of the most popular CRM tools currently.
As stated by themselves, their primary job is to
"bring companies and customers together."
Salesforce brings together sales, marketing, service, and IT assistance and provides them to the customers. It helps to stabilize your business and makes delivering great customer experiences possible.
Even though the Salesforce stock is currently dropping as a result of the valuation de-rating in the software sector, the future is bright for the software because of its utility.
What Are The Advantages?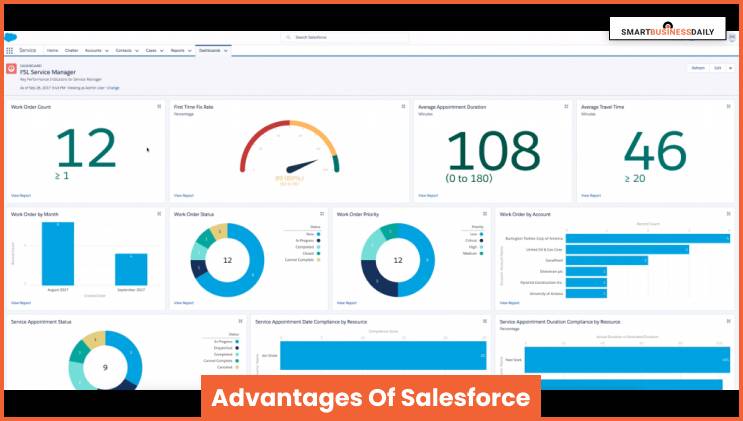 Have you ever thought how better and more convenient it can be if there is a helping hand always ready to assist you? If this is something that you cannot relate to, you need to check out Salesforce.
This CRM platform has been active for a long time, but with the modern Salesforce Lightning version, the user experience has become better with pages that are optimized, especially for managing sales.
⦿ What Is Salesforce Lightning?

➡ It is an app that has been designed by the Salesforce organization to simplify the overall process of managing sales and CRM for the customers.

There are many benefits and advantages of using Salesforce for your business. Spoke of them are:
1. Time Management
One of the most important benefits of Salesforce is that it allows you to manage time to the fullest. This is because of the comprehensive information about your customers. All the resources that you need are stored in one place. Therefore, there is no waste of time while looking for their data.
2. Customer Satisfaction
Not only do people using Salesforce report an increase in the revenues, but they have also claimed that customer satisfaction also increased by a considerable amount. This is because of the management system of the software that works efficiently. It ensures that you have faster and better access to the data of your customers.
3. Team Collaboration
The software allows you to keep a tab on the team members and connect with its members from anywhere you want. The "Chatter" feature of the software lets you be in touch with the individual team members and talk to them about everything related to the client and the products and services.
4. Easy To Manage
One of the most important advantages of Salesforce is that it is extremely easy to use and manage. If you have a startup that requires a lot of in-house knowledge of IT, you will be able to use this to your advantage.
Reviews: What Do People Say About Salesforce?
1.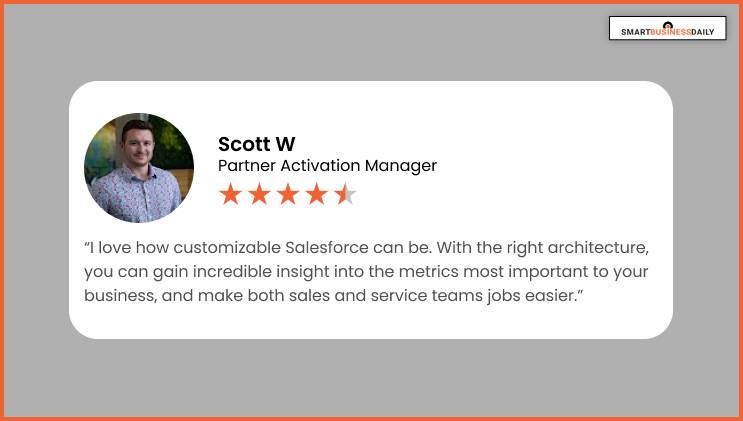 Source: https://www.g2.com/products/salesforce-crm/reviews#reviews
2.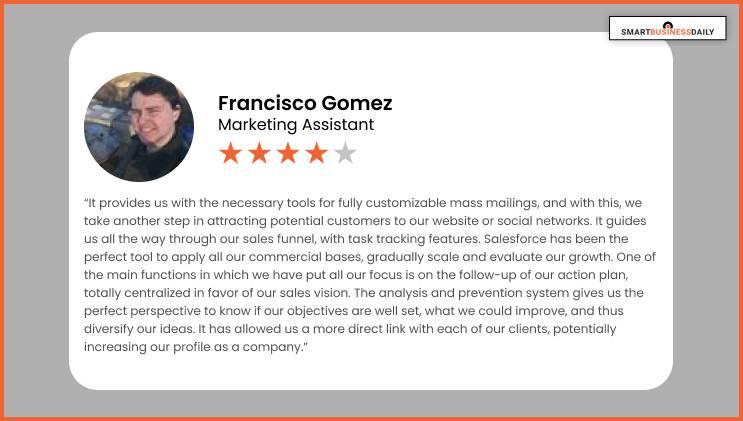 Source: https://www.trustradius.com/reviews/salesforce-com-2022-03-23-16-53-00
But Check Out These Facts
Before you start thinking about getting Salesforce for your company, there are a few facts that you should be aware of:
Salesforce was one of the first SAAS or software-as-a-Service companies.
The company releases updates, new features, and products thrice a year. These updates are named after seasons and are called Spring Release, Summer Release, and Winter Release, respectively.
The Salesforce pricing depends on the plans that you opt for. In general, it starts at a rate of around 25 dollars per month per user.
Companies using Salesforce as a CRM platform have claimed to experience over 45% customer satisfaction.
The rate of customers who actively use Salesforce from AppExchange is over 70%
Salesforce ranked first place in the 2018 report of the 100 best companies to work in.
Frequently Asked Questions (FAQs):
1. What Is Salesforce Used For?
Salesforce is a CRM platform that helps you improve your sales and commerce. It is a great way to build and maintain relationships with your clients and potential customers.
2. Why Is Salesforce So Popular?
Salesforce is a CRM software, and this is the main reason why it has become so popular at present. It helps your business to maintain a constant relationship with your clients and customers by storing all their information comprehensively.
3. Is Salesforce Hard To Learn?
The process of Salesforce is lengthy and extensive. However, it is not hard to learn at all. There is a Salesforce Training Course that is provided by the platform, through which you will be able to learn how the software works very quickly, maybe within a few weeks.
And That's A Wrap!
If you have been thinking about getting all-around assistance in terms of sales and marketing, Salesforce can help you with that. This is one of the most famous CRM tools currently that lets you have access to the information of the clients and the potential customers.
There are multiple opportunities in Salesforce careers, as the company has been claimed to be one of the best working places in the world by the 2018 Forbes report.
If you are using Salesforce as software for your business, it can be of great help for both startups as well as already established giants. When you open your account in Salesforce and put in your Salesforce login ID (which is confidential), be assured that you have found the right place for your business.
Read Also:
Ankita Tripathy
Ankita Tripathy loves to write about food and the Hallyu Wave in particular. During her free time, she enjoys looking at the sky or reading books while sipping a cup of hot coffee. Her favourite niches are food, music, lifestyle, travel, and Korean Pop music and drama.