As the default file system for Windows operating systems, NTFS is used by many Windows users. Even many Mac users use NTFS disks because they like the unique advantages of NTFS.
However, there is a little inconvenience for Mac users is that the Mac can not directly edit NTFS files. You can read the NTFS file, but writing is not allowed.
To solve this problem, you can format your disk to the macOS-friendly file system or turn on the NTFS file write a feature that comes with the Mac. But if you want to read and write NTFS files on the Mac safe and barrier-free, downloading NTFS for Mac is a recommended choice.
Why you need to download iBoysoft NTFS for Mac?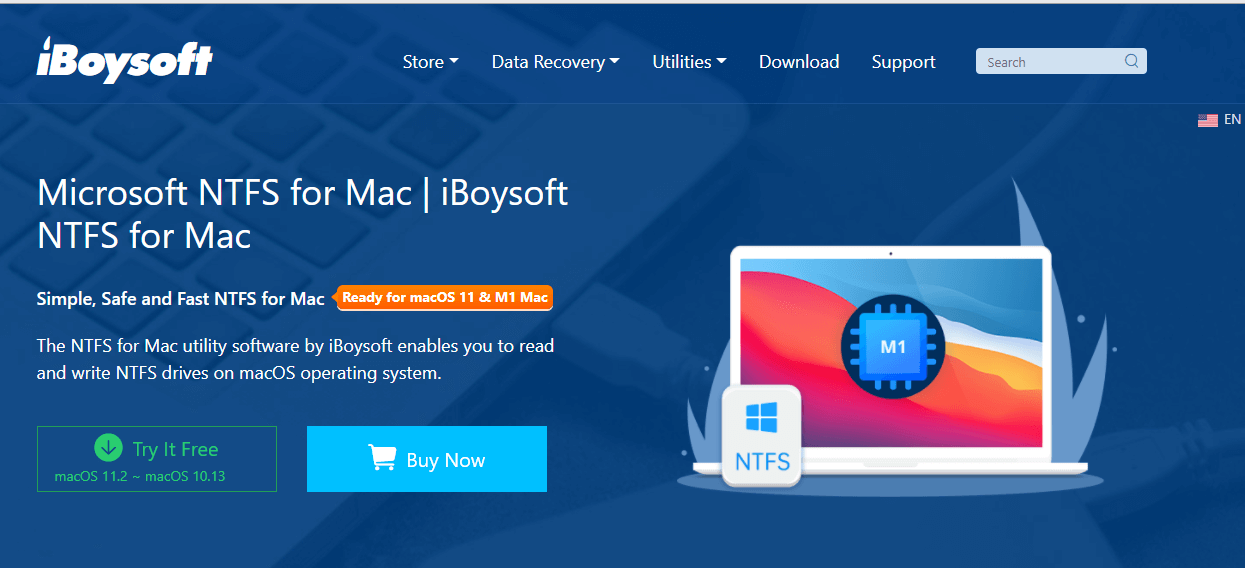 Some users choose to solve this problem by formatting their NTFS drive to a macOS-friendly file system like exFAT or APFS. But some users are not willing to format their NTFS drive for the following reasons:
Users prefer to enjoy the unique advantages of the NTFS file system. It can store more than 4GB of files. NTFS is also a journal file system, in the event of a system crash the NTFS file system automatically restores file system consistency using log files and review point information.
Formatting your hard drive can be cumbersome. Formatting takes a lot of time to back up the original files on disk. For users with multiple NTFS disks, the workload multiplies. In addition, backing up the original data need to occupy a great deal of disk space. If the user does not have enough disk space to store backup files, it can be expensive to purchase a new disk.
Some users choose to turn on the NTFS file write a feature that comes with the Mac. However, it is a risky option for users who have important files stored on disk. Because its performance is not stable enough. And some users have experienced data loss and disk corruption while using this method.
Why you should choose iBoysoft:
iBoysoft NTFS for Mac provides Mac with fast, unlimited read/write access to NTFS hard drives, SSDs, or thumb drives. That means you can read and write NTFS files at will on a Mac with iBoysoft NTFS for Mac installed. It has the following features:
It is easy to use. All you need to do is download the iBoysoft NTFS for Mac and plug your NTFS disk into Mac. Even in the new version, even Tags and Airdrop are perfectly supported. All operations just a click away!
It has excellent performance. It supports 4K Hard Drive and Smooth 60,000+ File Sharing. You can edit NTFS files on your Mac just like edit an APFS file.
It has good compatibility. It is compatible with macOS 11/10.15/10.14/10.13/10.12 and Mac OS X 10.11/10.10/10.9/10.8. And it can run smoothly on Intel-based Mac, T2-based Mac, and M1-based Mac.
It is stable. iBoysoft NTFS for Mac focuses on reading and writing NTFS disks on Mac. It's small and refined, while also making the software more stable.
You can try it for free. It gives each user three free trials. If you hesitate to pay for it because you don't know enough about its performance, try it! What's more, it can also help you when you only occasionally need NTFS for Mac software.
You can erase your disk to NTFS through it. You can't choose the NTFS file system when erasing a disk in Disk Utility. This is inconvenient for users who need to use the unique features of NTFS. When iBoysoft NTFS for Mac is installed, you can erase exFAT, FAT32, or HFS plus drives to the NTFS file system on Mac.
You can repair your disk through it. The check disk function of iBoysoft NTFS for Mac can be used to check and repair some minor disk errors. iBoysoft NTFS for Mac is handy if your NTFS disk is damaged by a file system error and you don't have a PC on hand.
Conclusion
After using and testing, iBoysoft NTFS for Mac is a well-worth buying NTFS for Mac software. It is a tool for reading and writing NTFS files on Mac and a disk management tool.
As an NTFS for Mac software, it performs very fast when transferring files from a Mac computer to an external drive in Microsoft format. In addition, it has many extended features. With these handy features, you can check and repair disk errors, and erase disk data from NTFS drives as easily as any Mac disk.
Read Also: