Considering the significant number of wholesale providers you could order from, it can take time to narrow them down to the one you feel confident doing business with, whether you're a new clothing brand or already established with a solid customer base if you're looking for some tips on how to get started with determining which wholesaler may be best for your clothing brand, keep reading for insight that can help.
Dig deep into research
Digging deep into research can tell you much more than a quick, simple search. Doing basic research may involve an internet search for the wholesaler's name and reading a few reviews. However, doing more extensive research can be where you turn up even more pertinent information to help you make an informed decision.
Read through multiple websites containing reviews and check if there are any news articles about the company. Peruse through forums and see what others are saying, and if you can't find much on the business, feel free to post on a social media site to get a sense from past customers about what it's like to buy from the company.
Draw out your research efforts
When you're doing your research and determining which wholesaler is best for your business, make sure to take your time. Take your time researching each company, looking into as many aspects of it as possible, everything from the quality of their products and the shipping costs to the shipping times and how long custom orders take.
You may even want to sleep on it for a few days. It may seem silly, but when you're spending a good amount of money on a bulk order, and it's a choice that could have long-term effects if you decide to stick with that company, it's worth making sure you're confident about who you want to do business with.
Determine if the products will appeal to your demographic
Considering your customers are the heart of your business, choose a wholesaler that sells products they want to buy from you. There's a big difference between customers coming into your store to browse or peeking through the products on your clothing brand's website and finding that the products are worth buying and making a purchase.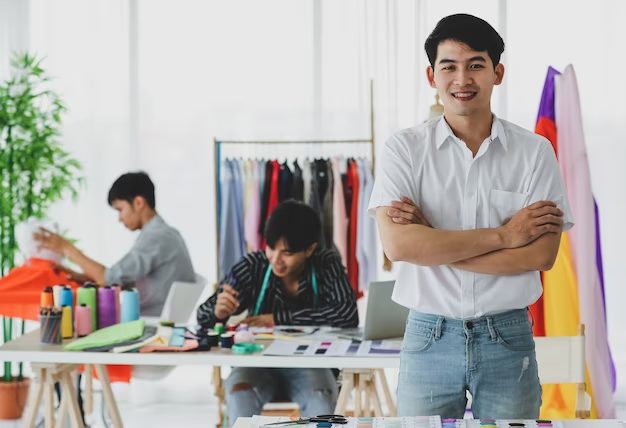 Rather than looking at the clothes the wholesaler offers and thinking about if they would appeal to those of all ages, narrow it down to a demographic to specifically focus on so it can help you get in that mindset.
While some clothing products will appeal to a broad demographic, like the Bella + Canvas red crewneck sweatshirt, other products might be more popular with specific demographics than others. So, for example, if you want to sell clothing to adults in a particular age range, you will focus on something other than if those clothes would appeal to teenagers.  
If you still need to decide if those in a particular demographic want to buy the clothes you have in mind, then feel free to ask. Post on a general social media site to get some understanding, ask those you know personally who fall into that age range or post on your brand's social media sites and ask your customers what they're currently shopping for and planning on buying in the future. 
Rank your wholesaler preferences
You're going to be researching an assortment of clothing wholesalers. After the first few, keeping all the details straight may be difficult, so consider making a list and ranking your options accordingly. The first two or three might be the easiest, but it can get more challenging as you continue researching additional possibilities.
Once you finish analyzing all your potential options, you can look at the final list and likely eliminate most of your prospects except for the first couple. At that point, you can either decide between the two or use both if you like them equally and they offer enough product variety to benefit your business and expand your inventory.
Test the products out before making a large wholesale order
One final test to make your ultimate decision of which clothing wholesaler to do business with can be to order products from them to see how the experience goes. In addition to placing an order, you can test out what happens if you need to contact customer service with a question or issue.
You likely want to wait to purchase your first order considerably. Consider placing a minimum order for a few different types of items, such as hoodies, pants, and shoes, so you can see how the quality and styles differ between what they should be according to the details and pictures on the site and what they're like in person. After you review the items in person, it may be easier to determine the wholesaler you prefer.
Trust your instincts
As great as it can be to review all your notes about each wholesaler and test out the company and products, often what it comes down to might be trusting your instincts and going with the one you feel can give you the best results. So while you want to make an educated decision considering it's an important choice that will impact your business, you shouldn't count out your instincts. 
Determine the right wholesale provider for your clothing business and research before placing an order. Therefore, giving you ample time to take each step you need to make your decision without feeling the pressure of knowing you have to put in a bulk order soon if you're going to create one.
Also, remember that even though you're starting with deciding for the long-term, it doesn't mean that–if you eventually don't like working with a particular business–you can't move onto another wholesaler on your list you feel more comfortable with.
Read Also:
Arnab Dey
Arnab is a passionate blogger. He shares sentient blogs on topics like current affairs, business, lifestyle, health, etc. To get more of his contributions, follow Smart Business Daily.