A great product or service isn't enough to make a business work. Managing the financial part of the operation is hard work, but it is often the difference in success.
It's an undeniable fact. 82% of small businesses fail because of cash flow problems. They either can't raise the money they need or they are unable to manage their finances to be viable for the future. If you can't keep the cash rolling in to pay your bills, sooner or later it catches up with you.
Solving the Cash Flow Problem: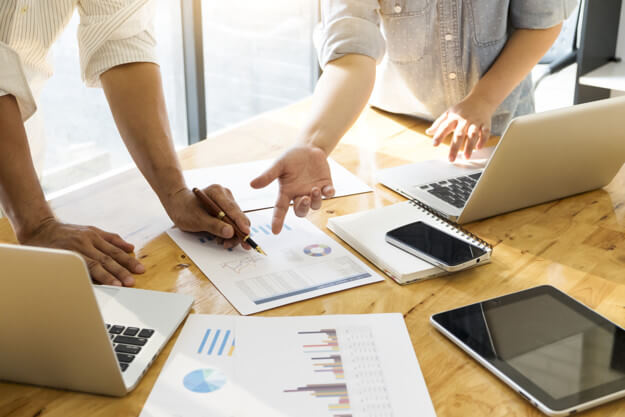 The concept itself is rather simple. Bring in more money than you spend each month. The difference is your profit. However, it's easy for spending to get away from you or offer credit to customers that don't pay their bills on time.
The key to cash flow is active management.
Creating a Budget:
Very few people enjoy making a budget — let alone sticking to one. But it's essential if you're going to manage your business effectively.
The best strategy is to create a zero-based budget that includes the minimum amounts you need to spend to support your business and fuel your growth. This creates a starting point that you know you can't go below and keep things on track. Once you know that number, it's easier to start to plan.
Your "minimal operating budget" should be lean. If your business falls on hard times, your industry shifts or consumer trends change dramatically — as they did during the pandemic — it's good to know you've got a plan ready to go.
From there, you should look at growth opportunities. Where can investing additional dollars lead to greater revenue? For each additional expense you add, you must justify the expense based on a reasonable ROI.
Manage Your Inventory:
Make sure you have enough inventory and materials to fulfill your orders and have a strong supply chain with multiple vendors to keep everything running smoothly. However, don't over-order items you don't need or that might expire before you can turn them.
43% of small businesses say they do not track their inventory in a formal way. It can lead to waste and excess spending that you can't afford.
Extending Credit:
Unless you're in eCommerce or direct-to-consumer retailer, you likely have a significant amount of customers buying on credit.
Extending credit can be a great way to expand your business and build customer loyalty. There's also a downside. If your customers don't follow through on their commitment to pay you, slow B2B payments can crush your cash flow.
Over the past two years, delinquencies have jumped dramatically. According to Moody's, things are improving in 2021, but through April the number of customers that are delinquent on their bills is still around 7% — more than double the rates from 2019.
Making sure you are examining a company's credit history before granting credit and keeping an eye on how much credit you are extending is crucial to managing your cash flow.
Even customers that have a history of paying on time may be struggling. When you start to see payments slow, get active in collections. If you are a small business, you may not have significant reserves to overcome a significant drop in revenue caused by delinquent payments.
Keep Cash Reserves:
You always need to have a safety net when it comes to cash flow.
A report from the Federal Reserve bank reveals that a two-month loss of revenue is enough for 17% of small businesses to close permanently. Nearly a third of businesses would be forced to delay payments to supplies or cut expenses.
Track Everything:
You can't control your finances if you don't have visibility into where the money's coming in and going out. Not only do you need to track everything, but need a simple way to optimize your B2B payments to manage your cash flow.
This requires a way to handle invoicing, statements, payments, and collections. Automate anything you can, such as touchless invoicing, digital payments, and automated cash management. Set up triggers to warn you when bills aren't being paid and use a financial management system that lets you see where you stand at all times.
You should always know your monthly spending and be able to accurately forecast your monthly revenue to protect your cash flow and your business. When you have a system in place to track everything, you are better able to mitigate your risk and project for the future.
Help Your Business Prosper and Grow:
The blueprint for every successful business is a little bit different. However, managing your cash flow is important to every business. Use these tips to stay ahead of the game and help your business prosper and grow.
Read Also: