Email marketing is the primary marketing strategy that most brands fail to optimize, especially small businesses, and that is where Benchmark email comes in to change the face of email marketing. Currently, there are plenty of email marketing platforms competing against each other in the market, and most of them perform similar functionalities.
An in-depth analysis of a platform is perhaps the only way to determine if it will optimize your campaign goals. For instance, benchmark email marketing is one of the dependable platforms that allow users to optimize their email marketing goals and send emailers without any hassle.
Features Of Benchmark Email: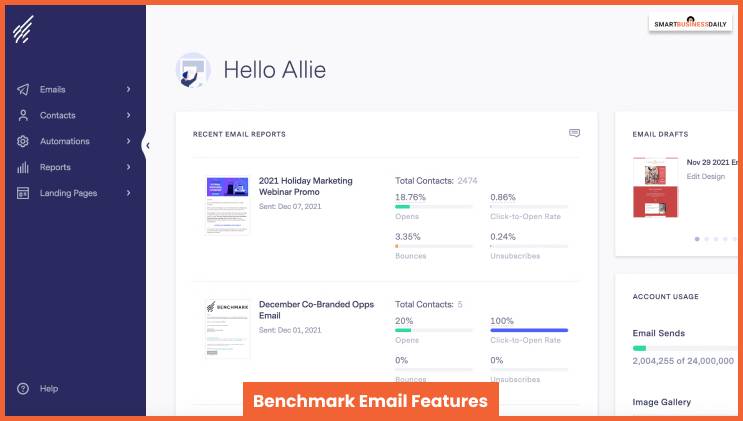 One of the most lucrative things about email Benchmark is it brands itself as a platform that is more than an email marketing software. Before choosing what platform works best for you, keep reading to find out the top features of Benchmark email.
1) Editor Of Emails
One of the best things about using Benchmark Email is that the software teaches users how to create a great email by presenting one step on every page. Firstly, users are asked whether they want to use the drag-and-drop option or self-coding option followed by a subject prompt.
The step-by-step method can quickly determine whether users have finished all the steps. Additionally, you can also include new recipients and remove individual email addresses from your mailing list – this is a highly convenient step for anyone using the software.
2) Too Many Templates
Every template available on the Benchmark email marketing platform can be customized by users. As a user, you can create, edit, erase and move blocks of content while adding or removing images, videos, navigation buttons, and the like. Customization ensures that your emailers are unique and represent your brand accurately to your clients.
Additionally, it is wise to remember that there is nothing like too many templates, and you may need every available one for all you know.
3) Management Of Contacts
Benchmark Email provides users with plenty of alternatives for adding and managing your customer's contact details, mainly email addresses. You can either add contacts manually, or you could copy and paste or even import from another platform. However, Benchmark's signup forms are not advanced and not easily customizable.
The cleaning feature is an excellent functionality of Benchmark – after emailing your customer, you can check out actions taken by recipients and make decisions based on the number of bounces, unsubscribes, and the people who never opened the mail within a certain period of time.
4) Makes Reports
Benchmark Email provides individual reports for every email campaign, A/B tests, and automated sequence of emails. Consequently, the reports can track the following elements,
Clicks

Opens

Unsubscribes

Bounces

Email forwards

Social media shares

Opens based on location
Benefits Of Using Benchmark Email:
Now that you know what is benchmark email by an in-depth analysis of its unique features, it's time to understand the benefits of this email marketing platform. The benefits of using Benchmark for meeting your email marketing goals are as follows,
1) User-Friendly Interface
How comfortably and conveniently users are using a platform can make or break the platform's reputation. Benchmark has managed to keep the needs of its users as a top priority by simplifying its user interface and thereby improving the complete experience of users.
For instance, there are only four options on the main dashboard – email, contacts, automation, and reports. Each of the alternatives is further segregated into subcategories for simplifying involved processes. Also, returning to the main dashboard at any time without any hassles.
2) Help Messages Within The App
Benchmark Email is perfect for people who have never used any email marketing platform. This is because the software highlights feature that you don't know via pop-up texts while you are on the site working. This is not all.
The platform also provides tips and tricks of digital marketing and describes features in a single line while using those features. Additionally, if you have been wondering about the email conversion rate benchmark, you need not. Benchmark's email conversion rate is impressive, making it a win-win option.
Frequently Asked Questions (FAQs):
1) Is Benchmark Email Good?
Benchmark's email marketing offers an impressive range of features perfect for running campaigns, especially for small-scale businesses. A detailed review of this platform highlights how Benchmark email helps users handle their marketing goals without hassle.
2) Is Benchmark A Good Brand?
Yes, the brand is considered to be suitable for achieving your email marketing goals efficiently. It's easy to use, and the brand's goodness on top of that highlights the platform's sustainability and time-saving automation of involved processes.
3) How Much Does Benchmark Cost?
Thankfully, there is a free version of Benchmark email with plenty of valuable features. However, the free version does not include practical things like cleaning the mailing list, advanced segregation, and landing page functionalities. However, Benchmark's paid version starts from 15 dollars monthly for 500 subscribers.
4) What Is Benchmark Email Com?
The benchmarkemail.com is what you have been looking for. Co-founded by Curt and Denise Keller in 2004, Benchmark provides both paid and free versions for users to simplify their email marketing processes and send emailers without any worry!
5) Is Benchmark Email Trustworthy?
Benchmark Email is 100% trustworthy due to its sheer usefulness in the market today. Known as a holistic marketing tool, the application allows users to send emailers, SMS blasts, and make analytical reports, saving users time and money.
The Verdict
While Benchmark Email has some impressive features that save your time and money with a wide variety of tools that smoothly runs your campaigns without causing you any trouble, however, there is one minor glitch. Benchmark's signup forms are not very advanced, making customization on the part of users complex.
If Benchmark's internal team could make the sign-up form easily customizable, the platform would perform much better. So now that you are aware of the benefits and one tiny glitch about the Benchmark platform opt for a trial session today. After all, it has options in the free version for you to choose from.
Read Also:
Barsha Bhattacharya
Barsha Bhattacharya is a senior content writing executive. As a marketing enthusiast and professional for the past 4 years, writing is new to Barsha. And she is loving every bit of it. Her niches are marketing, lifestyle, wellness, travel and entertainment. Apart from writing, Barsha loves to travel, binge-watch, research conspiracy theories, Instagram and overthink.