Do you want to use HubSpot for spreading your business awareness? If yes, you must do proper research about this site to get the complete details about this email marketing channel.
Then, you have to devise your strategy to provide you with maximum output. Hubspot email marketing can help your business to grow correctly.
Spreading business awareness is easy but holding the viewer's attention for a longer duration is tough. So you have to understand this fact at your end while you want to develop your business.
What Is Hubspot Email Marketing?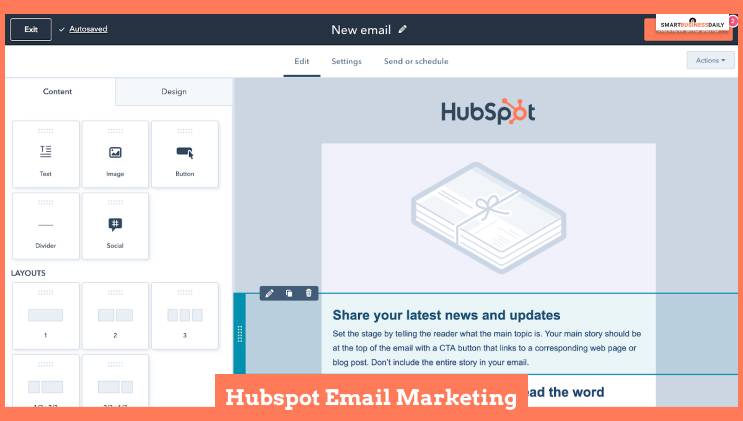 Hubspot email marketing is one of the most effective email marketing tools that help you complete your rate of conversions and increase customer engagement for the tools available in the hub spot.
It was launched in the years of 2006. Since its inception, the HubSpot email marketing tools can make things easier and more effective for your business. It has gained the reputation of becoming one of the leading inbound marketing tools.
It helps the business attract new customers to improve the conversion of the leads and achieve endless potential.
Pros & Cons Of Hubspot Email Marketing
When you review Hubspot Email marketing, you need to properly go through the pros and cons. Some of them are as follows:-
| | |
| --- | --- |
| Pros  | Cons  |
| 1. You can enjoy the free CRM Tool.  | 1. Some of the aspects are complicated at first.  |
| 2. Free options are available to get you started.  | 2. It is expensive for higher tiers.  |
| 3. Email Marketing features are of top-notch quality.  | |
| 4. You can enjoy the live chat and chatbot functionality  | |
| 5. You can make use of excellent A/B testing analytics.  | |
| 6. You will have the segmentation options.  | |
| 7. You can use awesome templates for emails, websites, and landing pages.  | |
| 8. You will get Content strategy and SEO support.  | |
| 9. Automation and marketing features are available.  | |
| 10. You can get creative content to customize your customer's needs.  | |
| 11. In-depth social media options are available for marketing.  | |
These are some of the core pros and cons of HubSpot email marketing which you cannot ignore at your end. Now, before you go through some of the review processes of Hubspot email marketing, you must know some of its core features to get things done correctly. 
Features Of Hubspot Email Marketing Hub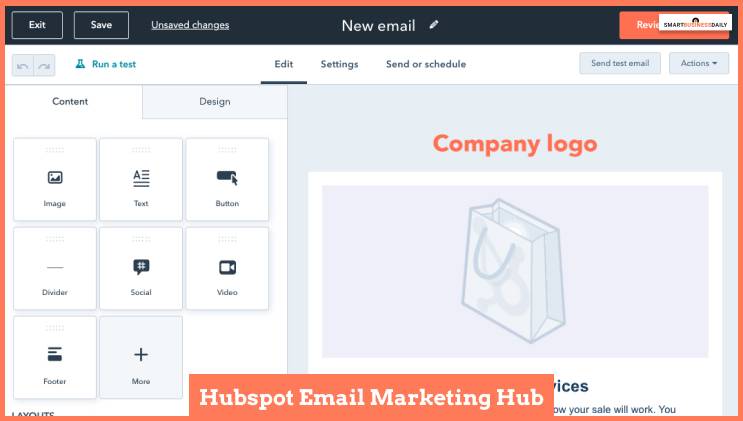 Before you make your mind for investments in any kind of email marketing campaign, it will be lucid for you to go through the features of that site. Hubspot email marketing to develop your business in the right direction.
You will get the option of website building, and management integration is possible with HubSpot email marketing.

A buyer will get the option of making a professional landing page design.

You will get CTA support without the hassles of coding.

Full support of the Content strategy with SEO is possible here.

You can make use of lead management and analytics.

Customer analytics tracking is possible here.

Proper marketing automation and A/B testing are possible here.
Why You Will Invest Money In Hubspot Email Marketing Hub?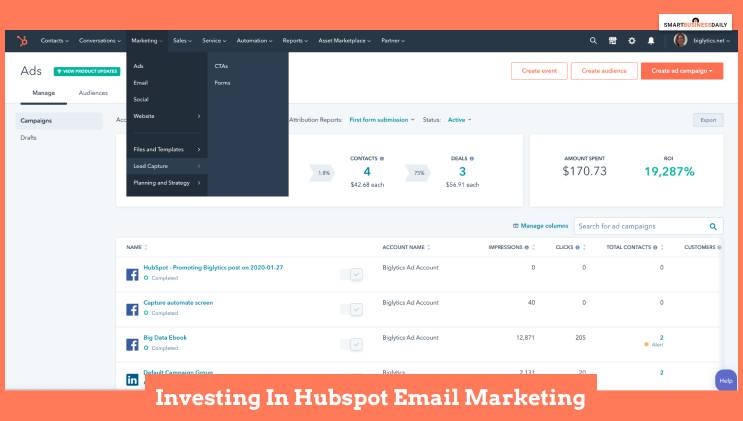 Whenever you dive head fast into marketing software, you must know what it will cost you and why you will pay for HubSpot email marketing software. You must have some predefine objectives due to which you must make your investments.
This site is gaining traction and will deliver you quality services at affordable prices. You must not make your choices in grey while you want to develop your business.
The Hubspot email marketing pricing ranges vary between $45/month and $3200 per month.
In the free service plan, you have to invest your time in knowing some of the lucrative features that it will offer to its clients in the long run. Some of them are as follows:-
You can do ad management.

Free email marketing features are possible. 

You can make use of the list segmentation.

Conversational bots will solve the query of your clients.

Mobile optimization features are the best in their free services.
You have to understand the facts before making your choices in the right direction within a short time span. Work out your plans which can work well in your favor.
Benefits Of Hubspot Email Marketing Software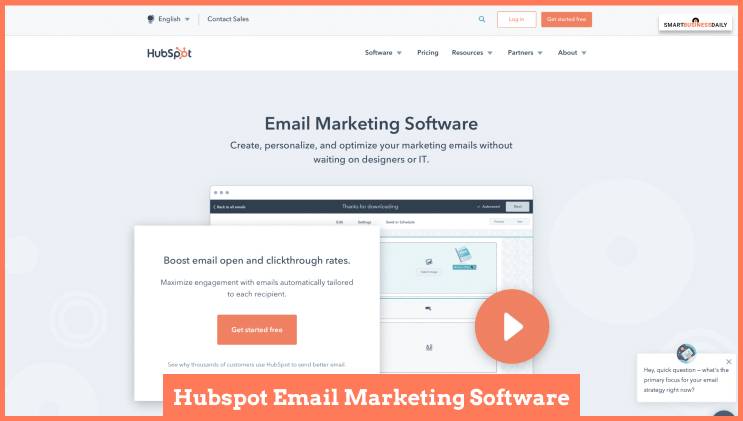 There are several benefits of the Hubspot email marketing software that can help your business grow in the right direction. In my article, you will get the complete details of it.
1. You Can Build And Modify Website Without Coding Knowledge
The best thing about the Hubspot Email Marketing software is it allows you to build your website without any coding knowledge. The drag and drop options can help you build the website with ease and less effort.
2. Develop A Comprehensive Strategy 
You will get SEO support and Social media marketing support to develop your business in the right direction. You must not make your selection the wrong way while developing your business. Make plans which can work well in your favor in a short time frame.
3. Drives Traffic To Landing Pages
You can create immersive call-to-action buttons which will convince your audience to drive more traffic for your business. You must not make your choices in grey while developing your business correctly.
4. Increases Conversion Rate
Highly professional landing pages can help you increase your conversion rate for your business. It can make things happen in your favor while increasing your brand image. Customized emails can grab the attention of your target audience quickly.
5. Track Your Performances
You can track the performances of your customers and your sales with the help of Salesforce CRM and Hubspot CRM. Ensure that you do not miss the customer's preference while preparing your next business plan.
Final Takeaway
Hence, if you want to share your opinion and reviews about the Hubspot Email marketing software, feel free to do that. You can also place your feedback in the comment box.
Do not make your choices for selecting the email marketing tools in grey, as it can create a problem for your business in the long run.
Read Also:
Arnab
Arnab Das is a passionate blogger who loves to write on different niches like technologies, dating, finance, fashion, travel, and much more.