In a world where email platforms keep failing marketing campaigns, SendPulse has made sufficient progress. The fundamental problem is how all the email platforms provide the same solution. As a result, marketers have to be careful while choosing an email platform that can obtain optimized results from their campaigns.
The only way to differentiate between such platforms is through a close inspection to find out the pros and cons of the selected software. For instance, we have done a SendPulse review, closely inspecting finer details like SendPulse price, SendPulse pricing, and SendPulse login.
Features Of SendPulse: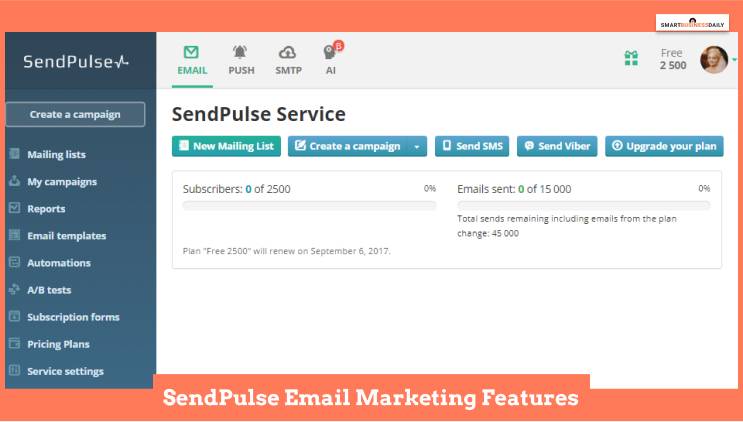 The best thing about SendPulse is it promotes itself as more than just an email marketing tool – this is very true because it does have other marketing features like SMS and push notifications. Thus, the most coveted features of this platform are as follows,
1) Management Of Contacts
SendPulse helps marketers to make full use of their extensive database. For example, you can easily upload customer contact details and create a mailing list. In addition, the platform is designed to help you filter your contacts for niche campaigns.
It also helps you identify and erase email IDs that are of no use to you, improving your precision with email marketing in the process.
2) Send Emailers
Sending email blasts is a prevalent marketing measure used by the best brands in the world. SendPulse lets you design email content on trending templates, including video or photographic content, and gives you detailed insights on your campaign.
While automating so many methods, the application simply ends up saving your time and speeds up all the involved processes.
3) Signup Generation
As a business owner, your goal will always be about expanding your business which in turn means increasing your customer base and mailing list. You cannot keep sending emailers to the same list year after year.
It helps you to customize signup forms for your website in such a way that your customers on your site won't get annoyed.
Benefits Of Using SendPulse: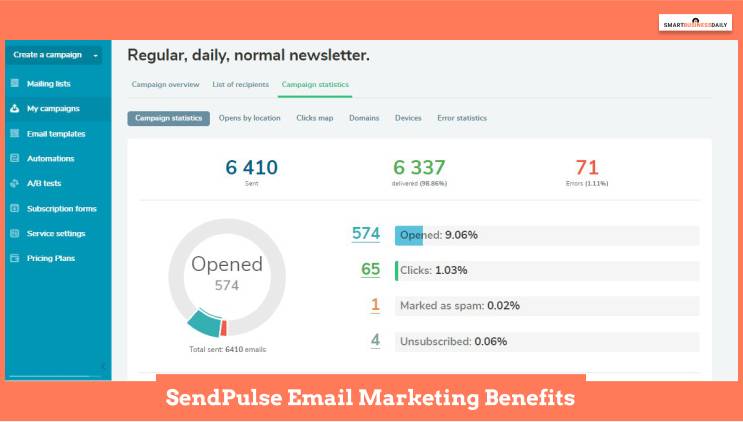 By now, you are aware that the SendPulse reviews are pretty good because of their user-friendly approach towards making life for marketing teams easier. There are two primary benefits of using the software mentioned below,
1) Automates Time-consuming Functionalities:
The terrific automation and marketing properties of it have made it a favorite amongst marketeers, especially how it manages your customer contact details and uses advanced filters to segregate your mailing lists. As a result, it's convenient for users to recognize the accurate contacts needed for niche campaigns and send emails without any hassle.
2) Easy And Convenient For Everyone:
Another great thing about the SendPulse software is its inclusivity – it's neither too complex for marketing professionals nor challenging for people without a background in sales or marketing. Thus, this software is for everyone. Plus, it's convenient because it replaces all your manual labor with a computed algorithm.
Getting Started: Using SendPulse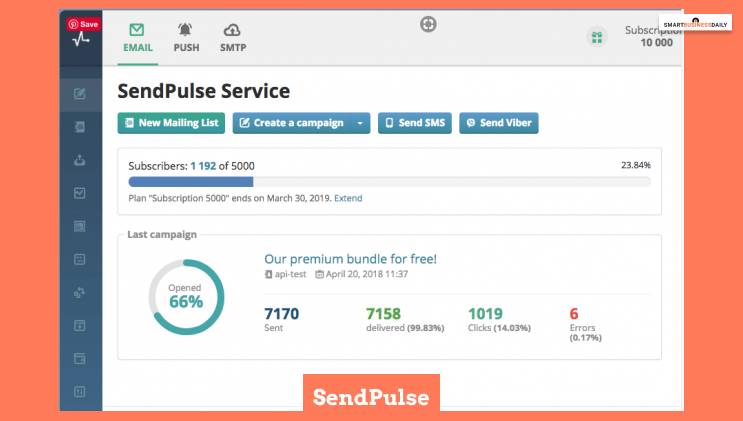 Signing up on SendPulse is one of the most simple tasks out there. The best part? You can use your google account to sign up on the platform. Once you have signed up, you will be asked why you are on the platform and whether you have sent newsletters before.
On answering the questions, the software will want to know about the length of your mailing list so that it customizes the actions being shown on the dashboard. The software also provides video tutorials for ensuring that you do not get lost at any point, saving a lot of your time in the process.
On top of that, if the video tutorials are not simple enough, navigate to the 'more info' button and tap on it to come across a detailed step-by-step explanation of how to use each feature accompanied by animated content so that you can understand how the software works. Thus, it's evident that the SendPulse login is not only simple but also strategic.
Frequently Asked Questions (FAQs):
1) Is SendPulse Trustworthy?
It is 100% trustworthy due to its sheer usefulness in the market today. Known as a holistic marketing tool, the application allows users to send emailers, SMS blasts, and make analytical reports, saving users time as well as money.
2) Is SendPulse Free?
Technically, SendPulse is free. However, there's a minor glitch. The application is free for users maximum of 500 subscribers. However, after 5oo subscribers, all the available plans are paid. Interestingly, the features for the free and paid plans are more or less similar, while the cost is dependent on the number of subscribers.
3) How Does SendPulse Work?
When you are running a marketing campaign and want to send emailers, this is the email platform you must opt for. SendPulse can help you send emailers to those clients or customers who have subscribed to your business or have given you email ids.
4) Is SendPulse Any Good?
SendPulse is not just 'any good' – it's perfect in fact because it offers you an all-in-one tool for marketing functions. For example, users can easily send analytical reports design emailers via templates, customer relationship management features, and the like.
5) What Type Of Pricing Plans Does SendPulse Offer?
As mentioned above, SendPulse is free to people who do not have more than 500 subscribers. If your mailing list exceeds 500 subscribers, you have to opt for paid plans. The software has paid plans beginning for 9.85 dollars monthly. Additionally, if you are not sure about the software, you can always opt for a free trial session that does not even require your credit card.
Final Words: Too Much Information
While SendPulse has some crazy features that save your time and money with plenty of resources to ensure a smooth running of all campaigns. However, there is just one minor issue with the platform. The platform has way too much information on its primary dashboard, making it a little distracting for users.
If only the owners of the software could further simplify a few processes and improve segregation like shifting some of the options inside subcategories or menus, users would love using SendPulse for all their campaigns. Simply put, improving the user interface can go a long way.
Read Also:
Barsha Bhattacharya
Barsha Bhattacharya is a senior content writing executive. As a marketing enthusiast and professional for the past 4 years, writing is new to Barsha. And she is loving every bit of it. Her niches are marketing, lifestyle, wellness, travel and entertainment. Apart from writing, Barsha loves to travel, binge-watch, research conspiracy theories, Instagram and overthink.