The demand for commercial buildings is high and their use has changed significantly over the past several years.
As a result, many commercial property investors are looking into commercial building construction to meet the changing needs of tenants and consumers.
But when it comes to developing new commercial properties, confronting the costs is an important step of the process.
This guide will tell you everything you need to know about the cost to build a commercial building and how you can effectively plan for commercial building construction costs.
Commercial Building Construction Types
The type of commercial building that you intend to construct will have a significant impact on the total cost of the project. These are the most common commercial building construction types:
1. Office Buildings
Offices typically cost less to build than other more extravagant commercial properties.
This is largely because office buildings are constructed for a particular use, and companies can often eliminate the bells and whistles that may need to be included in other types of commercial properties, such as hotels or schools.
Keep in mind, however, that the cost per square foot will increase depending on how many stories the office building is. High-rise buildings cost much more to build than single-story office buildings.
2. Hospitality Facilities
The construction costs associated with hospitality facilities, such as hotels, are often a bit higher than those of office buildings. However, the exact specifications of the hotel will influence the total cost per square foot. A three-star hotel, for instance, is going to be more affordable to construct than a five-star, luxury property.
3. Manufacturing Facilities
These are some of the most affordable commercial properties to build, largely because they are open and spacious, and they require fewer interior building materials. Distribution centers and warehouses are typically less expensive to build than traditional, one- or two-story office buildings.
4. School Buildings
Schools have similar construction costs to office buildings. An elementary school building, for example, would likely cost as much as an office building to construct. A secondary school building, such as a state-of-the-art high school, usually costs more.
5. Healthcare Facilities
The cost to build a healthcare facility is very similar to the cost to that of building a hotel. Medical office buildings are the least expensive healthcare commercial building to develop, with hospitals and acute care facilities being the most expensive.
6. Parking Structures
Commercial building investors who are looking to make a valuable investment in a low-cost facility will appreciate the affordability of parking structures. Of all the commercial building types, parking structures cost the least amount of money to build.
Factors that Influence Commercial Building Construction Cost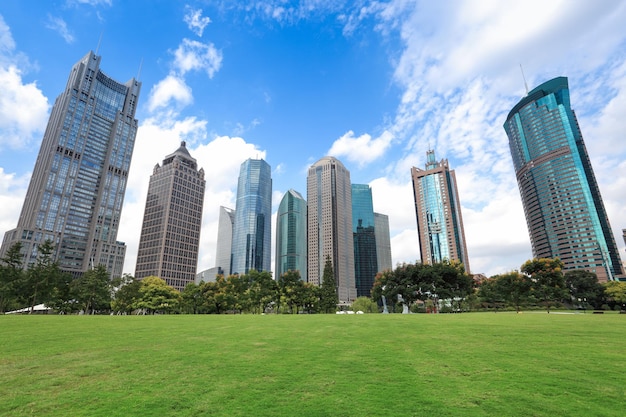 While the various commercial building types have different costs associated with them, it's important to keep in mind that many other factors will influence the total cost of construction. These factors include:
i. Location
The location of the building will likely have the largest influence on the total cost (beyond the type of building).
Commercial buildings in large, urban cities with thriving downtown areas cost much more than those in rural communities.
In addition, the cost of construction varies significantly by region. For example, commercial buildings in the Northeast and the West Coast cost much more than those in the Midwest.
ii. Construction Materials
The materials required to build your commercial building will also influence the total cost of the project. Commercial steel building prices, for instance, are on the rise, making commercial buildings that rely heavily on this material more expensive to construct.
iii. Labor Costs
As you are planning the construction of your commercial building, you will want to factor in labor costs. Labor costs, in general, are on the rise, as there is an ongoing worker shortage and an increased demand for higher wages. The exact labor costs of your project, however, will vary based on the location of the project.
iv. Finishes Chosen During Construction
During the initial planning stages, you may be focused more on the larger picture, such as the type of building you are going to construct or the location of your new commercial property.
However, it's important to factor in the details as well. The finishes that you choose will influence the total price of your project. For a more affordable commercial building project, consider sticking with the builder-grade options.
If you are ready to add touches of luxury around every corner, you can opt for enhanced upgrades.
Understanding Commercial Building Construction Cost Per Square Foot
As you begin to forecast your commercial construction costs and start to plan for the development of your building, you need to understand that commercial building construction prices are calculated per square foot.
You will receive price quotes that can range anywhere from $75 per square foot for a parking structure to nearly $700 per square foot for a high-rise office building in a large city.
While the cost per square foot makes it seem as if the size of the building plays the largest factor in the total cost, it's important to keep in mind that many other elements influence that total cost.
When you take the time to evaluate all possible factors and forecast the cost of your building construction accordingly, you can accurately plan for the total cost of your commercial building construction.
Beginning Your Commercial Real Estate Investment Journey
Commercial real estate can be a valuable investment, but if you are just beginning to explore your options with commercial real estate, you will want to make sure to have a partner on your side.
It is necessary to work with a commercial realty group that can provide you with expert insight and a localized perspective when it comes to commercial real estate investment.
A professional commercial realty group can provide you with buyer representation services, allowing you to feel confident throughout every step of the commercial building construction process.
Read Also:
Sumona
Sumona is a persona, having a colossal interest in writing blogs and other jones of calligraphies. In terms of her professional commitments, she carries out sharing sentient blogs by maintaining top-to-toe SEO aspects. Follow her contributions in RSLOnline and SocialMediaMagazine