Over one trillion plastic bags are used worldwide every year. And of that staggering amount, it is estimated that only 5% of them end up being recycled. According to the Ocean Conservancy, oceans around the world are filled with more than 150 million tons of plastic, and the most significant contributor is the 500 million straws Americans use daily.
With nearly 300 million tons of plastic being produced globally per year, it is vital that companies, both big and small, like Signet, Aramark, and Microsoft, continue being committed to greener business practices.
Facts To Digest
The United States, which is the top producer of plastic waste, produced 42 million metric tonnes of it in 2016 alone. Of this amount, only 10% was recycled, while most of what remained was shipped to countries with limited or nonexistent waste management systems. As a result, plastic packaging is the most significant contributor to greenhouse gas emissions and poses the biggest threat to marine life.
Additionally, it disproportionally affects low-income communities as they are typically left with the burden of waste disposal and dumping, leading to toxic living environments and increased health issues. As a result, schemes like the Break Free From Plastic Pollution Act have been reintroduced in the US, aiming to shift this burden back onto companies and hold them responsible through federal legislation.
But without a guaranteed passage, it is still mainly up to businesses to make more eco-friendly decisions voluntarily. And with the growing concern for the future of the planet, consumers are forcing the hand of companies to adopt greener business ethics to remain competitive.
Coca-Cola
Coca-Cola produces 3 million metric tons of plastic packaging per year, which was the most by any company willing to reveal such information in the 2019 New Plastics Economy Global Commitment report. In a separate study, products branded by coca-cola were the most common items found during beach clean-ups across 42 countries.
As part of its World Without Waste initiative, launched in 2019, the company has pledged to have 50% recycled material in all packaging by 2030, have 60% of all packaging either refilled or collected for recycling, and collect and recycle one can or bottle for each one that it sells by 2030.
The company has since launched new bottles made entirely from recycled materials and is continuing to experiment with its ultimate goal of bottles made only from recycled paper.
General Mills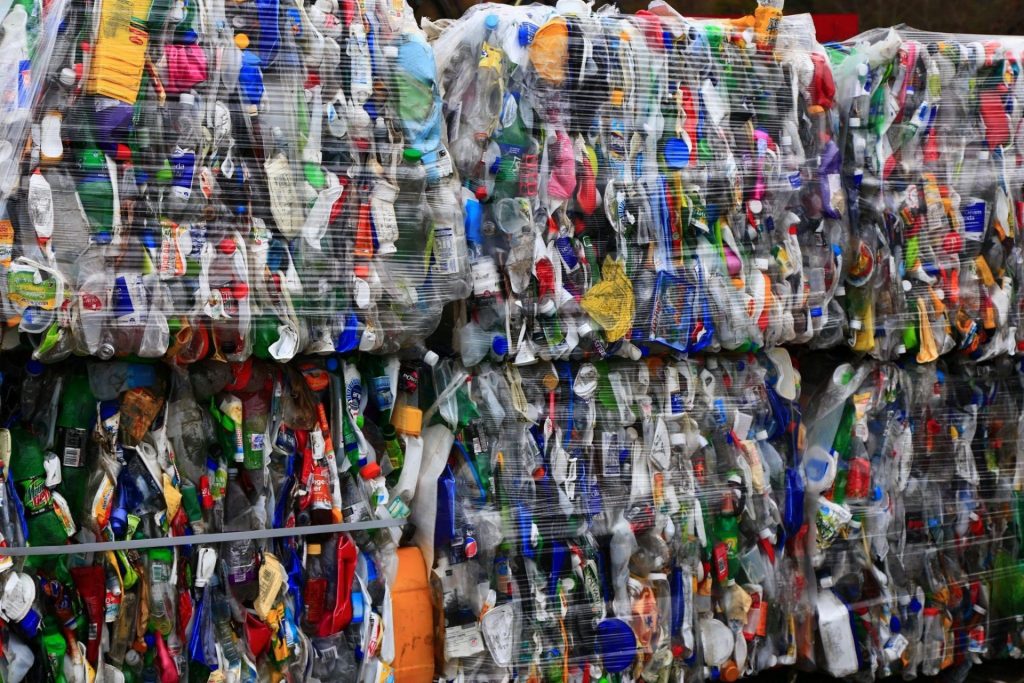 General Mills, one of the biggest food brands, manufactures more than 100 brands on grocery shelves. For this reason, their potential for reducing plastic waste is enormous. Their ultimate goal is for all their brands to switch to 100% recyclable or reusable packaging by 2030.
Other goals included in their strategy are reducing greenhouse gas emissions within the supply chain, achieving zero waste to landfill at all of their production facilities, and sustainably sourcing 100% of fiber packaging from recycled material, including virgin wood fiber regions that don't contribute to deforestation.
Nestle
Nestle is the biggest packaged food company in the world. In 2019, it took its first step towards reducing plastic waste by eliminating all plastic straws in products. Additionally, they are moving their famous Nesquik drinks from plastic to paper containers. At the same time, Nestle Waters has committed to increasing the recycled PET content to 50% in bottles around the United States.
By 2025, Nestle hopes to make 100% of all product packaging completely recyclable or reusable.
McDonald's
In a statement regarding waste reduction and management, McDonald's wanted to move from a linear economic model to a circular economy. Recognizing that packaging is its greatest opportunity for improvement, the fast-food giant, with stores in over 100 countries, has pledged to source 100% of its guest packaging from renewable, recycled, or certified ethical sources, as well as recycle all packaging in restaurants by 2025.
Microsoft
Microsoft has set some of the biggest environmental sustainability goals of any major tech company to date, with plans of being completely carbon-negative by 2023 and by 2050, eliminating all carbon emissions it has ever released since its creation in 1975.
To address its overall waste footprint, the company is turning its attention to multiple waste streams, including solid, compost, electronics, and construction, to name a few. Additionally, it wants to build its own recycling centers to reuse and repurpose servers and hardware and manufacture 100% recyclable surface devices and packaging.
Unilever
Unilever is one of the companies that unfortunately finds itself topping multiple lists of worst polluters. So, to clean up its public image and create a more sustainable future, it has joined companies like Coca-Cola in the New Plastics Economy Global Commitment.
The massive manufacturer, with over 400 brands falling under its belt, has promised to eliminate all unnecessary and problematic plastic packaging by 2025, move from single-use to reusable products where possible, and make all packaging completely reusable, recyclable, or compostable again by 2025.
Additionally, they have actively led refill programs with retail partners and participated in an initiative called Loop, a national consumer delivery scheme that ships products to customers in containers that can be returned, washed, and reused.
Read Also:
Barsha Bhattacharya
Barsha Bhattacharya is a senior content writing executive. As a marketing enthusiast and professional for the past 4 years, writing is new to Barsha. And she is loving every bit of it. Her niches are marketing, lifestyle, wellness, travel and entertainment. Apart from writing, Barsha loves to travel, binge-watch, research conspiracy theories, Instagram and overthink.