A mezzanine floor is a great way to add valuable space to your retail premises, production, or warehouse facility. If you want to avoid huge renovations, expanding upwards rather than outwards can be a really beneficial and cost-effective solution.
When space is at a premium, it can save the need for you to move to larger premises, reorganize, or restrict operations. It's no surprise that the use of mezzanine floors is rising, or where one is already installed, and businesses are looking at ways to use this valuable floor space better.
What's A Mezzanine Floor Lift? 
A mezzanine floor lift can help your business expand without needing to relocate to larger premises to keep up with the growth demands. Mezzanine levels are a cost-effective and quick way to increase usable floor space. 
It does not need to enlarge the footprint of your building or install a block and beam structure to take advantage of the often wasted space above. Mezzanines sometimes serve a huge variety of functions in any industrial area. In the next section of this article, I will be sharing the advantages of installing a mezzanine floor lift.
Benefits Of Installing A Mezzanine Floor Lift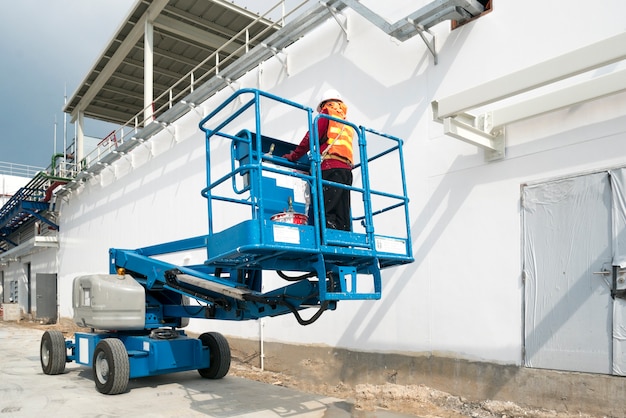 The advantages of fitting a bespoke Mezzanine Floor Lift are numerous. Not only will it revolutionize how you use the space, but it will also enable you to expand or spread out.
It also ensures the safety of your workforce and offers excellent protection for the goods or equipment being raised or lowered up to or down from the mezzanine level. Key advantages of using a dedicated mezzanine goods lift to reach your mezzanine include:
Improved efficiency
Lifting and loading heavy, bulky, or individual goods into a mezzanine floor lift is far more energy efficient than using forklifts and manual handling of goods to move goods between floors. Productivity rates can be improved, and the need to run multiple moving vehicles to lift and lower goods is reduced.
Greater safety
Goods lifts designed for your bespoke needs will enable you to easily transport pallets, roll cages, boxes, or heavy equipment between floors. They are designed to offer maximum safety, reducing the risk of objects or people falling from a height, with their sealed design and remote operation.
Easy access
Space is generally at a premium, and using small areas is possible. With some reputable suppliers, you can choose bespoke ramp lengths, same, opposite, or through-entry gates, and side heights that are designed to fully protect the goods and equipment carried and fit within your building so you can improve workflow and reduce the traffic required to fulfill your loading and unloading needs.
Compact internal or external fitting
Mezzanine floor lifts can be fitted to the side or within a mezzanine floor inside the premises, or they can be installed on the outside of a building to retain greater space inside.
Goods and equipment protection
Your goods can be safely contained within the lift, reducing the risk of damage from items falling.
Customized to suit your operation
A bespoke pit-less mezzanine goods lift can fit seamlessly into your existing building design. It has a self-supporting structure, so no disruptive heavy construction work is required. Modular plug-and-play goods lifts designed to meet your product needs can be installed within a day or two.
Compliance with health and safety regulations
A mezzanine floor lift is a great way to show your understanding and commitment to fulfilling your obligations under the Health and Safety Executive Lifting Operations and Lifting Equipment Regulations 1998 (LOLER).
Safety Standards Regarding A Mezzanine Floor Lift 
On the one hand, mezzanine floor lifts provide an efficient way of maximizing space. However, on the other, there are a few safety tips that must be kept in mind. Hence, it is significant to ensure that it meets all the requirements laid out previously in the act. 
Ensure that it's well-lit
A critical aspect of the entire warehouse design is sufficient lighting. There are risks of trips as well as falls if any portion of the workplace is not properly lit. Well, that's exactly the case with mezzanine floors. You have to install illuminating lighting systems that not only improve visibility but also reduce the risks of falls and trips. 
Keep the surface organized
Make sure that the mezzanine is decluttered, organized, and free from debris. This prevents visitors and staff from tripping over a particular object that might cause harm to them. When designing the floor layout, make sure to create space for waste disposal and storage. Doing so keeps the flooring system organized as well as simple for every staff.
Get Secure Handrails
As for any warehouse, handrails work as a barrier that safeguards people from tripping and failing. The same case remains for mezzanines. Install them on the flooring edges and extend them upto the stairs. Doing so eventually minimizes the risks of falling down and also safeguards your products from falling down the mezzanine. 
Train your employees well
The next important thing is to ensure that your staff receives efficient training encompassing safety procedures. For instance, how to make use of pallet gates or how often they are required to declutter the floor surface. If the workforce comprehends the best practices, there are fewer risks of accidents. All you have to do is ensure that all safety policies are well understood and implemented. 
Installing Pallet Gates
These gates offer a safe, effective, and seamless way of transporting heavy–duty products between flooring. Pallet gates are essential at the time of warehouse design installation. Even if they are not in use, they construct a safe barrier to avoid falls and trips. Another advantage is that pallet gates are cost-effective in comparison to a lift installation.
Conclusion
No pit designs can be fitted directly within a building or sealed to the building's exterior. They don't require extensive groundwork or disrupt your operation, as mezzanine goods lifts can be delivered as plug-and-play modular designs. These are fitted and sealed directly to existing floors and buildings.
The simple one-person operation through a simple dispatch-and-receive control panel and 3 phase mains operation ensures trouble-free continuous operation. For those odd hiccups, an HMI touchscreen will help with rapid fault finding for greater user correction without extended downtime while waiting for an engineer.
Additionals:
Barsha Bhattacharya
Barsha Bhattacharya is a senior content writing executive. As a marketing enthusiast and professional for the past 4 years, writing is new to Barsha. And she is loving every bit of it. Her niches are marketing, lifestyle, wellness, travel and entertainment. Apart from writing, Barsha loves to travel, binge-watch, research conspiracy theories, Instagram and overthink.