For fine artists and photographers looking to make a full-time living, it's not always enough to rely on freelancing or gallery presentations. Fortunately, there are many opportunities for artists to make money from their creativity in today's competitive world.
Here, we've rounded up seven popular and practical ways to monetize your art to achieve both financial success and reputation.
Let's check these out:
1. Teach Online Classes: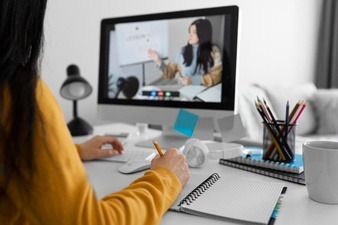 Do you think you have excellent teaching skills as well? What about teaching art online? More than ever before, people want knowledgeable and experienced teachers when it comes to artwork.
Painters, artists, photographers, and graphic designers are a few creative professionals who demand their knowledge.
Some individuals even turn towards teaching into full-time work. They launch paid membership services to enable people to access expertly–created private tutorials.
If you are clueless about where to get started, try out popular platforms like Udemy, Coursera, etc. Create your course, sign up to these platforms, and see your bank balance increasing.
2. Organize or Lead Workshops:
You love teaching but planning a fully-featured course seems daunting to you! Does it sound like you? Maybe, you simply prefer the in-person experience when it comes to engaging with learners.
In either case, organizing and leading art workshops can be a great idea. These are popular, especially among photographers, and can be a great way to supplement income for any artist.
This is true, especially if you are an astrophotographer or street photographer. To attract more individuals, you can organize destination workshops and shape the trip around a particular theme.
In addition to photographers, workshops can open up an income stream for other kinds of artists as well. You could run a workshop on calligraphy, spray painting, recycling home décor, and alike.
Think about your niche and offer something special and unique. With careful planning ahead, you can even organize workshops around your travel schedule.
3. Sell Prints:
Are you a painter, an illustrator, sculptor, or an installation artist? Even if you're not a photographer, you can still sell high-quality prints. With this option, you can reach out to reach new audiences and sell art work. These fans may not be able to find your talent otherwise. Also, you can diversify the kind of collectors you appeal to.
You have two options; either print or sell directly. Next, you can use one of many available online services to sell your artwork. These websites enable artists to sell their impressive prints online and take a commission in exchange.
Many of these websites also deal in products like mobile phone cases, t-shirts, scarves, and backpacks. They may print your artwork on these accessories, allowing you to offer something exciting to everyone.
Write an eBook:
Do you enjoy writing? Try your hand at writing an impressive eBook. For artists worldwide, there's no shortage of guides you can choose to create.
You can give advice on using a particular artistic medium. You can teach the basics of composition. You can also give a specialist approach to budding artists in your niche.
Bonus Tips:
Start a blog or vlog and become an influencer. Over time, you will start earning as you get more and more traffic to your blog or vlog.
Read Also: