The customer is god. This is not just a phrase. This is the reality. While you are in 2022, managing a good relationship with customers is much easier. In the past, you are keeping your individual customer's data. And then send them text messages or simply call them to keep the relationship healthy. But in 2022, everything will be easy and fast. You no longer have to give the manual effort. The use of the Pipedrive sales-focused customer relationship tools is turning out to be a quick and entirely automatic process.
Not well aware of the name of Pipe drive? Let's start with 'what is Pipedrive'.
What Is Pipedrive?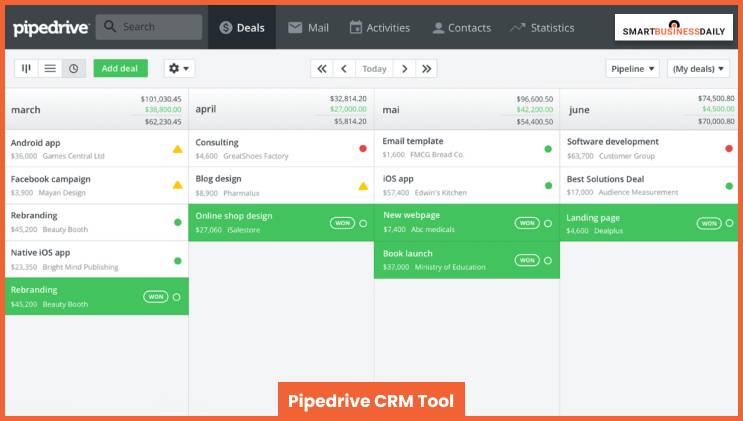 Pipe drive is a web-based sales targeting customer relationship management tool. It is maintaining the relationship with your clients. And this is a powerful and elegant approach to maintaining a good relationship with the customers.
It does not limit the usage within a specific boundary. So nothing falls in the cracks. This system is entirely an automatic process. You do not have to send emails to your customers manually. Your customer relationships teams do not have to spend hours to streamline the customer's names for sending the emails.
To better understand this software's performance, I am going to tell you the pros and cons of using the tool.
Read More: How To Find A Supplier For Your Manufacturing Business
Features Which Are Making Pipedrive A Best CRM Software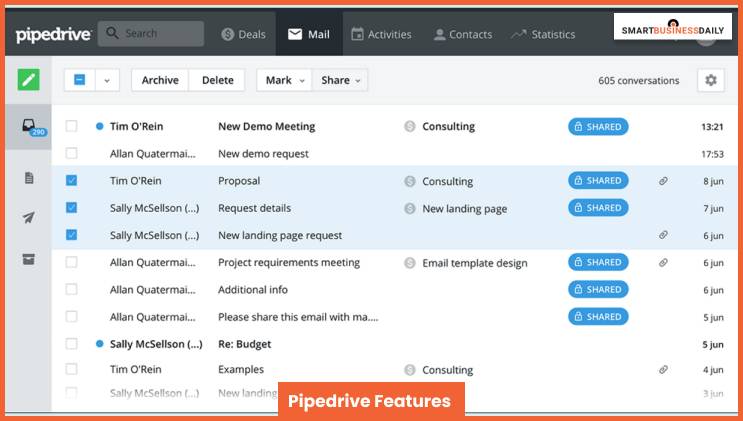 You are visiting the www Pipedrive login page. Then what to do? This tool is a perfect selection for beginner CRM tool users. For the past three years, I have been using this tool. If you are going to ask me about my opinion, I will share the attractive features of this CRM software first.
Having an inbuilt chatbot. So 24 hours customer support is available.

The email integrations features are outstanding.

Email marketing call and call analyzing features are already there.
Every integration is for creating, managing, and sending the contract proposals. You can track the engagements within this send document.

You can merge and remove the duplicate from your Pipe drive account.
Pros Of Pipedrive
An entirely loaded sales software streamlines your CRM process. And when you are in the 
Pipedrive CRM, your sales, leads, and follow-ups, sales quotations are turning out to be a much easier process. This is not all. Apart from this, we are discussing some of the other benefits of using this CRM software.
Here are three advantages of using this software.
It has a very intuitive interface and maintains a sales deal-driven workflow.

Along with this, you can get solid mobile applications. This mobile application is helping you to maintain call and email synchronization.

You can get the top position of the CRM process.

It is an attractive option for the use of various tools and integrations. 

You will get 1,000 names as the email limit. There are also some other features like marketing automation. 

The price of plans is pretty affordable. The starting Pipedrive plan is $13/ month.
Cons Of Pipedrive 
The Pipe drive interface is pretty convenient for first-time users. This is the most significant advantage. But it is a complete tool.
You are reaching the page of Pipedrive login. You no longer have to make any extra efforts.
Everything is in front of you. Just you have to follow the user manuals and the guidance. But every software has some complicated features which are the cons of the products.
Here are two cons of using this software.
There is no such free plan for the guest users. So you will get limited functionality for the prices.

New leads and existing customers require separate treatments. But in this software, you can not segregate these two.
Pipedrive Pricing And Plans: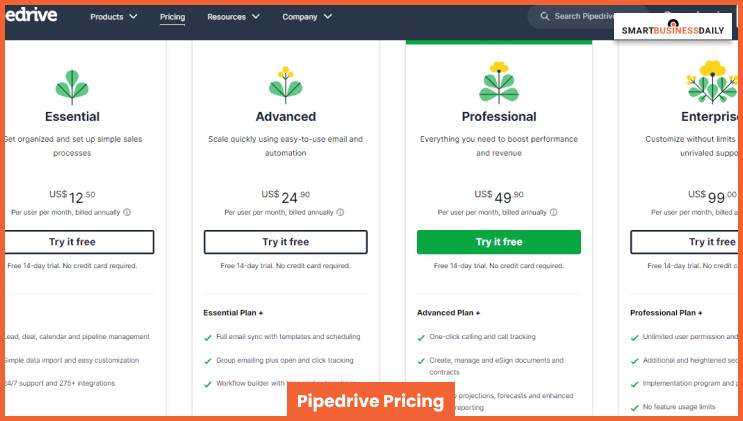 As I already told you, it is not a free CRM tool. Even the Pipe drive pricing ranges are pretty affordable when you are a beginner in customer relationship building. 
If you like to experience the different features of it you must take a look at the pricing ranges.
| | |
| --- | --- |
| Plan Name | Pipedrive Pricing |
| Essential Pipedrive Plan | $13.00 |
| Advanced Pipedrive Plan | $25.01 |
| Professional Pipedrive Plan | $50.00 |
| Enterprise Pipedrive Plan | $99.00 |
This is the whole plan and price structure of Pipe drive. You can see there are no such free plans available for the users. But the pricing is really in the affordable range. 
Paying is better to get better results. Maybe you prefer to go for free. But the fact is no CRM tool is free. Because it is a matter of your customer contact data security.
You May Like To Read This: What are the Benefits of Buying a SaaS Startup? Know Them Now
Can You Export Data From Pipedrive?
Yes, Exporting data from this is possible. This is another advantage for which I am sticking to my CRM tool selection.
How to export data from Pipedrive? Here are four easy steps: follow it and export the data from your Pipe drive interface. You can fetch the data from the detail view or the admin page.
Step 1: For bringing the customer data from the detail view. First, click on the more icon > Export. You can access this option from the Pipe drive list view part.
Step 2: From the list view option, start your data filtering.
Step 3: Then select the data columns from your list view option.
Step 4: After the selection, click on the three dots in the top right of the screen. Then select the export filter option and generate the result.
When you already have the admin access, you can easily export the data.
Here are four-step simple solutions for the Pipe drive admins.
Step 1: Go to "…" (More)> Export data after Pipedrive login.
Step 2: you will get the export from this page option.
Step 3:  Open the settings. From there, you can export all data related to deals, people, activities, or organizations. Individual reports are available here.
Step 4: Then select the type of data that you want to export. To export the file, click on the green-colored download options.
These data exporting techniques are the most convenient way to keep all the records about your leads and customer communications. Follow these steps and then export data from Pipe drive.
Frequently Asked Questions(FAQs):
Q1. Is There Any Difference Between Pipedrive And Salesforce?
It is best for beginner users. Salesforce is a much more complex interface. But it is only offering CRM software. But on the other hand, Salesforce offers a range of other tools. And everyone knows complex tools are for complex business. When you are having a startup business, you should use this tool.
Q2. Why Is Pipedrive So Different?
A simple and intuitive dashboard is the most significant advantage of using it. Even if you like to experience your sales pipelines, you can easily see from the easy interface. The chatbots are keeping everything spontaneous. You can capture the leads and contact them on your websites.
Q3. For What Pipedrive Is Best?
This is a fully deal-driven CRM solution. Apart from the CRM streamlining, there are many features that are also available, like account-management features. It automatically tracks and organizes the email and calls to synchronize sales schedules.
Conclusion:
I have been using Pipedrive as CRM software for the last three years. My experience is very good. And if you are a startup business handlers who are searching for an easy operating CRM tool. Then this will go to be the best pick for you.
Read Also:
Rashmi
Rashmi Chaudhuri a passionate traveler and the natural beauty trends concerning the professional content writer. She loves writing about beauty, travel, animals, sports, and health. She is a freelance writer who loves to write SEO-friendly contents about these topics with expert writing skills.