Team building is essential in any business as it helps team members to get closer together by practicing trust exercises while also doing activities that promote cooperation and communication.
However, there might be instances wherein physical team building is impossible as people would have no other choice but to do it virtually. 
Hosting a virtual team building can be challenging, especially since you're limited to doing things usually present in physical team buildings.
But with the right planning, you can allow your virtual team meeting to be a success.
Moreover, below are some ways in which remote workers can pull off a virtual team building successfully: 
6 Essential Tips For Remote Workers To Pull Team Building Off Successfully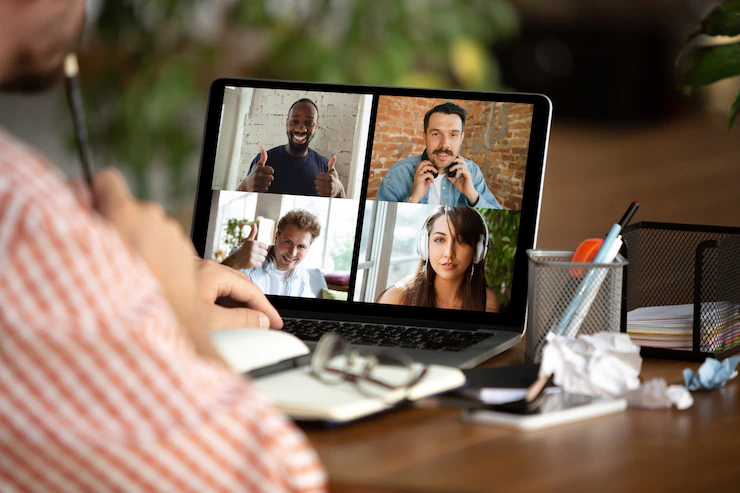 1. Hire External Help 
Hiring external help that'll do all of the hard work for you is one way you can free your office from the stress of handling a virtual team meeting. And with this, all you have to worry about is how you can enjoy the day, wherein a professional service will handle everything, from the organization to make the program flow.  
Luckily, there are professional services that handle company virtual events in which they'll be responsible for everything that your company needs to host online. They can do company celebrations, sales events, and even company team buildings.
With professional help, you can guarantee a successful event as they'll do everything to make everyone engaged while also developing a thorough plan wherein, you'll achieve your goals at the end of the day.  
2. Include Plenty Of Activities
Team buildings are supposed to be fun while at the same time helping team members to create a stronger bond, allowing them to work better and effectively. However, it would work best if you could maximize the fun to end the day with smiles on their faces.
To keep the fun flowing throughout the virtual team building, you should include plenty of activities that you know everyone would enjoy. This way, you're not missing out on any team member from the game and allow everyone to have fun.  
As you plan out your games and activities for your virtual team building, try to add more than you can cover for the day. It will help you decide what kind of activities you think would best suit the situation. Additionally, you'd have something more to host if some of your games finish early. It will help to keep everyone occupied without leaving any dull moments during your virtual team meeting.
3. Plan The Program Thoroughly
Successful team building only happens when you plan the program thoroughly, weeks before the big day. This way, you know exactly what to do for the entire day and how the program will flow. Ideally, you should create a specific timeline wherein you'll plot every activity that you'll do.
However, try to leave a five-minute allowance for engaging activities as you never know which areas you'll have extended.  
Preferably, you should plan the program two to four weeks before the team building day. If you'll need some special performances from your team members, now would be the perfect time to give them a heads up, so they'll have enough time to gather their thoughts and practice what they'll be showing to you.
4. Encourage Participation
No matter how thoroughly planned your virtual team building is, the event won't end with success if you don't get enough participation. To allow every team member to have fun and enjoy virtual team building, you should encourage participation as much as possible.
You can begin by asking everyone to turn on their cameras, so everyone can see the facial expression everyone will make during the activities. With a video, they won't feel like they're talking to rock but rather see actual people participating.  
Apart from encouraging everyone to turn on their cameras, you should also motivate them to participate in games as much as possible. You can build up teams that force everyone to have a role and engage with them to win.
If you'd like them to achieve something great from the activity, you should create a prize system wherein your employees would need to work hard to take home amazing prizes that they cannot resist.
5. Follow A Theme
Making the team building fun and engaging would work best if you could follow a theme that everyone would surely enjoy being involved in. It could be the latest trend or going for classics, yet fun, such as Hawaiian, retro, mystery, Halloween, or royalty.
As you incorporate a theme for your theme building, ensure that everything you do will be inclined to that, which includes background music and games. For an effective theme implementation, you should ask everyone to wear costumes as well.  
Making every remote worker wear a costume for team building would instantly be a great ice breaker that everyone would enjoy sharing stories. Moreover, you can also encourage them to change their background that relates to the team.
To encourage them to wear costumes, as you can't assume everyone to wear one, including a prize for the best dressed and expect most of your employees to absolutely dress to impress.  
6. Deliver Team Building Boxes
The sad part about having virtual team building is you won't be able to see the people you're having fun with physically while also not traveling to distant places to enjoy the good view and food.
To allow your team building to succeed, you shouldn't deprive your remote workers of those experiences and try to keep the energy, view, and foods present right within their homes. While it might cost you a bit more, just think of how much you're saving instead of having physical team building.  
You can begin by delivering team-building boxes that include themed foods and souvenirs they could keep forever. If you have games that require some items, you can add them to promote participation. To make the team-building boxes more fun, you should include a surprise gift for everyone that they'll surely appreciate. It would allow everyone to enjoy good food while having fun with your fun-filled programs.
Takeaway
Planning a successful virtual team building can really be challenging, especially if you're restricted to doing plenty of things. But with the right planning and engagement, you can guarantee a successful event that everyone would have fun and participate in. Just don't forget to deliver some team-building boxes for a complete experience, even if they're distant from each other. 
Read Also: 
Sumona
Sumona is a persona, having a colossal interest in writing blogs and other jones of calligraphies. In terms of her professional commitments, she carries out sharing sentient blogs by maintaining top-to-toe SEO aspects. Follow her contributions in RSLOnline and SocialMediaMagazine