In today's world, it's becoming easier than ever to start a business and find success quickly. Businesses that are primarily based online are even more manageable to start building from the ground up. Moreover, successful online businesses have often started from simple tricks like getting themselves a WordPress site. WordPress is most effective when it comes to the popularity and navigation of websites.
Future entrepreneurs are attracted to this new model of creating a company, and many business owners are learning about how to find their niche online and turn it into a money-making opportunity. Online business is full of opportunities. You can have maximum outreach, sales boost, and a separate globally recognized brand for yourself. Therefore when it comes to marketing, business owners are investing more on digital marketing.
Here are some helpful tips to Build An Online Business from Scratch:
1. Solve a Problem:
The first stage of starting a business is to figure out what you have to offer to the general public. For most company concepts, the first step is to design a solution to a common problem. This can look like an invention of a revolutionary new product that you could sell online, or it could be an expert service you can offer to the world.
Once you have an idea that would be of use to others, your business can start to come together. You need to have a proper plan in order to build an online business. At first, you need to set up a cools website and optimize it in such a way that it can easily index itself on the search engine.
2. Design a Site: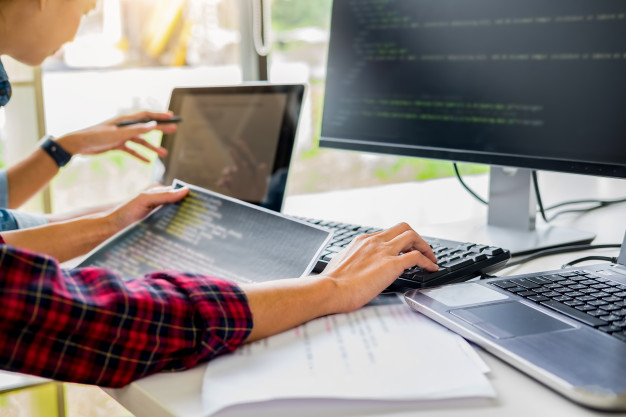 The next thing to do with Build an online business concept is to get started on creating your company's home on the internet. Your website is the key to turning a great idea into something that can turn a profit. A successful online business website is such which is not only great in design and content but is also advanced in responsiveness and navigation.
Unless you have experience in web building and homepage design, you may need to outsource your site creation to another professional. Even though you'll have to invest in this step, you could benefit from an experienced designer's talents tremendously. The key to effectively selling something online is to create a pleasing experience for the customer, which starts with your site.
3. Secure Your Products:
Another essential part of an online business is your featured product. If you're planning to sell merchandise, you've got to team up with a reliable supplier to start with. You'll need to figure out the logistics of shipping, pricing, storage, and supply with a physical product.
For business owners who advertise a service, you need to make a plan about how you'll deliver your services and how much value you think they provide to customers. Take good care of your inventory. Make sure that you have access to your stocks and other things. So that your business is in safe hands, many times there is a glitch in the digital accounting system. You can use QuickBooks for easy accounting.
4. Expand Your Knowledge:
Many aspiring business owners get started on entrepreneurship and realize they're in over their heads. Being a business owner is about more than just a great idea; there are many different tasks and procedures you need to understand to turn your creative thought into income.
Taking business classes is one way you can help develop a better head for entrepreneurship. Maryland offers an online MBA program to help budding business owners become experts. You can even provide information to your target audience and educate them. Most of the website contain blogs for effective content marketing. That is the most essential part of online business website.
5. Connect With the Public:
After you've laid out the groundwork of a great business concept, the next thing you need for survival is your first customer. An online business can get the most bang for its buck by connecting to the public via social media. Social media not only lets you connect to people but also lets you get a view on the current trends of the market.
That is why you will find most of the ecommerce sites on platforms like Facebook, Instagram, and others. It is because they are connected to lifestyle and sense of people.
You can start crafting your online presence and engaging with potential customers by signing up with all of the popular social media platforms and designing shareable posts about your products or services.
Read more: 5 Social Media Engagement Tips for Small Business
6. Define Your Brand:
The last thing to understand about any business is the importance of your brand identity. Your brand's personality is something you shouldn't ignore throughout the life of your company. Online businesses have a lot of opportunities to express themselves in many ways. So, use it in good ways and try to make your brand as communicative as you can. This can be done via the website content, design and responsiveness.
These three aspects are equally important in building your online business website. Things such as logo design, marketing campaigns, packaging, promotional copy, and your website's look influence how your business is perceived by the public. When you first start out, it's important to develop a cohesive brand image that appeals to your customers.
Conclusion:
If you're ready to take the next step and create your own internet business, it's best to get started strong. Following these essential tips can help you make the right decisions for the future of your company's success. As you grow, you can learn more about how to take advantage of the array of tools available for online ventures.
An online business needs strong marketing, so better you hire a digital marketing agency to do your work. So when you are embarking on building successful online businesses, you got to make sure that you try each and every part of marketing. That means that you should start from content marketing, and personalize it to the point of email marketing. Also, do not forget to leave a comment in the comment section and tell us about your feedback about this article.
Read Also:
mashum.mollah
Mashum Mollah is a tech entrepreneur by profession and passionate blogger by heart. He is on a mission to help small businesses grow online. He shares his journey, insights and experiences in this blog. If you are an entrepreneur, digital marketing professional, or simply an info-holic, then this blog is for you. Follow him on Instagram, Twitter & LinkedIn