WordPress is the most popular content management system (CMS) used to create blogs. It's easy to use, free, and has a wealth of themes and plugins for customization.
Plus once installed, you don't need any other software to manage it, making it a great blogging platform for beginners looking to get exposure by sharing their stories with the world.
But with this exposure also comes the stress of keeping your WordPress website up and running. As with any software, updates are necessary to stay secure and compliant with industry standards.
You need to keep your website updated regularly so that users can trust that everything on your site is original content and not coming from a third party. It requires constant monitoring, maintenance, and updates which aren't always easy.
On top of that, you also have to keep track of social media networks, check your competitors, and find time to write. If it sounds a bit too overwhelming, don't worry because you're not alone.
Even the most well-established blogs need to be checked for potential issues. That's why you need to have a solid strategy and a plan of action.
In this article, you'll discover all about wordpress management, what it's about, why it's important, and the different tips you need to implement to keep your blog running smoothly.
What Is WordPress Management and Why Is It Important?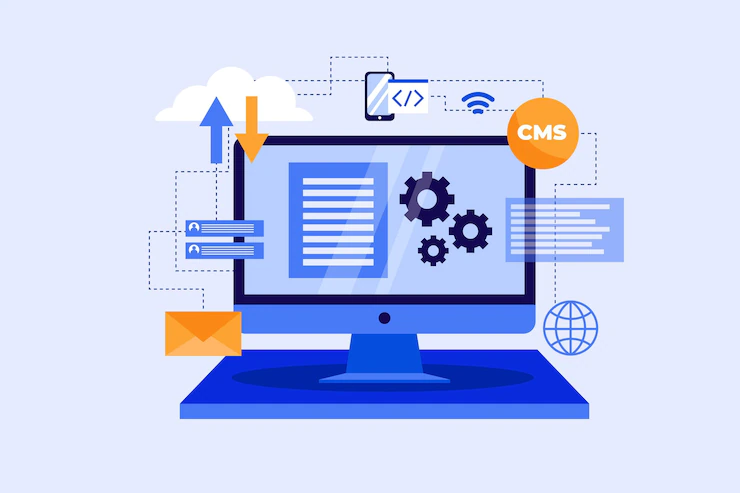 As highlighted earlier, WordPress is the most popular blogging platform. In fact, a whopping 70 percent of bloggers use WordPress as their blogging platform.
WordPress management is the act of maintaining your blog. The process includes checking your WordPress theme and plugins, updating your content, managing comments and spam, checking your competitors, finding time to write and so much more.
Timely WordPress maintenance allows you to keep your website up-to-date in terms of the site's performance and security. A lot of plug-ins require manual updates and this is the core and primary function of what WordPress maintenance is all about.
In order to run a successful website, successful WordPress management is key to keeping your site up and running, especially with the influx of new bloggers, and more savvy ones that fact.
From managing comments and spam to keeping up with your competitors, there are many tasks that need to be accomplished on a daily basis in order for your blog to be successful.
A good strategy will help you organize those tasks, prioritize them, and avoid wasting time on tasks that will never get accomplished.
Here is a breakdown of the benefits you can expect from making sure your WordPress website is constantly updated so you can maintain a competitive edge in your niche. If you don't update, you might fall behind and lose potential customers to other companies.
Related Resource: 7 Blogging Benefits for Businesses
Benefits of Updating Your WordPress Website:
1. Your Readers Need You
It's important to stay in touch with your readers. If you blog in-depth about topics, it's likely that your audience has a niche they care about. It's also likely that they have some questions or concerns that only you can address as a result of your expertise.
Regularly updating your blog is the best way to stay in touch with your readers and provide answers for their questions.
2. SEO Is Important For Your Business
As mentioned, updating your blog is important for search engine optimization (SEO). If you update your blog on a regular basis, it's automatically indexed by Google, Bing, and other search engines. This ensures your content will be found when people search for related keywords.
You can also use the WordPress SEO plugin to improve the ranking of your website on search engines. With all these benefits, it's no wonder why so many marketers recommend updating their blogs regularly. Your readers will thank you for keeping them up-to-date with the latest articles and topics that are relevant to their interests.
3. You Need To Stay Ahead Of The Game
As your blog grows in popularity, it becomes harder to keep up with the updates. You're not just competing against other blogs anymore—you're competing against social media and other websites that are more dynamic than your blog.
Regularly updating your blog keeps you ahead of the game and ensures that you have the latest information for your audience.
4. New Features Will Make Your Life Easier
There are a lot of new features that come out with each update, such as mobile and responsive themes and plugins. If you're looking for a quick way to spruce up your blog, updating it is the answer.
5. Updates Keep Your Site Secure
One of the most important reasons why you should update your blog is to keep it secure. If you don't update your site regularly, hackers will be able to infiltrate your site and steal your personal information. If a hacker has access to your WordPress site, they could steal everything from your email address to financial data.
With that being said, let's take a look at some of the steps you can take to make sure your WordPress website is up to date.
How to Manage Your WordPress Blog
Updating your WordPress blog is a constant vigilance task. It's easy to forget about the constant stream of new features, themes, plugins, and updates that keep coming. However, there are initiatives you can to make sure your WordPress website is updated.
1. Set Up Automated Processes
The best way to keep blogging on schedule is to set up automated processes. With automation, you give your blog the ability to run on autopilot. You can schedule when your blog posts get published and what times they're published.
All you need to do is add some content and wait for it to be published automatically. This will save you time and allow you to focus on other aspects of your business or life. You will be able to spend more time reading your emails, finding new content ideas, and developing your business.
You can automate this process by using tools like Buffer, Evernote, Trello, Google Drive, and more. These tools are great because they allow you to keep track of tasks with digital files that can easily be shared with your team or uploaded into the document library of your WordPress website.
The most important thing about automation is that it's not an all-or-nothing type of process. You will be working remotely from home, so if it's the case that you don't have the time or money for automation tools, it might be in your best interest to hire a virtual assistant.
All in all, with a solid blogging strategy in place and an automated approach to running your blog, you'll have more time for the things that really matter in life!
Related Resource: 5 Content Ideas You Shouldn't Forget On Restaurant Digital Signage
2. Develop Better Strategies
A strategy is a general plan of action to achieve a goal. You can't have a strategy without knowing the goal, which is why you need to develop better strategies for your blog.
When developing your blogging strategy, you should consider what it is you want out of your blog and how you want to get that result. What's important to you? Is it traffic? Reach? Engagement? Conversions?
There are many different factors that go into creating a good blogging strategy. Once you've figured out your goals and created the perfect strategy, it's time to put it into action.
3. Outsource When You Can
If you're a new blogger or experienced in the field, you know the struggle of keeping your blog up and running. The best way to stay on top of your blog is to outsource it when you can. This will help you save time and be able to focus on building your business.
Outsourcing is also a great way to keep your content fresh and relevant. With the help of a professional blogger, they can update content for you while also providing valuable insight into how readers react to blogs and how they can improve their own blogs.
The Bottom Line
As popular as WordPress is as a website design platform, you must know that the software isn't perfect, either. As such, updating your WordPress blog is important for a variety of reasons.
First and foremost, it keeps your WordPress site secure. With every update, your site will become more secure and less vulnerable to hacking attacks. There are plenty of malicious hackers out there who are going to work their way into your site the minute you leave it unattended.
Secondly, updating your blog also makes it more user-friendly and engaging for your visitors.
It makes your site more search-engine-friendly, too since it will be automatically indexed by Google and other search engines. This ensures that your content will be found when people search for related keywords.
Updating your blog doesn't have to be a hassle or something you dread doing if you put into consideration the information provided in this article.
With a little patience and a fresh look, updating your blog is one of the best things you can do for it. It doesn't matter if you're a new blogger or an old veteran, after spending some time creating and updating your blog, you'll be very glad that you made the efforts.
Read Also:
Arnab Dey
Arnab is a passionate blogger. He shares sentient blogs on topics like current affairs, business, lifestyle, health, etc. To get more of his contributions, follow Smart Business Daily.