Self-employment is the most creative way to earn money.
As a self-employed person, you can work on your own terms and create a career that is fulfilling and rewarding. Also, starting a blog is a good source of income, and this source is more like self-employment.
Moreover, there's also insurance for self-employed nowadays, so no need to worry about financial and health security.
Checkout Ten Simple Business Ideas To Start As A Self-Employed: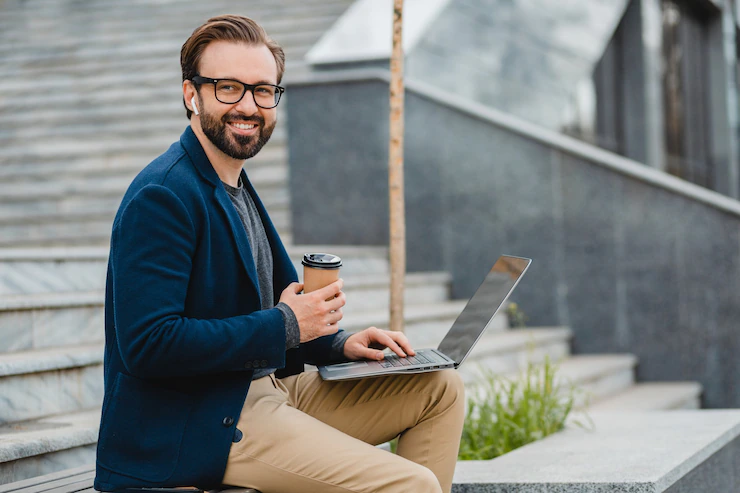 Many people dream of working for themselves but find it difficult to take the first step into self-employment. If this sounds like you then here are some ideas for 10 business ideas for 2022.
1. Blogging
If you love to write and want to make money online, blogging is a great business idea for you. You can start with your own self-hosted website or blog and monetize it using affiliate programs, article marketing, and advertisements.
Blogging has become one of the most popular ways to make money on the internet because it's easy as well as reliable.
A blog is one of the best ways to build your brand identity in today's digital age where businesses are looking for more than just products and services; they want to know who they're dealing with too.
The best thing about starting a blog is that it gives you complete control over what topics you cover and how much time you spend on each post or article (you could even work remotely if required).
It also gives an opportunity to connect with other bloggers who have similar interests so that both parties benefit from each other's experience as well as from their connections within the industry/community (or outside).
2. Bookkeeping Service
Bookkeeping is the process of recording, classifying, and analyzing financial transactions to create a set of financial statements. The purpose of bookkeeping is to record business transactions.
It's an essential part of any business, large or small. In fact, even if you have an accountant, they will still need your books in order to complete their work properly.
Accounting software helps keep track and manage your company's finances but it doesn't handle the billing aspect as well as bookkeeping software does.
Bookkeepers are trained specifically in how best to use these programs for their clients so that they can save money on outsourcing this task altogether.
3. Web Designing Services
If you have a knack for graphic designing, web designing is one of the best business ideas to start as a self-employed in 2022. You can start this business from home and it requires very little capital and technical knowledge. However, if you don't possess the required skills or experience, it's best to get some training before starting this venture.
Once you've learned all you need to know about HTML5, CSS3, and JavaScript frameworks like Bootstrap and AngularJS 2+, you can start your own website design company that offers services such as:
Creating wireframes based on client requirements
Designing responsive websites using HTML5+CSS3+Javascript frameworks like Bootstrap 4/AngularJS 2+ etc., which are compatible across all devices including mobile phones
Developing high-quality logos using Adobe Photoshop CC 2019 or other similar tools
4. Home Staging
Home Staging is the process of preparing a house for sale by improving its appearance and appeal. It can be used to sell your home quickly and for a higher price, or to make it more appealing to buyers.
Home staging is a great way to increase the value of your home and improve its appearance. As an entrepreneur, you can start this business by buying some used furniture from thrift stores, painting or wallpapering some rooms in your home, or even buying items such as rugs or lamps from secondhand stores.
You can also hire contractors to do things like install new kitchen cabinets or add crown molding around windows in order to give the house an updated look that will help it sell faster at an attractive price point.
5. Pet-sitting Business
If you love animals and are passionate about pet care, then a pet-sitting business might be for you. With the increasing popularity of pets as family members, there is a growing demand for high-quality pet care services.
Many people would love to go on holiday but don't want to leave their beloved pets behind in kennels or dog hotels. Some owners simply cannot afford these facilities or do not want their furry friends living in such an environment (especially if they have allergies). Others, who live in remote areas where no such facilities exist, may have no choice but to leave them at home while they travel elsewhere.
6. House Cleaning Business
The importance of having a clean house cannot be stressed enough. When people move into a new house, they often do not have time to check out the services in their area and hire someone who will help them out with cleaning duties.
In such cases, it becomes necessary for them to find a good cleaning crew that can take care of all sorts of tasks related to keeping their homes neat and tidy.
The best way to get started with this business is by finding customers through word-of-mouth recommendations or social media marketing techniques.
Once you have enough clients on board, you need to find some good cleaning equipment (such as vacuum cleaners) or even rent them in case your customers don't want to invest money in buying their own equipment yet because they are still new at this business idea.
7. Website Flipping
Website flipping is a business model where you buy and then sell websites for profit. The idea is that the website owner hasn't optimized their site for conversions, so the value of their website can be increased with simple improvements.
Website flipping isn't new, but it's becoming more popular due to an increase in people needing to find ways to make money online.
If you want to get into this business, there are a few things you need before jumping on board:
Get your own domain name and web hosting account so that you have somewhere for people to visit your site and see what kind of work you do.
Create some landing pages with information about what services you offer (website optimization) along with testimonials from clients who have been satisfied by their experience working with them. Build up your social media presence by creating profiles on Facebook Twitter, etcetera because these platforms offer great opportunities for reaching out directly to potential clients.
8. Graphic Designing Services
Graphic design is one of the most lucrative businesses to start as a self-employed in 2022. This business has become increasingly popular over the past decade, and the demand for graphic designers continues to rise.
The reason for this is that today's marketing tools are more sophisticated than ever before and businesses are looking for specialized talent to help them develop better campaigns than their competitors. That means that there's plenty of room for growth in this industry and plenty of opportunities for you as well.
Graphic layout services range from simple things like designing flyers or posters up to more complex tasks like creating website layouts or logos. You can provide these services either on your own or through an agency (or both).
If you do work with an agency, they will probably have some clients under contract so that those projects don't come directly back through you but if not then it might be worth considering because those contracts could pay off big time.
9. Freelance Copywriting Service
Freelance copywriting is another excellent business idea that can be started with very little capital.
There are various ways in which you can kickstart your freelance copywriting career. You could start by blogging on a topic of your choice and then move on to writing for other blogs or websites.
For example, if you love cooking, you could start a blog about cooking and then offer your services as a freelance writer for food-related websites.
Apart from this, if you're not comfortable writing about topics that have nothing to do with your area of expertise, then there's always the option of writing for other sites as well where they need regular content provided by professional writers like yourself.
10. Affiliate Marketing and Blogging
An affiliate marketer is someone who is rewarded for promoting a product or service. The most common way to do this is to place links on your website that lead to the merchant's website, which may result in a sale if visitors buy something.
You can find out about tons of offers from different merchants and apply for them if you are eligible (this usually means that you'll have to have an audience).
Affiliate marketing can be a great way to make money from home because it's relatively easy to get started with and doesn't require any special technical skills.
You just need a website or blog where you can post your content, and then write reviews of products you like while linking back through one of several affiliate networks (most commonly Amazon Associates).
This will take some time before it starts generating revenue but once it does start making money, there are no limits on how much more cash flow could come rolling in.
Conclusion
Here is the list of 10 ideas that you can choose from to start a business. You can go for any one of these ideas and see how it works for you.
You need not worry about success or failure as you do not have much capital at your disposal. This is why starting with a small scale in your local market will be great for testing the waters before going all out on it.
Read Also:
Arnab Dey
Arnab is a passionate blogger. He shares sentient blogs on topics like current affairs, business, lifestyle, health, etc. To get more of his contributions, follow Smart Business Daily.