Do you remember the days when recording your screen used to be a major challenge?
Anyone that wanted to record their screens for various purposes had just two credible options in front of them-
They could either pay heavily for software that would be technically complicated to install and workaround. Or,
Work with a software expert that would once again be a costly proposition and be an unfeasible activity.
Thankfully, in 2021, we have reached an age where technological innovations and credible software developers have come up. This has resulted in several free screen recorder that can be easily downloaded, installed, and used efficiently.
In this article, we round up the three best free online screen recorders to help you with your online teaching, remote working uses, or creative video making.
List of the Top 3 Free Online Screen Recorders for 2021 according to Experts-
1. IObit Screen Recorder:
This is one of our personal favorites simply because it is a highly effective piece of software. IObit Screen recorder is the brainchild of IObit, a leading name in the world of software and tech tool development from 2004. The company has to name multiple great tools, products, and platforms that have helped millions over the past decade.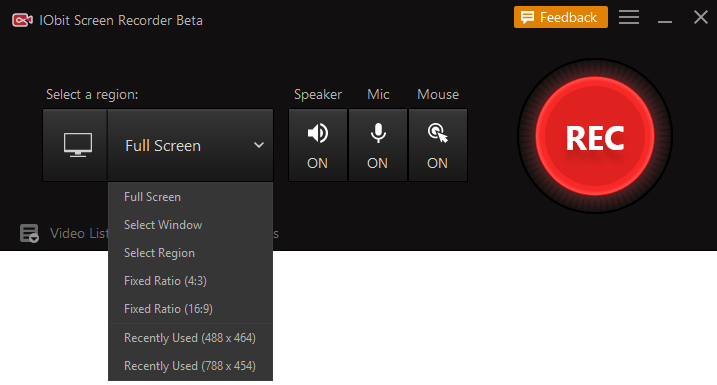 Why We Love The IObit Screen Recorder-
IObit has an online screen recorder that allows you flexibility in terms of the capture area of the screen. What you like can be recorded and what you do not want can be left out. This allows for greater flexibility in working and operations.
In addition to video capture, the software allows you to grasp the audio as well. This can be very helpful as most students, teachers, and professionals like to capture the audio and go back to the same if they didn't understand an issue.
The IObit Screen recorder works seamlessly in capturing HD Long Format Videos with zero lag. You would be forgiven for thinking that you are watching a live video and not a screen.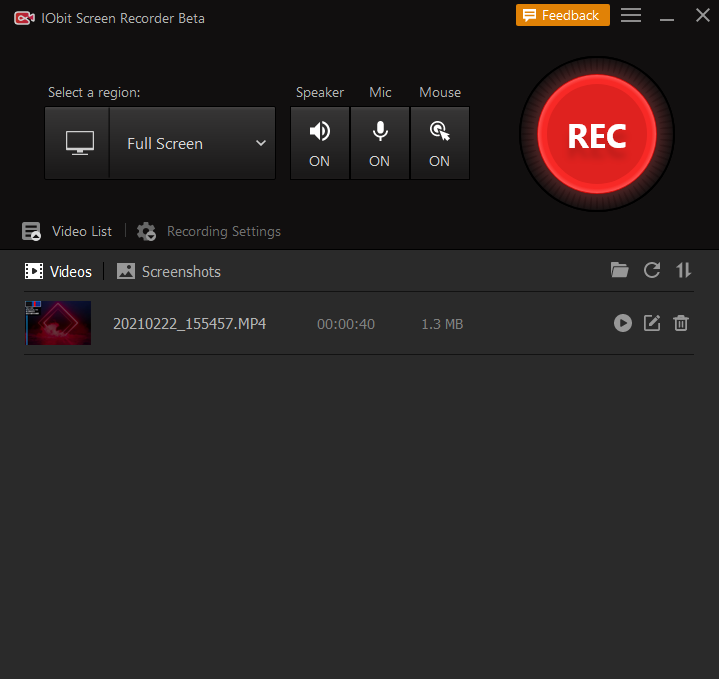 Also, you can take screenshots as and when you please. With 12 outputs, you can also convert the format of the video to anything that you like it to be in, including MP4. It's available for Windows and almost all the features are available with the free version.
2. OBS Studio:
Several professional gamers find OBS Studio to be a highly effective online screen recorder. The software does not come with any time limit in terms of what you can record (IObit Screen Recorder also has this feature FYI).
Why We Love The OBS Studio?
OBS Studio is great for gaming purposes as it allows you to directly record from the graphics card itself. This means that you do not miss out on the lag and the HD definition is maintained in your recordings.
It offers a dual function of recording and streaming at the same time. This can be a great tool for social media influencers, especially the ones that work heavily on YouTube. The saving and editing feature can help you.
What We Do Not Like About The OBS Studio?
OBS Studio comes with a complicated set-up. You might get confused and would have to look at Tutorials and go for Chat Support to understand how some of the features and functions work.
The software is great if you are a gamer or an influencer. However, you will the UI and UX, along with the features to be a bit complicated if you want a screen recorder for online teaching or remote working purposes.
3. Apowersoft Screen Recorder:
Last but not by any stretch of the imagination the least on our list is the Apowersoft Screen Recorder. According to experts, this screen recorder is great for people that are looking to give Tutorials or Presentations.
Why We Love The Apowersoft Screen Recorder?
The Control Bar, which you can get after a software download packs a lot of features into free software. It allows for video and audio capture from your desktop or the microphone.
Like the IObit Screen Recorder, this too allows you the flexibility to select an area of the screen that you want to capture. There are also customizable keyboard options that many people can use.
What We Do Not Like About The Apowersoft Screen Recorder?
The Trial Version of the software does not unlock all the features. This means that you will not be able to use the full suite unless you go for the paid version.
The software requests you to keep downloading many patches that are in essence features. However, doing this time and again can get a bit frustrating for users.
The Bottom Line:
Of the three names mentioned in the list, IObit Screen Recorder offers the most complete and usable experience. Its wide share of features and functions is something that allows for almost every need to be met. If you wish to know more about the best screen recorders, please drop your questions in the comments below.
Read Also: