Living in 2022 has made one thing clear to most of us in the marketing or sales field. As long as you have tools to help you out, you don't have anything to worry about or fear! This is because tools like Freshsales might appear to be a little complicated to use initially, but that's not true. You have to understand the days of manual labor are gone, and switching to automation always helps.
Keep reading to find out more about this revolutionary sales tool!
Bringing Fresh Sales On The Platter: What Is Freshsales?
When you think about getting new business or even fresh sales, thoughts about a new tool are the last thing in your mind. But that is where most people make a mistake – time to switch to automation! So let's find out more about the same.
What is Freshsales?
How to use Freshsales?
What Is Freshsales?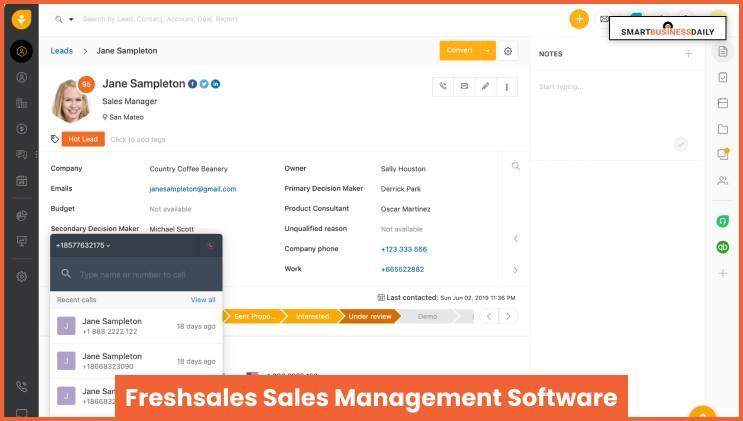 It is an automated sales force solution designed for any sales team. Simply put, it can provide every kind of help that any salesperson might require. From attracting quality leads to engaging in relevant conversations and driving deals powered by AI, the tool can help you in every possible way.
The tool is designed in a way that it automates all involved operations and processes related to sales. In the process of doing so, your employees are left with enough time to be more productive while increasing their efficiency in the process. Thus, if you have not considered using this tool yet, you can start considering provided it saves time and increases efficiency.
How To Use Freshsales?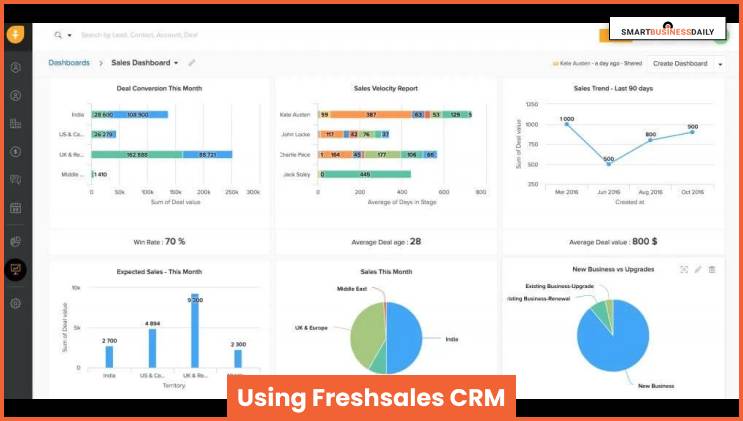 The best part about using the Freshsales CRM is undoubtedly the free trial period of 21 days! Since it's a cloud-based customer relationship management solution, it's like all other similar solutions. One of the major benefits of this CRM solution is how flexible and user-friendly the platform is, especially for people who are not great with technology.
The best way to understand how to use the tool is by using it. Trust us – CRM solutions are the future because they are not as complex as it seems. All you need to do is opt for a holistic training session with a consultant or specialist. And not just for you but the actual people who are going to use the tool.
Thus, there are two ways to learn how you can use a CRM solution like Freshsales,
Spending enough time on the tool and learning gradually.
Opt for a training session for you and your employees who will be ultimately using the tool.
Why Everyone Loves Freshsales?
Yes, the Freshsales login is a simple procedure. So is using the tool – isn't that reason enough to love any tool? Let's take a look at its features of it and find out what features have impressed users so much!
Features Of Freshsales:
The features of this CRM tool are as follows,
Activity dashboard
Audience targeting
Notifications or alerts
Scheduling of appointments
Calendar management and reminder system
Call logging, recording, and management
Campaign management
Case notes
Messaging or chatting
Categorization or Cataloging
The features mentioned above are evidence of how well your business stands to do in case you opt for investing in Freshsales. But that's not the only reason why we love the tool so much. Have you checkout out the pricing of the same? Scroll down now to find out more on the same.
Freshsales Pricing: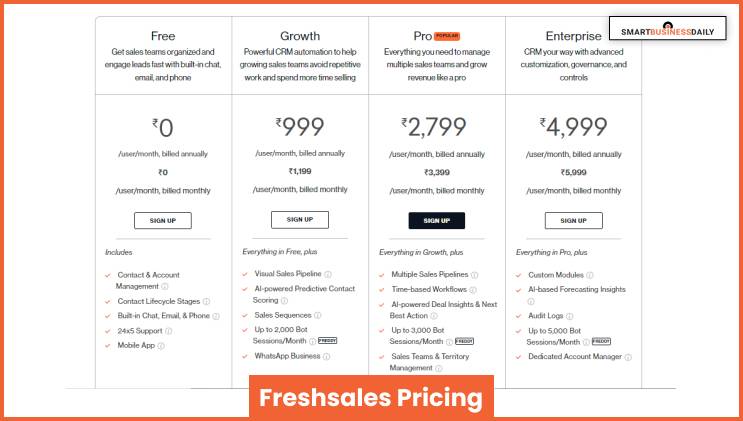 As mentioned above, all new users can opt for the 21-day trial period that comes for free. But once you start using the tool, soon you will be trying to invest full time in the same. Moreover, there's a free version of the same available. So let's check out the Freshsales pricing details, as mentioned below.
| | |
| --- | --- |
| Time Period / Name | Pricing |
| Freshsales Growth – Billed Monthly | $15 for every user |
| Freshsales Pro – Billed Monthly | $39 for every user |
| Freshsales Enterprise – Billed Monthly | $69 for every user |
Naturally, the features vary depending on how much money you are paying – but no matter which one you choose, the only thing that you need to keep in mind in this context is the size of your business.
Reviews By Users:
Source for reviews: https://www.capterra.com/p/155563/Freshsales/#reviews
Check out the reviews of Freshales below! What's better than a review by someone who has actually used the tool – it is always wise to read reviews before you can make any investment!
"We are too big for no CRM, but not big enough to implement the HubSpot and Salesforce CRMs of the world. We tried those systems thinking we needed the features and analytics, but the spend and maintenance for those systems are too high. Freshsales, Freshchat, Freshmarketer, and Freshdesk make a seriously well priced and powerful system full of the features we need to produce the right results: a good relationship with customers."

Review By Paul W
"There are many alternative sales tools out there but freshsales helped me in my initial days of lead generation, hence I will recommend this tool to those who have just started into marketing & sales department."

Review By Devyani S
"We are trying to solve the issue of lead management but till date it has been proven to be creating more issues like the subscription renewal issue for Indian users. It has loads of features, most of which are not required."

Review By Shreyansh S
Frequently Answered Questions (FAQs):
1. Is Freshsales A Crm?
Yes, It is a customer relationship management solution for helping out sales teams by automating several processes and operations related to sales. 
2. Is Freshsales Easy To Use?
Yes, according to most users, Freshsales is very easy to use as well as implement. Users, in fact, have also pointed out that the integration in cloud-based software is pretty simple and convenient. 
3. What Are Freshsales For?
Freshsales is a cloud-based customer relationship management solution designed to make the lives of sales teams easier. It has several features like lead management, a one-click phone, and the like.
Wrapping Up:
The Freshsales discount is pretty good with its free version, but at the same time, you can always opt for the pro version. Instead of reading review after review, the best thing that you can do is check out the tool for yourself and figure out the same!
Customer relationship management tools are the future, and what's better than owning your future now? Let us know what you think in the comments below!
Read Also:
Barsha Bhattacharya
Barsha Bhattacharya is a senior content writing executive. As a marketing enthusiast and professional for the past 4 years, writing is new to Barsha. And she is loving every bit of it. Her niches are marketing, lifestyle, wellness, travel and entertainment. Apart from writing, Barsha loves to travel, binge-watch, research conspiracy theories, Instagram and overthink.