Emails are important. Period. If you think that emails have become an outdated model of communication, then you are quite wrong about it! I can't imagine having a career without an email ID. On busy days, my emails are my everything! Thus, it was only a matter of time before I looked for a tool to make things simple.
The solution was in front of me – Mailjet! A life savior, this cloud0based email platform has made things so much easier for me and many others. In this article, I will review the platform so that other marketing agents like me can lead a relatively simpler life. Life in the marketing department is tough but don't worry, I have a solution!
About Mailjet: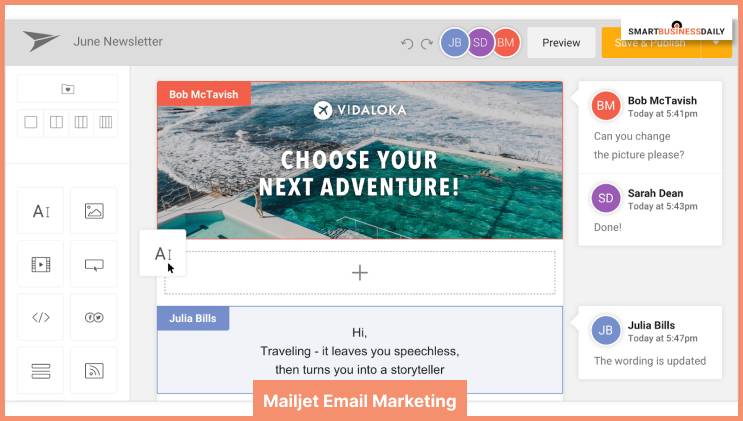 You must be wondering what is Mailjet, and we have an answer! This is a cloud-based platform for email marketing that is currently used by more than 150,000 businesses globally. Users can depend on the powerful platform for creating, sending, and monitoring their transactional as well as marketing emails. 
The year was 2010 when Julien Tartarin and Wilfried Durand founded Mailjet. The French platform has several useful tools for executing various tasks. For instance, the software has effective tools for creating emails, sending a large number of emails at the same time, and monitoring all the processes.
The overnight success of the platform did earn it all the investors the founders wanted and even a head office in London. Moreover, in the year 2019, the French platform was acquired by Mailgun, a US-based email marketing platform supported by Thomas Bravo. Currently, the software is one of the most popular email marketing platforms in the world.
Now that you have some ideas about this powerful cloud-based email platform let's find out more about its pros and cons!
Pros Of Mailjet:
The advantages of using the Mailjet api are as follows,
1. Multi-user Account
One of the best things about using Mailjet is it enables users to have more than one account. So from one master account, more than one person can use the platform. For instance, members of the marketing team at your office can all have accounts under one pricing plan. Thus, multi-user accounts are a big plus since these make teamwork easy.
2. Surveys
Another great benefit of using this software is how easily you can get surveys done. Surveys are very essential in your professional life, especially if you work in advertising, marketing or sales. For example, without accurate surveys, how will you analyze what your target audience likes and what they do not like? Similarly, surveys will also help you determine which campaigns worked and failed. 
3. Mobile Preview
Thirdly, what really caught my eye was the quality of email services provided by the software. Moreover, this software is entirely mobile-friendly, which technically means it can be used on your desktop as well as on your mobile. Therefore, if you are on the go most of the time, your smartphone becomes your primary source of communication, even in the case of work emails.
Cons Of Mailjet:
The disadvantages of using Mailjet are as follows, 
1. Integration APIs
One of the most significant disadvantages of this powerful platform is that its integration feature is still not up to date. With users rating this feature the lowest, it's a matter of genuine concern. APIs support a seamless integration, but in this case, things are not as seamless as they initially appeared.
2. Internationalization
This is also one of the most notable disadvantages of using Mailjet. It is not exclusively in all countries around the world. As a result, not every company can use the software to make their life easier.
Reviews Of Mailjet: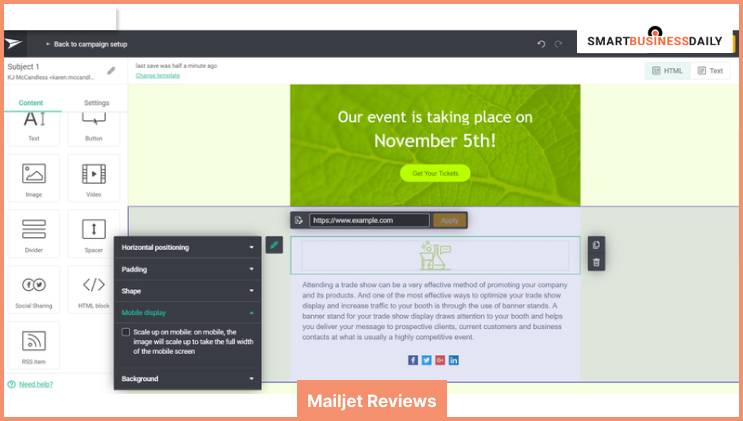 Our favorite Mailjet review was difficult to pick. So scroll down and find the top three user reviews on the same!
SOURCE: https://www.g2.com/products/mailjet/reviews
Review By Suman C:
"The greatest thing about mailjet is it possesses a superb inboxing level. I have tried personally various other options as well, but there's something completely different here with mailjet. The prices system is incredibly cost-effective for just about all types of companies. I'm very happy to use mailjet in my WordPress website. Delivering newsletters and offers from the inside WordPress has not been very easy. On top of everything, I'm also able to look at all my lists and marketing campaign statistics from inside WordPress."
Review By Alok S:
"The best thing about mailjet is that it has an excellent inboxing rate. I have used other solutions too, but there is something very different here with mailjet. Their pricing structure is very much affordable for almost all kinds of businesses. I am pleased to use mailjet on my WordPress woo-commerce website, where I sell digital services. Sending newsletters and offers from inside WordPress has never been so easy. On top of everything I can also view all my lists and campaign analytics from within wordpress."
Review By Márk P:
"The Mailjet email editor, of course. There are so many smtp relays with email editors on the market, but the mailjet email editor is by far the best. You can preview the result on any device you wish, for example on a mobile device, but you can be sure that your email will be the same on all device. The editor itself is very easy to use and very easy to understand. You can send your mail template built with the editor manually with a mailing list or by API call."
Frequently Asked Questions (FAQs):
1. How Expensive Is Mailjet?
There are three Mailjet pricing plans at the moment, which are as follows, 

» Free plan,
» Basic plan starts from 9.65 dollars monthly, and 
» Premium plan starts from 20.95 dollars monthly.
2. Is Mailjet Any Good?
Yes, Mailjet is pretty good, considering its solid and practical functionality. The software has pretty good tools like an email editor, transactional abilities, and reporting functionalities.
3. Is Mailjet Easy To Use?
To be honest, Mailjet is relatively easy to use when compared with similar platforms. Its clean dashboard and the easy-to-navigate menu only simplify things further!
Wrapping Up:
Now that you know enough about the Mailjet software, it's time you make your life easier and check this software out. Moreover, the Mailjet login is pretty easy – so there should not be any problem logging into the software. 
Instead of paying for some pro features, start small with the free plan and make things easier that way!
Read Also: 
Barsha Bhattacharya
Barsha Bhattacharya is a senior content writing executive. As a marketing enthusiast and professional for the past 4 years, writing is new to Barsha. And she is loving every bit of it. Her niches are marketing, lifestyle, wellness, travel and entertainment. Apart from writing, Barsha loves to travel, binge-watch, research conspiracy theories, Instagram and overthink.