For B2B businesses, lead generations are not only time taking even much more challenging than the B2C business. You are maintaining a website and promoting your business through multiple social media platforms. But the challenge is there when 80% of your website visitors do not disclose their contents numbers and mail ids. Leadfeeder is making the changes when you are starting to use this software. You know every business which is visiting your website.
You want every detail of your interested potential business leads. For this work, this analytical software is a perfect selection. What is leadfeeder?
Let's have a look.
What Is Leadfeeder?
This is a website visitor identification software for B2B businesses. It tracks and identifies every company which visits your website. Actually, visitors avoid the contact details for the B2B business. For these types of cases, this software proved to be a savior.
Even though your website visitors do not leave their contact information, the leadfeeder tracker script will track every page they click. Within a few minutes, you will get your desired information about the website visitors. You know every detail about your visitors, and according to this informations, you can develop a marketing strategy. Now move on to the next part of the article to know the pros and cons of this analytical software.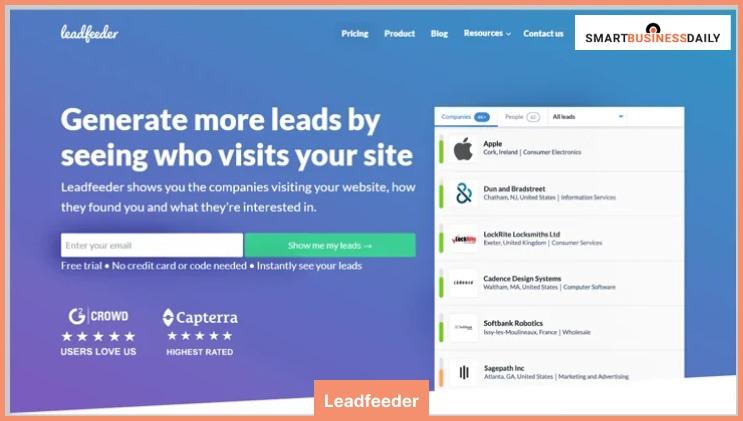 Pros Of Leadfeeder
Their visitor tracking systems are far beyond the traditional tracking system. But that is not all. I have been using their tracking system for the past year, and I am pretty satisfied with their data.
Here are five advantages of using this tracking software.
They have vital customer service. Whenever I seek help from them, I get it.
You can find multiple positive leads for your business. And you can also detect the present prospects for your business.
You can also track your visitor company behaviors and develop new sales planning.
Cold calling systems are much costlier and time taking than this tracking process. In my opinion, the leadfeeder pricing structure is pretty affordable.
The inbuilt integration process is making your tracking system much more accurate.
Cons Of Leadfeeder 
Still, now my experiences with using this software are pretty satisfactory. But every tool and software always has some good and bad characteristics.
Here are some points which you can count as cons.
Many companies have protective information. And your analytical tool can not get its hands on them.
To get the higher potential leads theses all information is always required. Sometimes I used to access to the Linkedin business profiles to get the required information.
Sometimes I bumped into false leads. Many of the site visitors accidentally access my website. And when I get their data, I generate false leads.
There are no filtering systems for quality lead filtering.
These are the cons part of using this analytical software. However, apart from these four points, this analytical software is useful and better than making cold calling.
Now see, how does leadfeeder work?
What Is The Working Process Of Leadfeeder?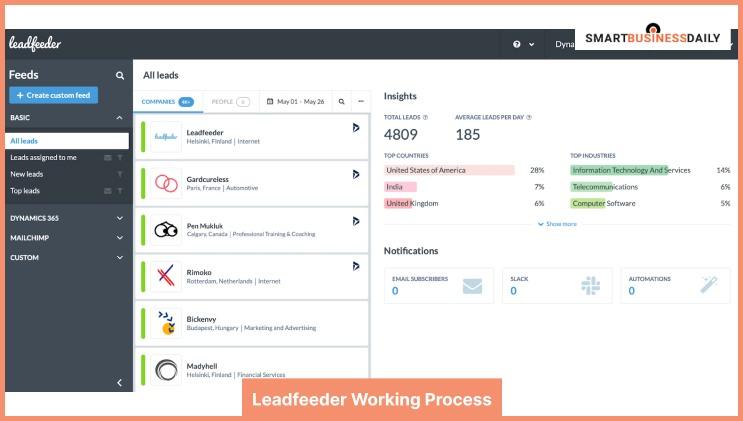 To know this software's working process, you must understand how to create a sales process with the feeder application software. And you will learn all about it by using this software. You have to start with simple leadfeeder login and connect it with your business website.
Step 1: First, identify the hot prospects with their leads filters.
Step 2: Then isolate the prospects which need immediate follow-ups.
Step 3: Holding the prospects which are currently in the processing stage but remain in the holding stage for a longer time.
Step 4: Identify the prospects who are in a complete dead-end situation.
Step 5: Then, create the custom sales process.
This is the five-step easy process by which this analytical software is working.
Leadfeeder Pricing Structures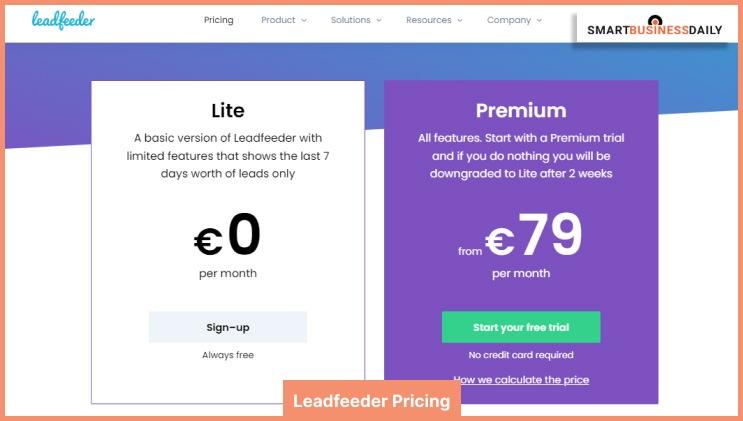 This analytical software has a free trial offer. But the regular pricing ranges start with $79.00/month.
Here are some of the facilities which are coming with the package.
Unlimited users can use it
Team collaboration tool
Potetial lead filtering
MailChimp automatic mail integration
Slack integration
Zapier integration
Customizable email notifications templates
Premium customer support
You will get all these facilities within this $79 price. But my suggestion is first to go for the free trial offers. Then go with the paid services. If you are going through the traditional cold calling system, it will take more time to execute not only that will be more costly than this amount.
My Experience Over Leadfeeder
Leadfeeder is sorting out most of my business lead generation tensions. But in some areas, I do not rely on the analytical results. Using the leadfeeder careers is changing my whole business concept.
For example, many organizations are keeping secret their contact details. And then, I get the contact information from their social media profiles. Especially the contact details.
But my overall experience is good, even better than the blindfolded mailing and cold calling. You are already aware of the facts about your viewer's likes and dislike ness. 
According to these factors, you can develop your business sales funnel. My sales designs are becoming much more accurate and precise. This is my experience with this software.
Frequently Asked Questions (FAQs):
1. What Is Leadfeeder Com?
This is a web application. The users are using this application to increase their sales intelligence. They are using integrating the sales and marketing data.
2. Can You Have a Lead Feeder Free Of Cost?
Yes, there is a free version of this application software. But you will not get the functions as much as the premium offers. The name of the free version of the lead feeder is Leadfeeder Lite. You can search this command and then access the free versions.
3. What Is Sales Lead Tracking?
Lead tracking is document processing. You can categorize the prospective customers based on their individual actions. Documentation and account-related actions are counted under this category. And you can pinpoint the prospects of separate stages of the sales funnel in the pipeline.
Wrapping Up:
Using the leadfeeder is going to sort out all lead generation-related issues. First, you can identify the frequent visitors of your site. When you can find the details about your visitors, you can plan your sales strategy accordingly.
Are you thinking of using this analytical software? Do not forget to share your tool using experiences through the comment sections.
Read More:
Rashmi
Rashmi Chaudhuri a passionate traveler and the natural beauty trends concerning the professional content writer. She loves writing about beauty, travel, animals, sports, and health. She is a freelance writer who loves to write SEO-friendly contents about these topics with expert writing skills.