How To Become A Barber? – There is nothing better than getting your dream job in this world. Whatever the profession is, becoming what you actually wanted to give a different kind of pleasure. But for this, you have to invest significant time and effort as well as financial resources at times. 
Barbering is one of the most popular customer services across the world. There are many who are aiming to become professional barbers in the future. But how to become a barber is unknown to many. Since hairstyling has always been a crucial part of fashion, there will always be a demand for professional barbers. So, if you are passionate to know every detail regarding how you can become a barber, check out our blog.  
The First Step To How To Become A Barber? – Knowing The Job Responsibilities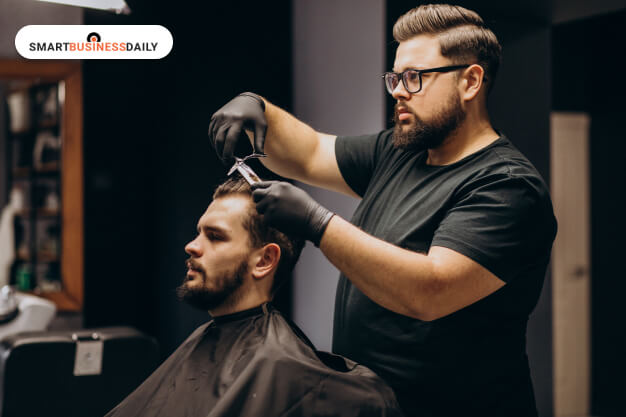 We all know what a barber's key professional responsibilities are, so I'm not making you feel bored with those facts. What I want to mention here are the points that you need to remember while learning how to become a barber. Let's take a look at some of the key steps to becoming a barber:   
 ⇒ Effective communication with customers.
 ⇒ Expertise in scheduling digital appointments.
 ⇒ Having an eye to detail and a creative mindset.
 ⇒ Strong grasp on the latest hairstyling trends.
 ⇒ Expertise in handling and utilizing different advanced haircutting equipment apart from the basic ones. For example, hair straighteners, hair rollers, clippers, trimmers, hair cutter combs, etc.   
 ⇒ Having a sound knowledge of different kinds of hairstyles, beard styles, hair treatments, etc. 
 ⇒ Taking leadership, making critical decisions, and maintaining customers feel safe at the shop.
The Second Step – Knowing The Barber Qualifications
In countries like the United States and the United Kingdom, barber qualifications are also measured before hiring. Therefore "how to become a barber" largely depends on what qualifications you have. Let's check it out:
1. Certifications And Training Courses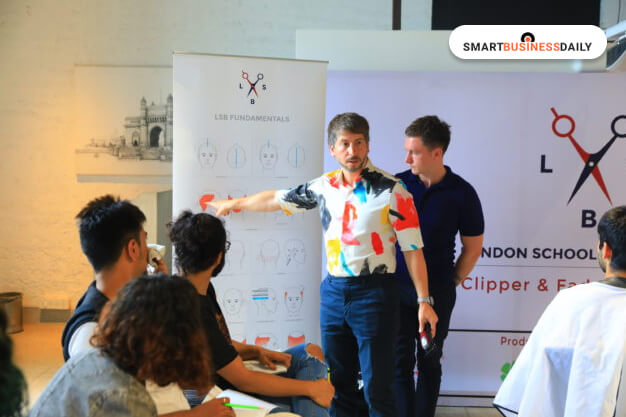 There are several barber schools and certified barbers courses out there. Once you complete one such course, becoming a barber will be easier in this competitive market. Although in most of the shops, you would get on-jp training, still the authority would expect prior skills and experience from you. 
Moreover, in the UK and the USA, you have to get your professional barber license to start practicing at salons. Hence, the query "how long does it take to become a barber" largely depends on how fast you can get your certificate and permit.
One pro information: You cannot hold a barber license legally if you are below 16 years.  
2. Academic Qualifications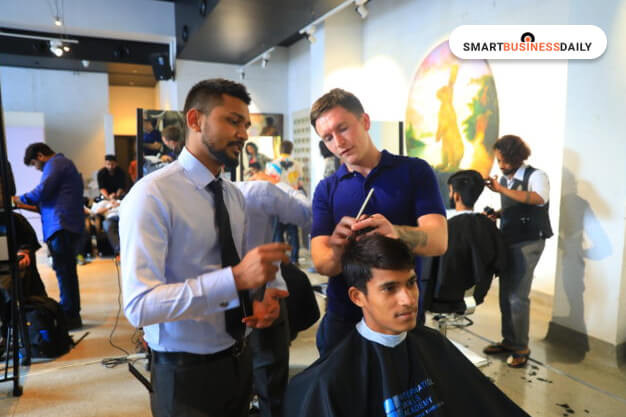 We received a question several times – how to become a barber without going to school? Let me make this clear; you cannot be one unless you complete your high school diploma. Post that, you can get registered at a barber program where you will learn industry best practices.  
3. Previous Experience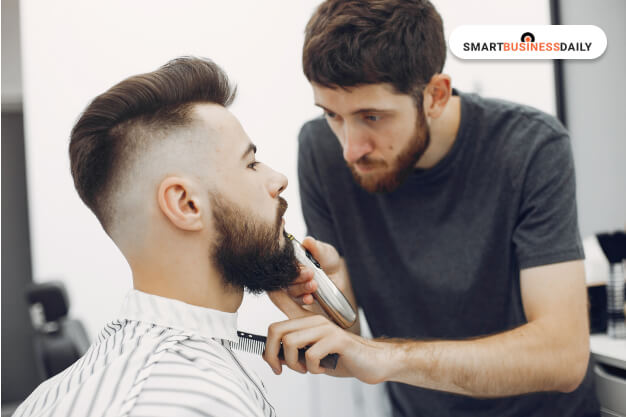 In some salons, the management would seek prior work experience as a barber from you. This is mainly evident if the shop has a robust brand identity and your responsibility includes using advanced hairstyling tools. 2 years of experience is more than enough to apply for a barber job. 
The Third Step – Knowing The Median Salary Of A Professional Barber In The USA
Here comes the most important part of the question "how to become a barber" – the salary expectations.
How long does it take to become a barber? – Until and unless you are getting a position with the desired salary. Again salary expectation depends from one person to another. In the US or UK, there are part-time, contractual, and full-time job opportunities for trained barbers. However, the median amount per hour that a barber makes is $14.65, which equals $30.480 per annum.  
How to become a barber in California? Or how to become a barber in Texas? Now that you have answers to each of these consider the salary at first before anything else, 
How To Become A Licensed Barber? – The Application Process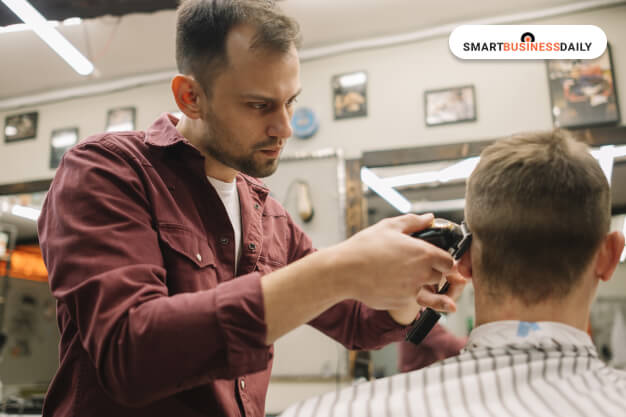 By now you must have got an idea of how to become a barber or how long does it take to become a barber. But don't you want us to shed light on the application procedure? I'm sure you have been looking for this particular section, and here it is!
So after completing high-school education, get training, and take the licensing exam, you're ready to apply for a barber job. If you are a fresher in the hairstyling industry, do not expect the top salons to select you at first. Take your first step in the industry by applying to high street small shops. 
Once you learn the best practices and expand skills, create an attractive CV with visual illustrations of work samples. Then go for the market-leading salons and crack the brilliant opportunities waiting for you.     
Frequently Asked Questions: 
Q1. How Long Does It Take To Become A Barber?
With full preparation, it may take 1 to 1.5 years to be fully ready to apply for a job. The barber certificate courses take 6-8 months to complete. Whereas to find a suitable job, it may take another 6 months. 
Q2. How To Become A Barber In California?
To become a barber in California, first, finish your high school degree from a recognized Californian education board. Then complete your certificate and get the state-approved license to be eligible to apply for the barber positions. 
Q3. How To Become A Barber Without Going To School?
Absolutely not! In the UK or the USA, you cannot be a barber without a high school diploma. Some shops even have specific grade-based criteria for getting selected. 
Q4. It Takes How Many Hours To Become A Barber?
If you ask how many hours does it take to become a barber, it depends on the duration of the courses. Generally, the barber programs are of 4-6 months duration, which means 4320 hours. 
The Final Takeaway
I hope you have observed how much hard work and planning you need to put in for becoming a barber. So, why don't you start preparing from today? Complete your high school, get a license/certificate, gain the skills, and start applying. I am sure you will come out with flying colors. 
Was the article engaging enough to give you all the information about "how do you become a barber?" Do not forget to let us know your opinion. Also, if you have barbering experience, then shower your viewpoints below. We can't wait to hear you out!
Read Also:
mashum.mollah
Mashum Mollah is a tech entrepreneur by profession and passionate blogger by heart. He is on a mission to help small businesses grow online. He shares his journey, insights and experiences in this blog. If you are an entrepreneur, digital marketing professional, or simply an info-holic, then this blog is for you. Follow him on Instagram, Twitter & LinkedIn