Many people who have their own business or brand know that managing their customer relationships is extremely difficult and, at the same time, one of the most crucial tasks they have to do.
Thankfully, because of technological advancements, this tedious task has now become easy.
There are many CRM tools that help you manage customers by automating tasks and organizing data. One of these tools is Zendesk sell.
Keep reading to know more…
What Is Zendesk Sell?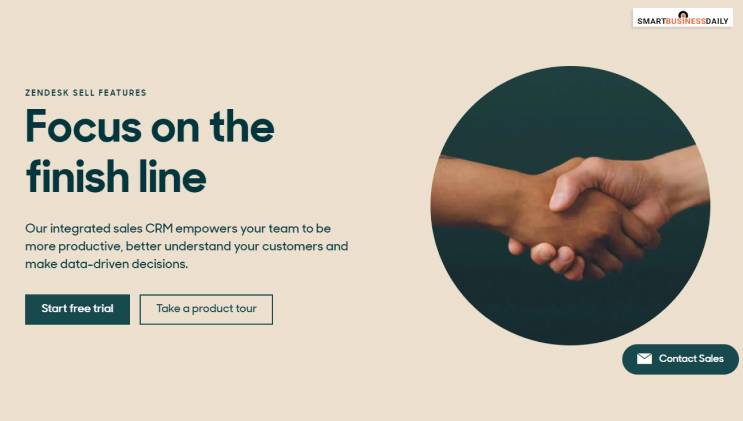 You must have heard the name Zendesk before. But did you know about Zendesk Sell?
Zendesk Sell is a CRM (Customer Relationship Management) software that makes you as a service provider deliver satisfactory results to your clients and customers.
This means that it will help you manage the relationship with your clients, making sure that they stay loyal to your business or brand.
The integrated CRM software helps the business team use it to deliver productive and satisfactory results to their customers. In addition, this platform also helps manage the customers' data and their employees.
Features Of Zendesk Sell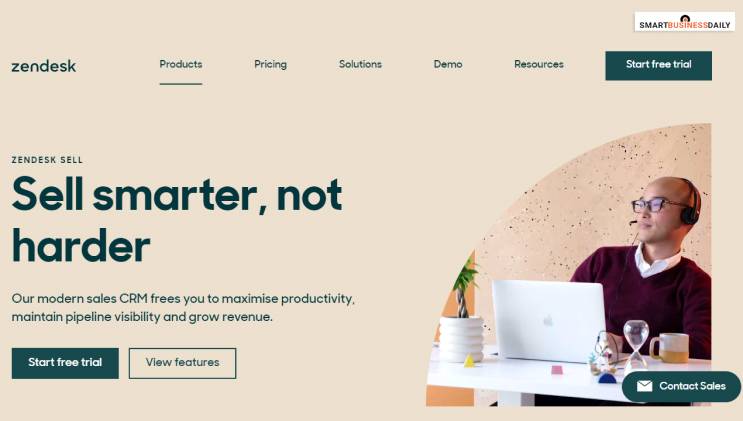 There are various features of this CRM tool. Some of the best features of the Zendesk Sell are stated below:
1. Task Player
This feature of the tool makes your work easier and faster. The task player offers you a site of the context of the task that is at hand. It is a great way to do the work sequentially.
2. Sales Engagement Tools
With the help of this feature, you can target your audience and build your brand. This feature helps you discover new leads, create profiles, and personalize communication. As a result, you can meet millions of customers and make them a part of your brand.
3. Sequences
This feature helps you to set up the sequences of your email. This means you can engage with your audience or clients much more efficiently. Once you have finished the work, the sequence makes the program shift to the next task.
Once you have the Admin rights, you can easily set up the sequences.
4. Sell Voice
You can make calls with the feature called Sell Voice. This helps you to stay connected with your clients. The feature also lets you receive or send text messages to your customers.
The technology is powered by Twilio, a third-party telephone service provider of Zendesk.
Other Additional Features Of Zendesk Sell
Apart from the features that are stated above, there are some additional features that make Zendesk one-of-a-kind. Here are some other features of Zendesk Cell:
Lead scoring
Forecasting
Sales reporting
Application integration
Why Do You Need Zendesk Sell?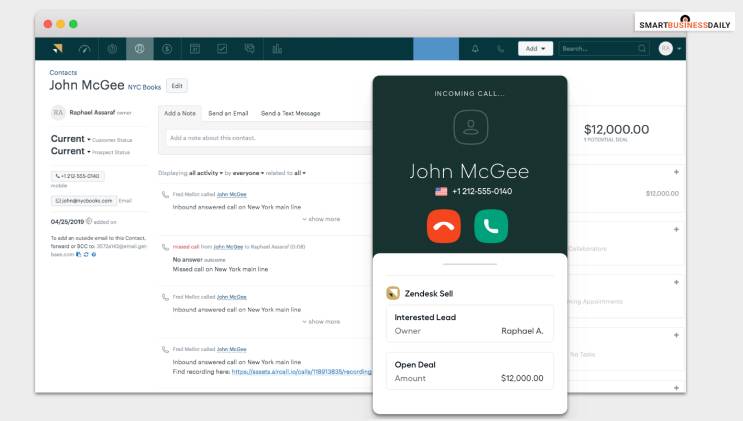 Zendesk Sell is a CRM platform. And like other CRM platforms, there are many benefits of using Zendesk Sell. It makes customer management efficient and easy.
Specifically, CRM-based software uses software that helps manage relationships with customers. Doing that also helps to boost the sale of the business and create or improve brand awareness.
Some of the major benefits of using a CRM tool like Zendesk are:
Boost in sales
Increase in the rate of productivity
Better and improved marketing
Increased rate of earning profits
Improved customer relationship
Helps to cultivate new leads
Manages the relationship with older customers
Zendesk Alternatives
If you were looking for some of the alternatives to Zendesk, then they are right here, listed below. Some of the best alternatives to Zendesk Sell are:
Should You Choose Zendesk Sell Or Not?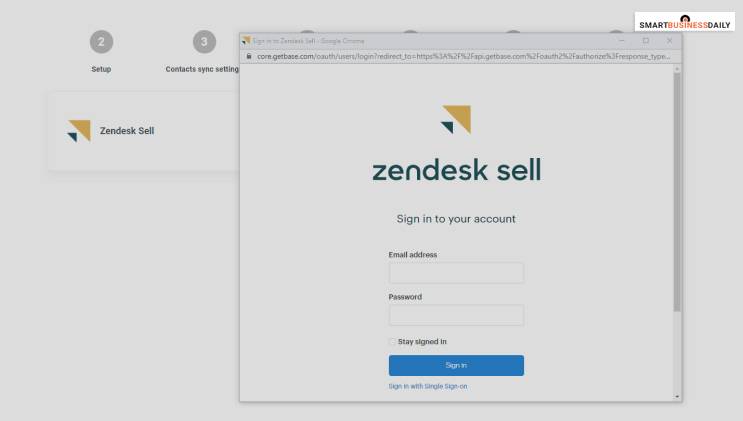 Everything in the world is a combination of something good and bad. Zendesk Sell is no exception. Here are some of its pros and cons of it:
Pros:
User-friendly
The interface is very simple and easy to use
Great customer interaction
Automation of email
Great for time management
It is an integrated CRM platform that takes care of all your needs
Cons:
Outbound emails
Limited pipelines when it comes to sales
There is no free plan
Some Facts About Zendesk
Before going to the reviews, you should know some of the facts about Zendesk that you should be aware of. Here are some lesser-known facts about it:
The headquarters of Zendesk Sell is set in Bangalore.
It is a Customer Relationship Management platform.
It is a b2B company.
The platform caters to a variety of customers ranging from education to healthcare.
One of the most popular users of Zendesk Sell is Uber.
It has an excellent customer support system.
Zendesk Reviews: What Do People Say?
Have you been looking for some of the reviews of Zendesk Sell? Looks like you have reached your destination.
Here are some of the authentic forms customers who have used the services of Zendesk sell:
1.
It has a nice user interface, calling built right into the browser, logs calls are logged quite easily. It also can track multiple "Contacts" at the same company. (Note on that below) Deals are intuitive enough.

– Suhail A.
Source: https://www.softwaresuggest.com/us/zendesk-sell?utm_source=goad&utm_medium=ppc
2.
I like Zendesk Sell offers alternatives to help sellers work well in the Centralized System. It's a great way to keep track of potential consumers and communicates with them. I like the benefit of GPS tracking for site visits. We can track the progress of our leads using the sales funnel. As part of conversations with support, the support interface makes it easy to alert sales when opportunities arise. It's beneficial for contact and account management, as well as monitoring emails, phones, and text messages, so teams can see all their contact data and interactions.

– Sashi M
Source: https://www.g2.com/products/zendesk-sell/reviews
3.
We've been customers since Zendesk Sell was called Base CRM, and so far, it has been the most accessible CRM to use, configure and administrate. I was very excited when Zendesk acquired CRM, and Zendesk's level of excelent service is top-notch.

– Diego Q
Source: https://www.g2.com/products/zendesk-sell/reviews
Frequently Asked Questions (FAQs):
1. What Is Zendesk Sell?
Zendesk Sell is a mobile-friendly web-based CRM tool that helps you and your brand manage your customers or clients. This is B2B marketing that helps other brands to run their brand successfully.

This platform automates your marketing strategies and helps you to track the data of your customers or clients. 
2. What Is The Zendesk Sell Logo?
If you were looking for the official logo of the Zendesk Sell platform, you have found the right place. Here is the logo:



3. Is Zendesk A Good CRM?
Zendesk Sell is one of the best CRM software platforms that are available right now. It takes care of the needs of your business as well as your customers.
Like Teamgate, this CRM platform helps you manage the relationship of the business with the clients or customers.
4. What Is The Zendesk Sell API?
This CRM platform has four APIs that are available to use. They are:

• Core API
• Sync API
• Firehose API
• Search API
Wrapping It Up!
Zendesk Sell is a CRM platform that aims to manage the relationship of your brand with your clients. It helps to automate the processes related to client management and makes data tracking easier.
You do not have to spend hours looking for the data of our clients or organizing it on the internet. This all-in-one integrated platform does it all for you.
The mobile-friendly interface of the web-based CRM tool helps you boost sales and makes team collaboration much better.
If you were looking for the reviews of this tool, I hope you found this article helpful. If there are any other queries related to the same, feel free to comment them down in the comment section.
Read Also:
Ankita Tripathy
Ankita Tripathy loves to write about food and the Hallyu Wave in particular. During her free time, she enjoys looking at the sky or reading books while sipping a cup of hot coffee. Her favourite niches are food, music, lifestyle, travel, and Korean Pop music and drama.