In this day and age, when companies are striving to ensure that the customers remain loyal to them, the services you provide to the customers must satisfy them. What is going to help you in achieving this goal is CRM.
CRM or Customer Relationship Management is all about creating and maintaining a bond with the customers of your brand. It refers to the techniques and the tools that are going to help you in acquiring new customers and retaining older ones.
Unless your relationship with the consumers are going healthy, you will not be able to grow your brand.
The CRM software helps you to interact with the customers effectively and automates our marketing strategies. This makes sure that the process of incurring profits and boosting sales is efficiently managed.
There are many CRM tools that are available on the internet at present. One such CRM tool is LeadSquared. If you want to know more about the tool, keep reading… 
What Is LeadSquared?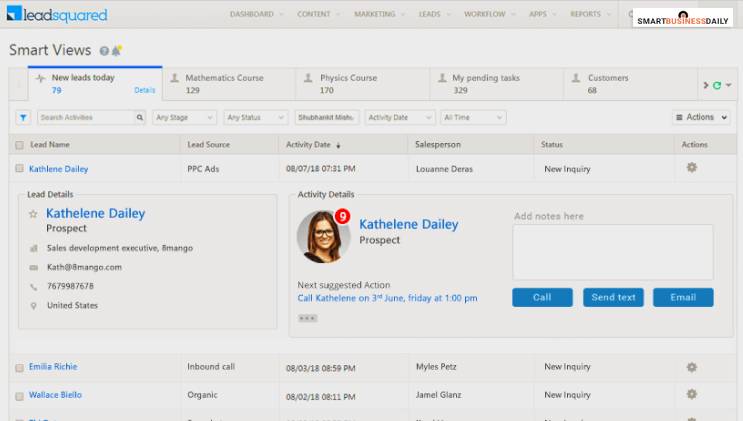 Like any other CRM software, Leadsquared is a tool that helps companies to manage sales, service management, and marketing. It automates each and every process of the business and thereby ensures effective and satisfactory results to the customers of a company.
It is a cloud-based marketing company that automates the strategies of businesses or clients and provides CRM-based solutions to businesses of all kinds and sizes.
This helps the users by automating their marketing, lead capture, sales, analytics, and more tasks. It also offers solutions like lead scoring, sales insights, landing pages, marketing insights, user access, and segmentation.
With the LeadSquared integrations with applications like Zopim, GoToWebinar, Ozonetel, and many more, helps the clients stay connected to their customers.
Why Do You Need Leadsquared?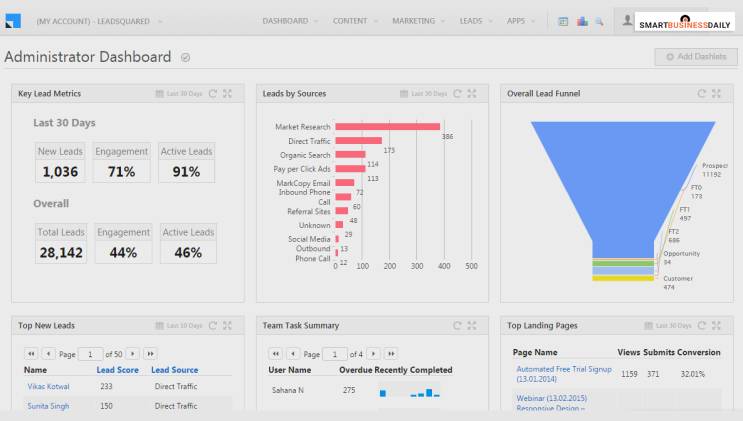 CRM software is needed to manage the relationship of the companies with the customers of the brand. For example, the LeadSquared CRM tool is a marketing automation platform that converts leads effectively.
It provides marketing assistance to B2B businesses and tracks their leads efficiently. In addition, there are many services that are included in the software, like mobile CRM and marketing automation.
It is a great conversion and integration platform that lets the companies ensure customer satisfaction. If you want to manage your database and build your customer logic, then LeadSquared is one of the best software for you.
Features Of LeadSquared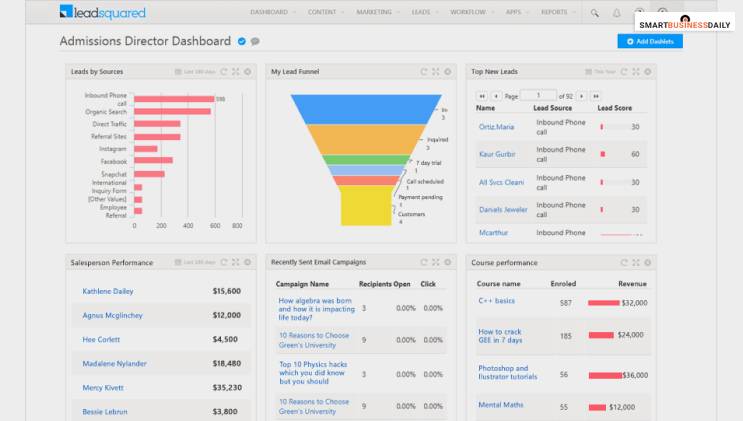 What makes it different if it is a CRM tool like many others? The answer to that is the features of the platform.
This marketing software helps businesses of all sizes to earn revenue by delivering satisfactory results to the customers. Here are some of the key features of the LeadSquared CRM tool:
1. Lead Management
You can nurture your leads and maintain a healthy connection with them. You can also automate their sales alerts and the tasks that are related to them.
2. Online Marketing
You can track and manage the landing page, the content, and the emails through the tool. In addition, it is extremely mobile-friendly that helps you to manage the listings from wherever you are.
3. Api & Connectors And Marketing
API or application programming interface helps the clients or businesses by providing a third-party system to create, access, and update data whenever the users like.
4. Social Media Marketing
The tool lets you use social media networks by tracking the shares on the platforms as well. Thus the users can incorporate the share buttons of social media into the campaigns. This also enhances the overall segmentation of the contacts.
Apart from these above-mentioned features, the LeadSquared tool also has several other features like report analytics, customizability, dashboards, and enemy and webinar marketing.
LeadSquared Review: What Do People Say About Leadsquared
Looking for some LeadSquared Reviews? I have got you covered. Below are some of the reviews posted by users of it:
1.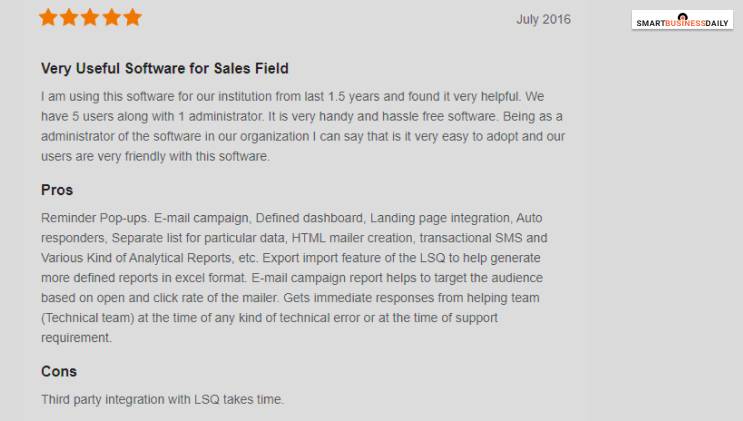 Source: https://www.softwareadvice.com/marketing/leadsquared-profile/reviews/
2.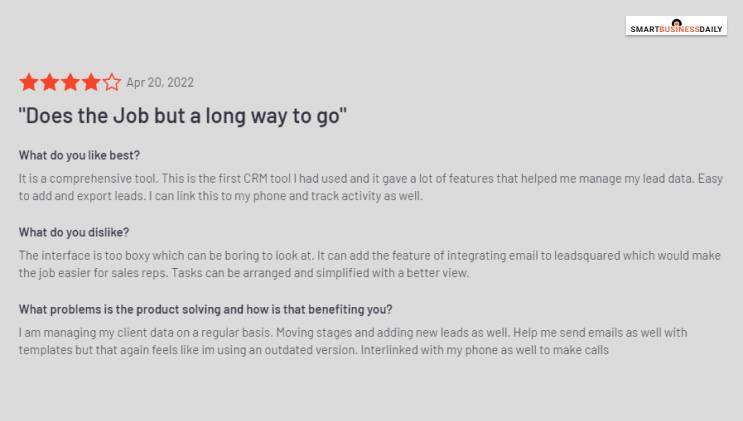 Source: https://www.g2.com/products/leadsquared-marketing automation/reviews#survey-response-6522720
Here Are Some Facts
Before you decide to become a member of LeadSquared, there are a few facts that you should be aware of.
Here are the facts of this tool:
It was founded in India.
The famous and significant investors of leadsquared are Spin Holdings, DreamOrbit, and Nalashaa.
The company was founded in the year 2013.
Enterprises of all kinds can use it.
The headwaters of the company are located in Bengaluru in India.
The legal name of the company was MarketXpander Services Private Limited.
The company was founded by Sudhakar Gorti, Anand Kumar Prashant Singh, and Nilesh Patel.
The company uses more than 70 technologies for the website.
Frequently Asked Questions (FAQs):
1. What Is Leadsquared Used For?
If you are looking for a tool that will help you by automating your marketing in programs, then you should try out LeadSquared. This is one of the best CRM tools that are available in the market.

It helps the brands manage their customers and improve their closures. It further attributes the Return on Investment (ROI) to the marketing activities, people, and lead sources.
2. What Is Leadsquared CRM?
LeadSquared is a CRM or Customer Relationship Management tool that helps brands and businesses maintain a healthy relationship with their customers.
It makes their work more convenient by automating the marketing methods. This ensures customer satisfaction.
3. How Is Leadsquared Different From Salesforce?
While it is true that both Salesforce and LeadSquared are CRM tools, these two have a few differences.

leadSquared is a much more flexible tool that helps people by letting them customize the tools based on their needs.

On the other hand, Salesforce is a much more complex tool. Therefore, it is not very effective or friendly for beginners. However, it is great for advanced users who require a team to maintain their work.
Wrapping It Up!
If you are looking for software that can make your work much less, go for CRM software. The LeadSquared tool is one such CRM or Customer Relationship Management tool that helps you manage your customers.
This tool automates marketing and management of the customers and their data and helps you deliver your customers with satisfactory end results. The features of this product include social media marketing and segmentations, analyzing the reports, data, and the contacts of the customers and the employees among others.
Read Also:
Ankita Tripathy
Ankita Tripathy loves to write about food and the Hallyu Wave in particular. During her free time, she enjoys looking at the sky or reading books while sipping a cup of hot coffee. Her favourite niches are food, music, lifestyle, travel, and Korean Pop music and drama.