If you have never heard about the term 'Insightly,' then that's completely fine because we are here to tell you all about the same! And that's not all – we have included a bonus section below with actual reviews from users. So don't forget to check it out.
Do you have more on your plate than you can actually manage? Are you constantly worrying about how to make the most of your business strategies without running out of time? Well, we have all been there, but that is no reason for you to continue being there! With the evolution of CRM softwares, life has indeed become easier.
Keep reading to find out more on the same!
Make Life Easier With Insightly: How?
Whenever you start feeling like you have exhausted yourself way too much, investing in CRM software is probably the last thing on your mind. But that is precisely where you and many people like you are making a mistake – it is time to switch to automation!
So without wasting any further time, let's dive straight into reviewing Insightly and making your life easier.
What Is Insightly?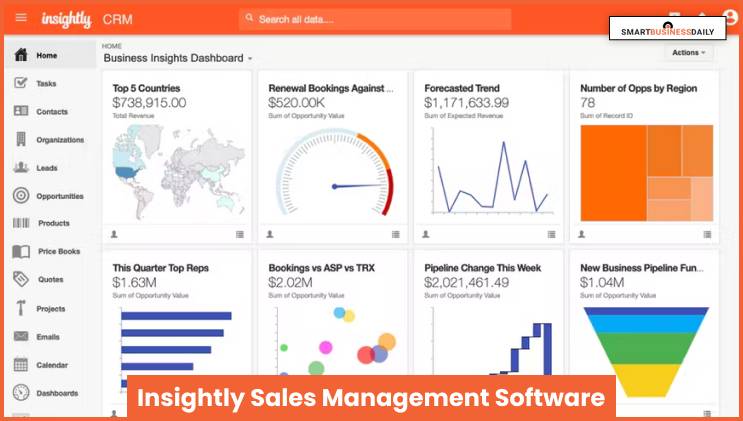 A leading customer relationship management cloud-based solution, Insightly is pretty powerful with kickass integrations to Office 365, Gmail, MailChimp, and similar applications. The CRM software has a whopping 1.5 million users across a variety of industries, mostly because users find it easy to implement and use.
Now that you know what is Insightly, you will be able to grasp how easy such software can make your life. Users, in fact, love how they can use the software for managing contacts at all the stages of sales operations, tracking client relationships, and monitoring the entire sales pipeline, amongst other vital functions.
How To Use Insightly?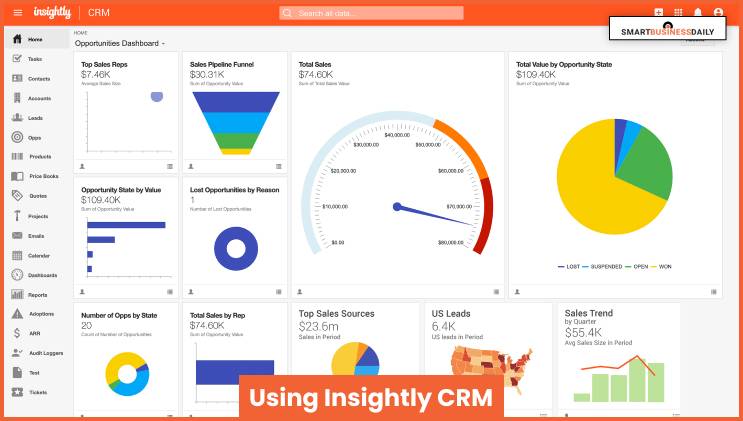 The best part about using the Insightly CRM is undoubtedly the free trial period of 21 days! Since the software is basically a cloud-based customer relationship management solution, it can be used in a very similar way to other CRM software solutions. One of the primary benefits of this solution is its versatility. How even people not familiar with the technology that well can also depend on this solution. 
The best way to learn how to use a tool is by simply using it. Trust us on this one! The reason why we are so bent on telling you that CRM solutions are the future is that they are not as complicated as it seems. All that you need to do is opt for a CRM implementation and integration trading session with a CRM consultant or agency.
Training sessions are not just meant for you but for every single team member who will be using the software. Thus, there are two primary ways to learn how to use a CRM software solution like Insightly.
1. Using the software and learning how to use it gradually.
2. Opting for a training session for your team with a CRM expert.
Why Can't Everyone Stop Obsessing Over Insightly?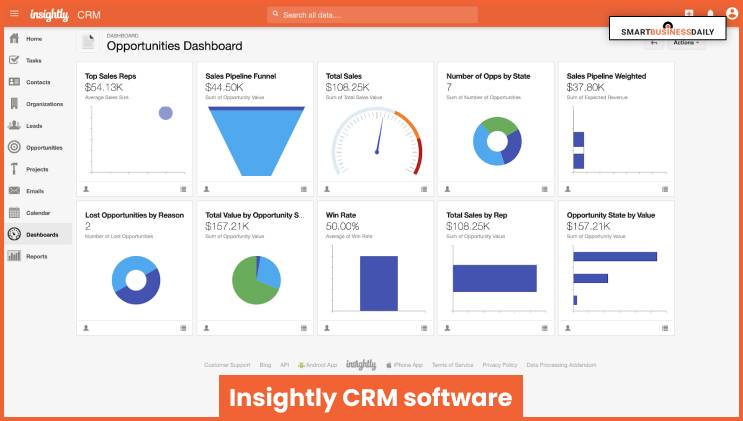 Yes, the Insightly login is a simple procedure. So using the CRM software – is that not reason enough to love any software? Let's take a look at the features of Insightly, and find out why users can't stop raving about its features.
Features Of Insightly:
The features of this crm tool are as follows,
Document storage,
Reminder or calendar system,
Integration of internal chat,
Lead qualification, 
Mobile access, 
Segmentation,
Estimates or quotes,
Territory management,
Task management,
The features mentioned above are proof of how well your company stands to benefit if you indeed invest in Insightly. But that's not the only reason why we love this CRM software solution. Have you checkout out the pricing of this magic tool? Scroll down now to find out more on the same.
Insightly Pricing:
As we have already mentioned before, all new users can opt for a two-week trial period that comes for free. There's also a free version of the software, but it comes with limited features. However, what most users say is that the chances of investing in the solution full time is enormous once you have used it for some time.
So let's check out the Insightly pricing details mentioned below,
| | |
| --- | --- |
| Pricing | Versions |
| 0 | Free for two users |
| 29 dollars per user/ month | Billed annually for people opting for plus versions |
| 49 dollars per user/ month | Billed annually for professionals |
| 99 dollars per user/ month | Billed annually for enterprises |
Naturally, the features of this crm tool will vary depending on which version you are opting for – but no matter which version you ultimately choose, the only thing that you need to keep in mind in this context is the size of your company.
Reviews By Users:
Check out the reviews of Insightly below! What's better than a review by someone who has actually used the tool – it is always wise to read reviews before you can make any investment!
"Insightly CRM offers a wide range of services for our business to improve our customer services and have provided us with benefits to enhance our marketplace. It has allowed us to successfully engage our working relationships with the clients in a more reliable way. I have also been performing project management tasks with this tool."

Review By Susan A
"We have only been using Insightly for a couple of weeks, but overall I've liked it a lot. Prior to using Insightly, we were manually note-taking in Word documents for each client. Each time that a lead was converted, we then had to go and update everything. Now that we are able to integrate all of our notes, contacts, emails, etc. into one system, the workload has drastically lightened."

Review By Joshua K
"Insightly helps entrepreneurs and small businesses like most of our clients to get to the digital space and excel in no time. As a Technology expert, I highly recommend it to entrepreneurs beginning with tech and online platforms for their business."

Review By Tarek B
Frequently Asked Questions (FAQs):
1. Is Insightly Any Good?
Everything about Insightly has been rated first-class by most users across the world. However, there is one major problem with CRM software. It lacks in the customer support department unless you opt for a premium plan.
2. Is There A Free Version Of Insightly?
Yes, there is a free version of Insightly available. However, the free version comes with limited features since there are multiple paid versions of the tool with all the features. Moreover, there is the software solution also provides a free trial period of two weeks.
3. What Does Insightly Integrate With?
It can be integrated with several applications like OneDrive, Dropbox, Google Drive, Evernote, Box, and several other similar solutions. The integration feature of this software is pretty good!
Wrapping Up:
Insightly com is a pretty good cloud-based customer relationship management software solution. The free version is fine, but you can always opt for the pro version of the same. Instead of reading review after review, you can always check out the tool for real and find out whether it's of any use or not.
CRM tools are the future, and what's better than taking charge of your future now? Let us know what you think in the comments below!
Read Also:
Barsha Bhattacharya
Barsha Bhattacharya is a senior content writing executive. As a marketing enthusiast and professional for the past 4 years, writing is new to Barsha. And she is loving every bit of it. Her niches are marketing, lifestyle, wellness, travel and entertainment. Apart from writing, Barsha loves to travel, binge-watch, research conspiracy theories, Instagram and overthink.