Starting your own business is great. But those who have a business can understand the real struggle of maintaining it. No, I'm not talking about the struggles from a sales perspective or point of view, even though we all know how difficult it can be to maintain a profitable sale.
I mean all the hard work that goes on to make the sales happen, from the research of the field to data management. Everything plays a major part in making sales possible.
What if I tell you that all this can be made easy if you choose one thing? Yes, it is true. The solution to all your problems is there, and it is Teamgate. Keep reading till the end to know more…
What Is Teamgate?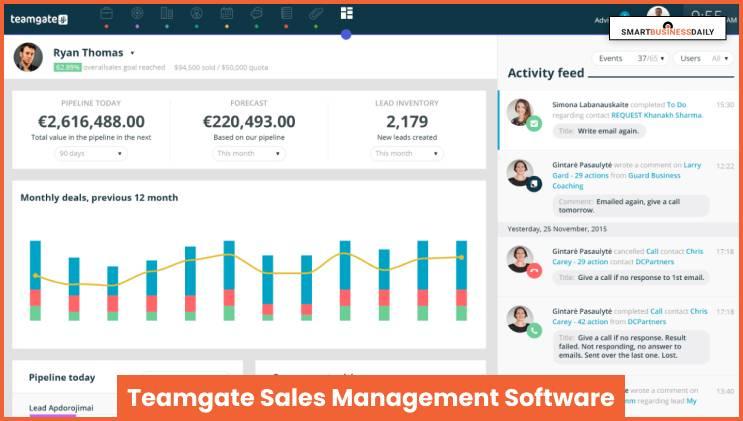 Teamgate is one of the best CRM tools for most of the businesses and brands in the world at present. It is a SAAS company that provides software to businesses that need it. In this way, it helps their clients strengthen their sales experience to make the entire process a lot better, faster, and easier.
When you have software that looks after your sales and the quality of service that you are planning to deliver to your potential customers and clients, it makes your job more efficient. This helps you to provide your customers with a satisfactory service experience.
Why Do You Need A CRM Tool Like Teamgate?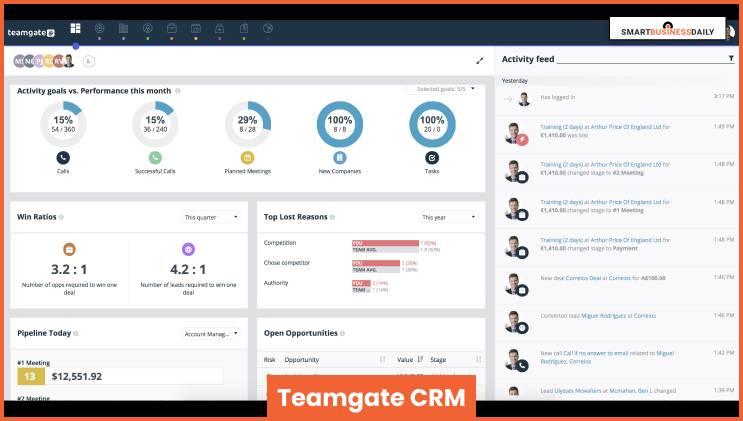 Now, you may ask why you need a CRM tool like Teamgate. That is a good question, especially if you are unaware of the wonders of CRM softwares. Let me guide you with that.
Customer Relationship Management (CRM) software is one of the most powerful tools at present. It can help you skyrocket your business growth while collaborating and synchronizing your team.
This not only lets you manage the contact records of the clients and the employees of the company but also helps you sync data and automate a variety of daily tasks of your business.
Teamgate CRM has been ranked as one of the best tools that can help you achieve your goal. Here are the benefits of having a CRM tool that manages the relationship you have with your customers:
It helps your business grow by delivering satisfactory service to your customers
This lets you share and sync the data of your customers and employees efficiently
It automates marketing and sales that saves a lot of time, and reduces the chances of making mistakes
It makes the team collaborate and work better as there is a lot more chance of communication
You will be able to pay attention to the employees on an individual as well as on a team level
It simplifies the process of customer interaction and engagement through several tools that let you track their information and needs
With Teamgate, you can achieve all the things that are mentioned above and more.
If you think the data of your customer is hard to locate, you can rely on Teamgate. The Teamgate CRM tool will help you to track the data and send them emails and newsletters to keep them updated about the services and offers that you provide.
It lets you garner a wide and potential customer base as well. Not only does it do so, but it also lets you manage the customers that you already have at hand. This makes sure that your customers remain loyal to you. After all, is there a point to continuing your business if you do not have customers?
Feature Of Teamgate
If you are thinking about the services and features that it offers to its customers, then look no further. Here are some of the features (out of many more) of the Teamgate CRM tool:
Document management
Contact management
Contact database
Activity dashboard
Data import and Export
Teamgate Review: What Do People Say About Teamgate?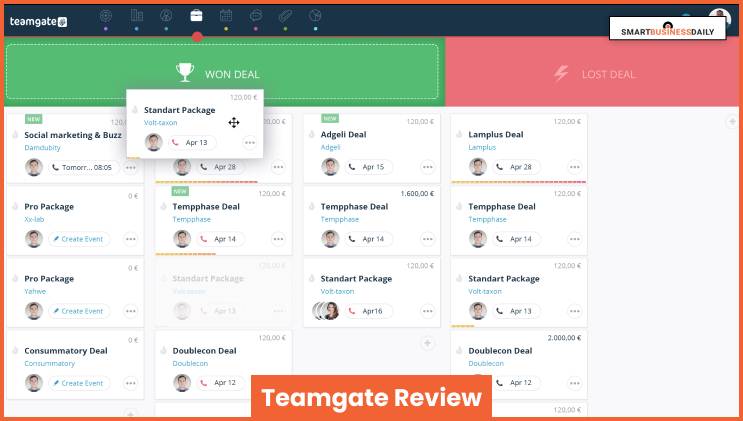 Over the years, it has managed to reach a lot of businesses and helped them eventually to expand their customer base. Here are some of the Teamgate reviews that might help you decide whether or not to choose the platform for your business:
"This was extremely easy to use! When we just started, I uploaded most of my contacts and leads, and started to explore what can Teamgate do for me. I'm not very tech savvy but it wasn't hard to find what to do with all the data, how to create new tasks and set reminders for the follow-ups. Calendar is really clear and visual, easy to get an idea who's working on what. And sales pipeline with drag&drop is very intuitive, you just click on a deal, drag it to a stage you want and that's it."

Review By Arturo O.
Source: https://www.capterra.com/p/139094/Teamgate/#reviews
 "Teamgate has really strong lead management – it's visual and simple, you see a lot of information on the main screen, and if you nened some more details, you can just dig deeper into the lead's card. Lead scoring works without any flaws but it's important to set up your values first. Our team uses calendar a lot and this helps us to see how busy we are and allocate our free time. Agenda is a wonderful feature too, every day I start with looking my day's plan and this is a great tool for that. Since we use Professional plan, dashboard is vital for keeping track of what's going on in the company."

Review By Egle
Source: https://www.softwareadvice.com/crm/teamgate-profile/reviews/
Here Are Some Unknown Facts
Even though it is well known that Teamgate is a CRM tool, there are some other facts that you should check out before choosing it.
Here are some of the facts that you must know:
It was founded in 2012.
The headquarters of Teamgate is located in London.
The company started in the Magical city of Vilnius, Lithuania.
It was founded by Chris Gulbinovic, Marijus Andrijauskas, Liudas Šumskas, and Ksystof Gulbinovic.
Frequently Asked Questions (FAQs):
1. What Is Teamgate?
Teamgate is a CRM tool that lets you manage the data of your business and of your customers. It can help you manage your customers better and makes your goal of delivering a smooth and satisfactory service to your customers easier.
2. Why Do I Need Teamgate For My Business?
If you want to deliver quick and satisfactory service to your customers and potential clients, you need a Teamgate CRM.
3. Where Is The Headquarters Of Teamgate?
It is one of the most well-known CRM tools. Its headquarters are located in London, United Kingdom.
4. What Is Teamgate Pricing?
With a 14-day free trial offer, the starting plan of it is 9 USD per month. You can switch to the professional plan of 26 USD a month and the Enterprise plan of 65 USD a month whenever you feel like it.
5. What Are The Alternatives To Teamgate?
There are many CRM platforms that are available in the market at present. Some of the SAAS companies that provide similar services as Teamgate are Freshworks, Zaius, and Nutshell.
And That's A Wrap!
Having a business of your own can be great, but the work that goes into making it successful can get pretty challenging. Managing the data of your employees and the customers to make sure that you are delivering your services fast and efficiently can get tough. This is why you need the Teamgate CRM tool.
Teamgate is a SAAS (Software as a Service) company that helps brands and businesses meet the expectations of their clients and deliver a satisfactory service to them. This makes sure that their customers and potential clients stay loyal to them, thereby generating revenue for them.
Read Also:
Ankita Tripathy
Ankita Tripathy loves to write about food and the Hallyu Wave in particular. During her free time, she enjoys looking at the sky or reading books while sipping a cup of hot coffee. Her favourite niches are food, music, lifestyle, travel, and Korean Pop music and drama.